Enjoying time off at Asmana
If you're planning to relax while in Tuscany, a sure way to achieve that is to make a stop at Asmana Wellness World (read our presentation here if you haven't yet)! The spa center located on the outskirts of Florence is super easy to reach by car wherever you might be staying in Tuscany. You do NOT need to plan for a certain day to go since they have something going on every day that will ensure you get the most out of your visit, departing feeling like new after you've taken some time out to pamper yourself.
Here are some examples of the many relaxing rituals you will find available within the sauna and hammam areas every day.
The Hammam Ritual – Mondays through Fridays

For example, every day of the week day you can take advantage of the special Hammam ritual done for small groups (up to max 5 people). You should book your spot to get the best time for you: the rituals take 50 minutes and offer an authentic Hammam experience based on the Moroccan ritual for purification. The ritual at Asmana is completed like a beauty treatment: you start with a body scrub followed by a steam bath and end with a bubble soap massage, with warm tea served in between. This experience is an extra service and costs € 30 per person, just as any other body massage or facial treatment you would like to enjoy within the center.
If you don't want the whole experience that this ritual offers, there are many other massages of various types on offer, you will truly find something you will enjoy. Extra services such as massages can be booked the day of, as soon as you arrive at Asmana.
Also remember that there are many other Aufguss cerimonies carried out throughout the day in the Hammam area and saunas that last about 10 minutes and offer body scrubs with herbs, cocoa or a "special" for the day (free as they are included in entrance fee). You can check the timetable of the ceremonies on the Asmana website or once you arrive as they repeat during the day.
Tibetan Sounds Ceremony – every day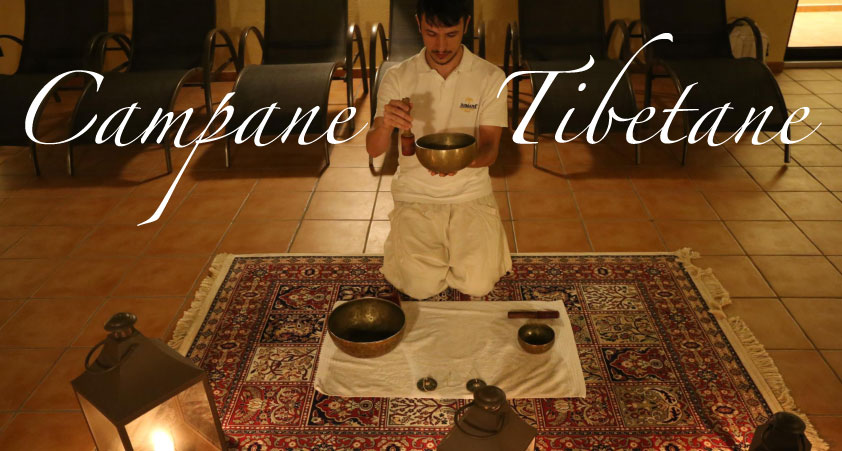 Twice a day every day you can also enjoy a moment to meditate with the sound of Tibetan bells in the Temple. According to ancient Indian beliefs, the cosmos originated from sound and music. Vibration of sound and, in particular, of the Tibetan bells serves to awaken our consciousness of our self, which is sacred. Get in touch with the deepest part of yourself, purify your mind as well as your body during your day at Asmana.
AperiASMANA – every Friday
Every Friday, the "Aperitivo at Asmana" is a happy hour/light dinner from 7:30-9:30pm in the main hall, comfortably to be enjoyed in your swimsuit and bathrobe. It's perfect if you're enjoying the evenings hours at Asmana when you can get 4 hours at the cost of only 2 (entrance after 7pm). Remember that on Fridays and Saturdays, the center is open until 1am to let you enjoy the center longer. The happy hour event costs € 16 extra to your entrance fee and is a set menu with tastings of several dishes, with a drink included. You don't need to book in advance, but do head to their Facebook page and show your interest in attending through their marked dated events.
Rituale Russo – every Monday

Every Monday at 5pm, you can enjoy this special ritual that uses birch branches to benefit circulation and promote the elimination of toxins.  The treatment is done in a group and requires a minimum of 5 people (and max of 10) for it to happen so better call and ask whether it can be booked! Cost is € 20 per person, lasts 40 minutes and includes a Herbal Sauna and a hat to take home as a souvenir.
Your own special event – any time!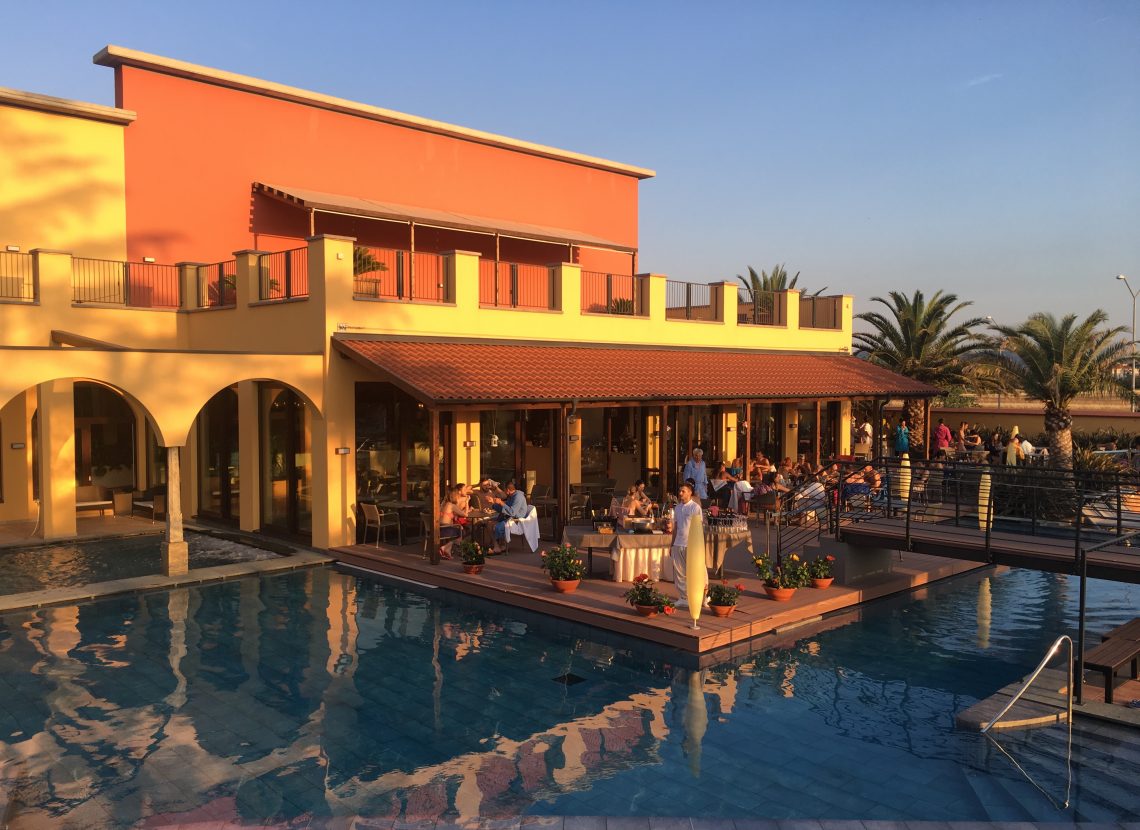 If you're interested in having your own special event at Asmana, you can! The center has many areas and rooms where you can book private events and treatments for you and a group of friends, family or colleagues. Asmana is perfect for adult birthdays (remember, no children are allowed) and a special night out such as a bachelor or hen party! You just need a minimum of 8 friends to book a special Aufguss or other event in the sauna exclusively for you. At the end of the ceremony, enjoy a glass of prosecco. Contact Asmana for more details and cost. Of course, if you're less than 8 you can always still head over to Asmana to enjoy the spa center and activities together.
Ready to relax at Asmana?
To book any massage, treatment or plan your special event at Asmana, call 055-776771. Check out the events page on the Asmana website if you're interested in the events that take place on a certain day or at certain times to plan your visit better. Relax and enjoy!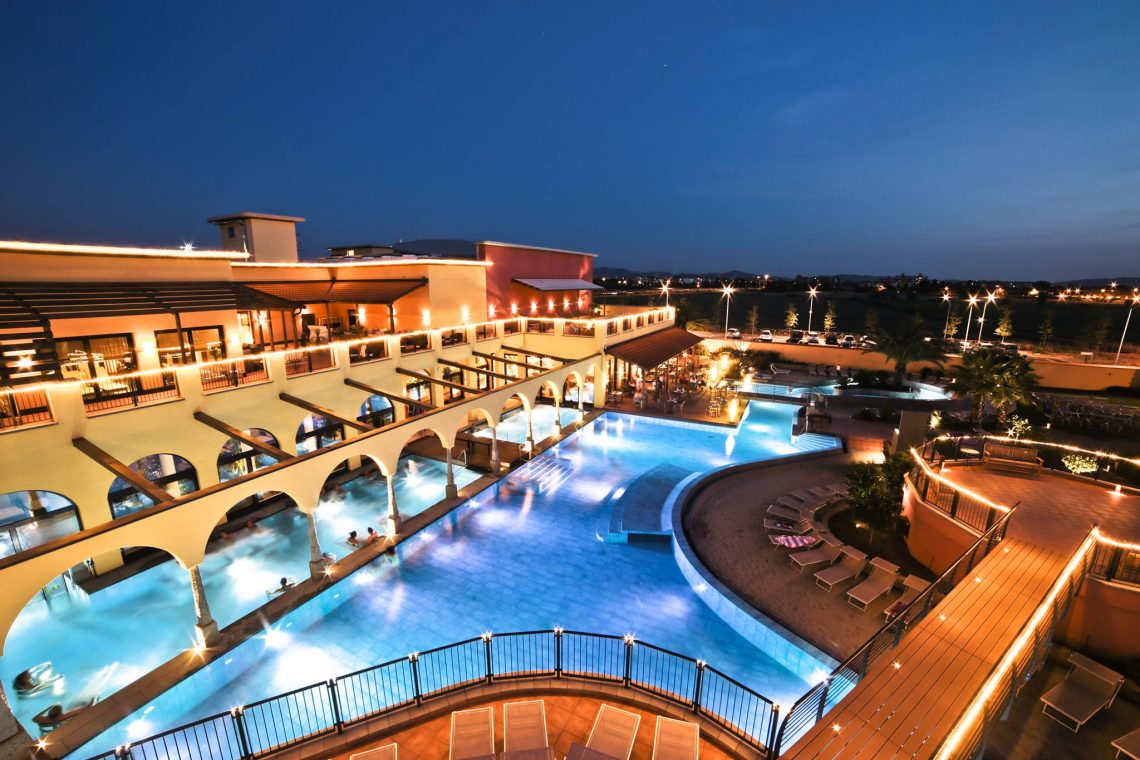 About Lourdes Flores
An American living in Florence for over 10 years, Lourdes continues to explore and discover new places in Tuscany with the eyes of a tourist but with the experience of living in Italy. She shares her experiences on this blog and website, particularly offering lots of travel planning help on the Forum!