Visiting Capo Sant'Andrea
The furthest promontory on the north western side of Elba is Capo Sant'Andrea in the municipality of Marciana. Originally an Etruscan settlement, it is full of marvels to be discovered: beaches, cliffs, mountains and breathtaking natural surroundings. It is the perfect place for lovers of canoeing, snorkeling and diving, as well as trekking and mountain biking over the hills overlooking the area.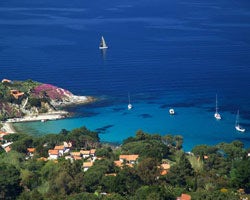 The inlet of Sant'Andrea is an enchanting bay for swimming and a strategic access point for the area. From here you can walk along a panoramic path to reach the bay of Cottoncello, renowned for its inlets with crystalline waters and golden sand with small shells. Passing over to the left you can see the Cote piane, large and round granite rocks coming out from the sea with its characteristic azure color. These are the perfect spots for getting the perfect Italian tan!
After the Cote piane you reach the natural swimming pools of Sant'Andrea, a paradise for diving and snorkeling. Going south, you reach the most impervious and fascinating cliffs on the island. On top of the cliffs there is the seaside road that passes through the small hamlets of Patresi with its imposing lighthouse, Chiessi and Pomonte. It also reaches the famous and large beaches of Fetovaia and Cavoli. I recommend you stop and admire the great panorama along this road and look out west onto the sea where you can see the profiles of the islands of Capraia and even of Corsica.
We thank Hotel Ilio Isola d'Elba for photo and text contributions.

View photos of Elba! »