A Vacation for the Entire Family
It's a little bit like the chicken and the egg....which came first; the idea to create an agritourism experience for the entire family or create an agritourism that would attract families. I asked Anna, the owner, how they "found" Montalbino and she struggled a bit to express herself, finally "We didn't need to do much, the apartments respect the original architectural design...and the valley, well that was already there."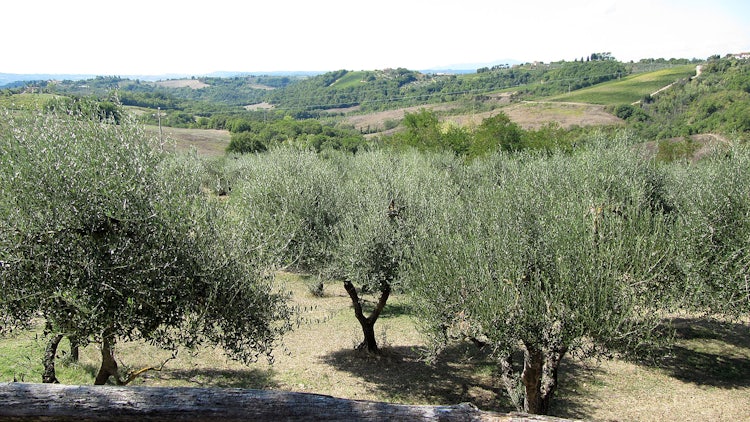 Book Direct with Agriturismo Montalbino
In her own way I understood she was trying to tell me, they couldn't improve upon perfection - because the valley in front of the Agriturismo Montalbino is truly perfection. The only thing they could do is make sure the pool got a prime position, make sure that the garden, trails and recreational spots that surround the agritourism were placed in a way to maximize the views and that they offered a top notch service to accompany the position.
A Review of Agriturismo Montalbino
We loved: the incredible views and the trails that have been made around the farm for all ages
Ideal for: families with children of all ages or groups, perfect for exploring all of Tuscany
Anna and her husband, started out slowly creating an environment that took on a personality as time went by. "We started small. We didn't know where it was going to go, we just thought we had found a good place for a vacation." The personality that started to emerge was one which, though quite romantic with the setting, is particularly family friendly. An environment where families return every year, where friends can vacation together and where Mom and Dad can get a bit of down time with beautiful Tuscan landscape ... and if possible a few day trips into Florence and Siena.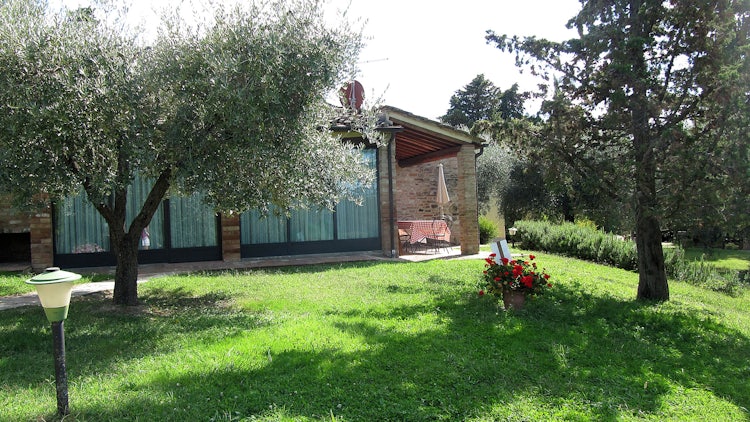 On Site Family Friendly Restaurant
We met in the restaurant which is located close to the apartments, but not too close to interfere with a relaxing holiday. As I wandered around I appreciated the friendly decor which was a mix between country and comfortable. Colors, knick knacks and again spectacular views of the valley seemed to be a constant theme. The menu was classic, and when I snooped a bit, Anna told me that the Pappardelle al sugo di cinghiale was a favorite among the guests...but personally she prefered any of the dishes made with fresh seasonal vegetables. Of course, since they have a reserve where skilled sniffers (dogs and even pigs) can hunt truffles - you will occasionally find items which highlight this local specialty. I noted that they was a kids menu with Italian classics in miniature portions ... no need to coax and cojole these kids into eating.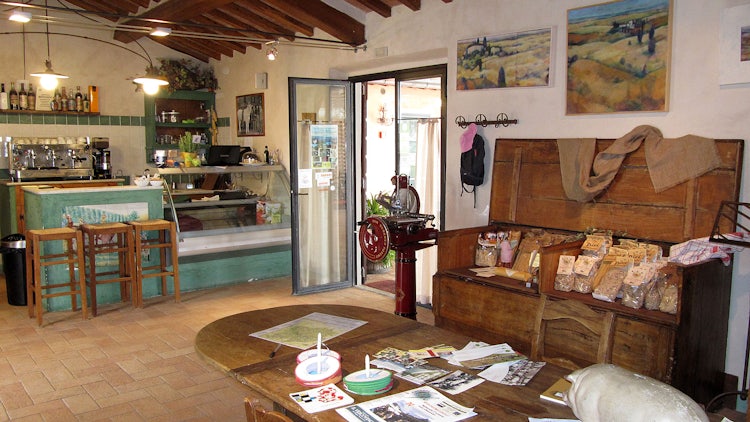 The restaurant was originally intended for the guests of Montalbino and it got its rather peculiar name from yesteryear. I was told it used to be a worm farm, or as the Tuscans would say: "Lombricaio." But that doesn't stop the fun. There are special events that are designed to entertain all ages of the guests from Montalbino: pizza night, black berry picking or cooking special recipes. Nothing too intense, because Anna knows from experience that the attention span for the younger participants is not always too long but, she does try to do something different and personal every week. "I know when the guests have bonded among themselves, so Friday night a pizza party might be the perfect way to say good bye or maybe just a special menu if I find the guests have been a bit more private."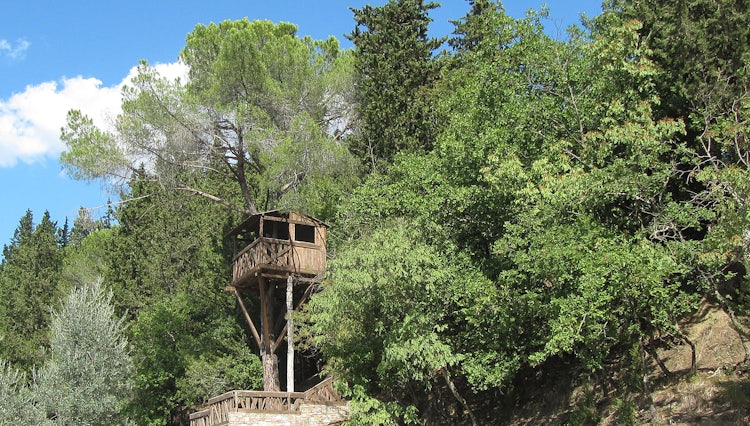 Agriturismo Montalbino in a Glance:
Type: 9 self catering apartments
Location: Montespertoli, 6 km (15 min)
Distance: Florence (50 min) & Pisa (55 min)
Transport: a car is necessary
Rooms: 2
Sleeps: 40
Type of board: On site restaurant
To be Young Agarin
As we strolled through the grounds, I was struck by the organization of games, toys, play areas - activities for all ages, but easily spaced so that the noise level could be exuberant yet not invasive. The pool is extra large and is divided into space for the young, the not so young and the really young...with the little kiddie pool. There are swings, slides, jungle gym climbing toys...even a tree fort. It is all about everyone having fun on vacation - even those who are not at an age to really appreciate the scenic vistas, the olive groves, the rows of vineyards.
Or even the onsite petting zoo...though I believe all ages can appreciate the animals. Especially since they took the time to offer information on how these very same animals played a more functional or practical role in the community. They might just be for looks and a cuddle now, but the rabbits, the mules and the turkeys were all fundamental elements to life on a farm in Tuscany. When I started to quizz her on the why's and wherefore's about the animals, Anna playfully shook her head "that is my husband's domain. I am about the house and restaurant and he is the outdoors one in the couple."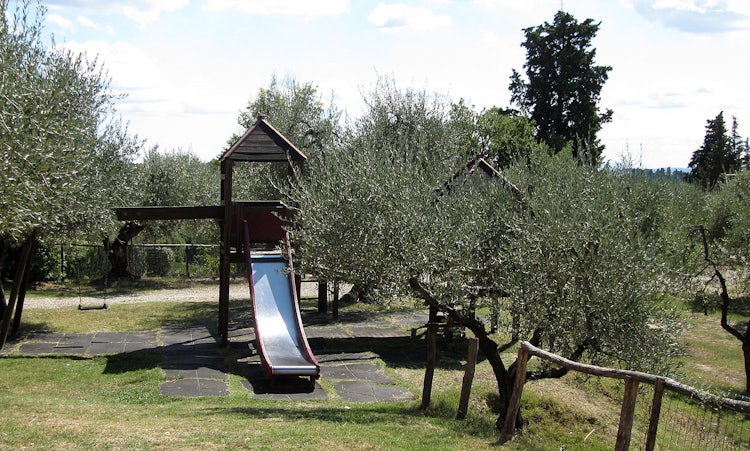 Family Size Day Trips
While looking around it is hard to believe anyone would want to leave (even for a short period of time) but I have to imagine that you can't resist the opportunity to explore the area while on vacation. Anna confided in me that if she has some free time and the opportunity, she makes her way to Florence and the city center to go shopping and even a bit of sightseeing. However, when her guests ask about where to go and what to do, she prefers to keep them a bit closer to home, such as a visit to Certaldo Alto. Her reasoning is: "It's close by, it's quaint and typical and it will entertain the youngsters just as must as the adults with its little shops, cobbled stone alleys and the cable car which will take you to the top of the hill."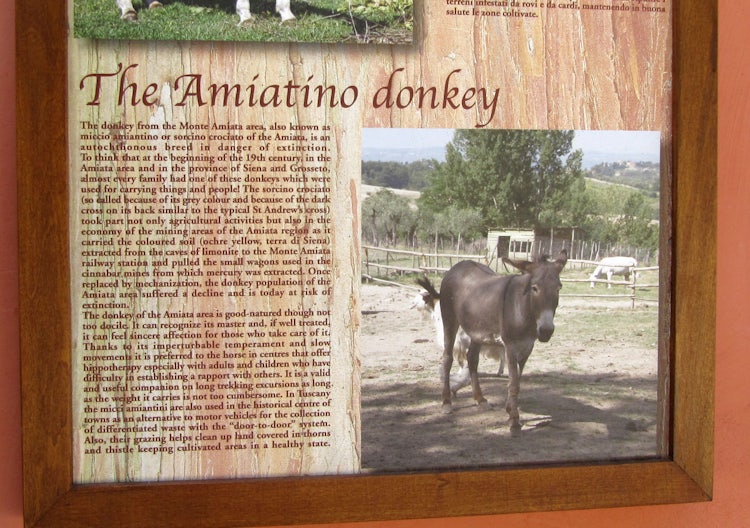 Anna communicates a serious and professional stance. She is like a drill sergeant when it comes to taking care of the structure, its organization, the cleanliness and details such as light bulbs, towels, and even the wayward weed that tries to grow in the most inappropriate place...but when it comes to her guests, I saw the softer side of her shine through. A young guest and his mother were playing on the swings, and she made sure to touch base. A quick inquiry, checking that they had everything they needed - that they were settled, comfortable and that they knew where to find her if necessary.
Reserve Now at Agriturismo Montalbino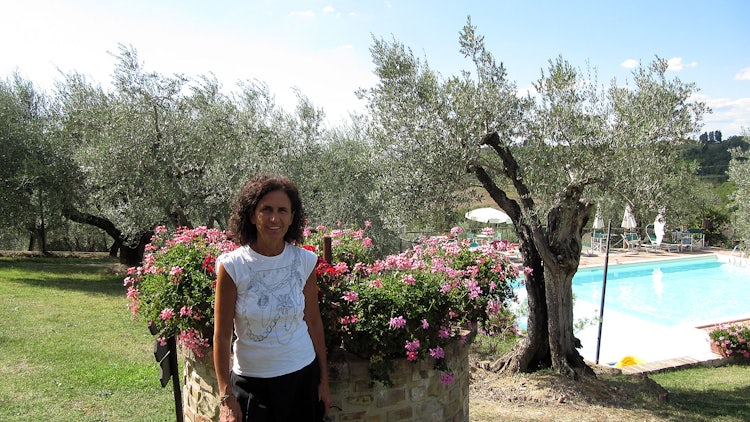 This is a Sponsored Article but reflects the honest opinion and experience of the author. More details »