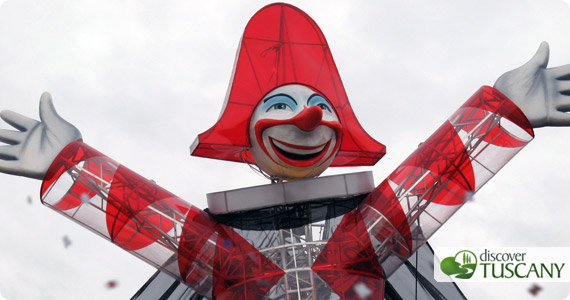 Mancano ormai pochi giorni all' inizio del Carnevale di Viareggio, uno dei corsi mascherati più famosi d' Italia. Per il 2010 queste sono le date ufficiali delle sfilate dei carri nella città toscana: domenica 31 Gennaio, domenica 7 e 14 febbraio, martedì 16 febbraio e domenica 21 febbraio, con inizio alle 15 (alle 17 il giorno 21 febbraio).
Ogni sabato precedente il Carnevale in Piazza Mazzini e al Centro Commerciale Naturale dalle 16 in poi ci saranno giochi, musica ed animazione per tutti.
Il Carnevale di Viareggio è davvero spettacolare ed amato tanto dai piccoli quanto dai più grandi. Una delle caratteristiche che rendono speciale il corso mascherato di Viareggio sono i giganteschi carri allegorici in cartapesta, alti anche 20 metri, che vengono fatti sfilare lungo la passeggiata del lungomare di Corso Mazzini. Questi grandi carri, frutto di mesi di lavoro, vengono realizzati seguendo le tecniche di costruzione dei grandi velieri, per i quali i cantieri navali viareggini sono apprezzati in tutto il mondo.
I carri in cartapesta sono sempre diversi e si ispirano ai temi più svariati: dalla politica all' attualità ai temi più generali (l' anno scorso ad esempio un carro era dedicato al fenomeno dell' emigrazione). Non mancano mai i personaggi della politica italiana e quelli di cui si è parlato maggiormente negli ultimi mesi. Alcuni quotidiani hanno anticipato che quest' anno tra le maschere ci saranno ad esempio anche Micheal Jackson e Barack Obama. I grandi carri hanno a bordo figuranti e ballerini che muovendosi a ritmo di musica, coinvolgono il pubblico che attende il loro passaggio o cammina lungo il corso. I carri allegorici, protagonisti indiscussi del Carnevale, al termine della manifestazione vengono poi giudicati e premiati, con la proclamazione della classifica ufficiale.
Il Carnevale di Viareggio richiama ogni anno oltre 800.000 persone e benchè distribuite nell' arco di diversi giorni, la confusione effettivamente è molta. Muoversi in città in questi giorni di festa non è semplicissimo. Le auto possono essere lasciate nei parcheggi segnalati,  comunque, se possibile, io consiglio vivamente di spostarsi in treno. La stazione dista 10-15 minuti a piedi dal lungomare e prendendo il treno si evita di rimanere imbottigliati nel traffico al termine della sfilata (il prezzo dei parcheggi oltretutto non è proprio basso).
I biglietti di ingresso al il Carnevale possono essere acquistati direttamente ai diversi accessi sul lungomare. Il biglietto ordinario costa 15 €, mentre i bambini fino a 10 anni entrano gratuitamente. E' possibile abbonarsi ai 5 corsi mascherati al costo di 25 €.
Non perdete l' occasione di tornare un po' bambini: vestitevi in maschera e buon Carnevale a tutti!
About Cristina Romeo
Born in Florence at the end of the fabulous '70s, Cristina has always lived in the famous "cradle of the Renaissance". She's in love with her homeland, but also enjoys traveling and discovering new places. Cristina is mum to a lovely little girl, to whom she hopes to pass on all the passion and love of our precious, wonderful Tuscany.