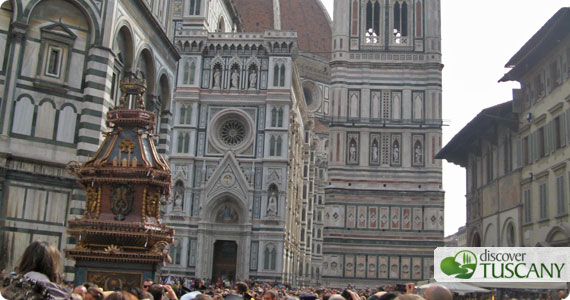 Mancano pochi giorni alla Pasqua e già domani, Venerdì Santo, inizieranno alcuni eventi celebrativi in tutta la Toscana.
Venerdi 22 e Sabato 23 Aprile
Il Venerdì che precede la Pasqua, chiamato Venerdì Santo, si commemora la Passione e Crocifissione di Gesù, secondo la tradizione cristiana. Nelle diverse città vengono generalmente organizzate delle processioni o piccole celebrazioni di rievocazione.
A Castiglion Fiorentino (Arezzo), domani sera, venerdì 22, oltre cento figuranti ricreeranno le scene fondamentali degli ultimi giorni di Cristo fino alla sua Crocifissione nel palcoscenico naturale del paese. Il giorno seguente, sabato 23, durante la "Volata", la statua di Gesù verrà portata di corsa in processione verso la Chiesa della Collegiata per la messa di mezzanotte.
Anche a San Gimignano, Chianciano Terme, Seravezza, Grassina, Montespertoli, solo per citarne alcuni, le vie della città faranno da sfondo alle processioni religiose e rievocazioni storiche organizzate dagli abitanti.
A Firenze, nel Duomo di Santa Maria del Fiore, venerdì 22 alle 17.30 "Azione Liturgica nella Passione e Morte del Signore con proclamazione della "Passione" ed adorazione della Croce". Sabato 23 alle ore 22.30 ci sarà invece una veglia pasquale nella notte della Risurrezione.
Il Giorno di Pasqua
Si tiene a Firenze uno degli eventi più interessanti organizzati ogni anno nel giorno di Pasqua: lo Scoppio del Carro.
A partire dalle 9 in Piazza Signoria il corteo storico fiorentino accompagnerà fino a Piazza Duomo il "carro di fuoco" , ovvero un grosso carro a tre piani, trainato fino in piazza da dei buoi bianchi. Alle ore 11 verrà dato il via alla "colombina"(un razzo incendiato a forma di colomba), che, partendo dall' altare maggiore del Duomo, arriverà fino al carro per incendiarlo e dare così il via allo spettacolo pirotecnico.
Per l' occasione Piazza Duomo è generalmente gremita di spettatori, se volete assistere allo spettacolo, vi conviene arrivare con largo anticipo.
Musei aperti a Pasqua e Pasquetta ed Eventi a Firenze
Il giorno di Pasqua ed il lunedì di Pasquetta a Firenze saranno aperti sia gli Uffizi che la Galleria dell' Accademia, così come il museo di Palazzo Vecchio, Palazzo Pitti (compreso il Giardino di Boboli) e le Cappelle Medicee.
La Cappella Brancacci sarà aperta solo Lunedì 25 aprile dalle ore 13.00 alle ore 17.00
Lunedì 25 inizia la tradizionale Mostra dei fiori organizzata al Giardino dell' Orticoltura di Firenze, che ospita fiori e piante dai principali vivai di Firenze e dintorni. Fino al 1 Maggio. Sempre lunedì (fino al 20 maggio) apre anche il Giardino dell' Iris di Piazzale Michelangelo, un bel giardino dedicato al fiore simbolo di Firenze, ad ingresso gratuito.
Tutti i musei aperti anche a Fiesole, dove sarà possibile visitare il Museo Bandini, l'Area e il Museo Archeologico.
A noi non resta che augurarvi una buona Pasqua in Toscana e lo facciamo con questo video dello Scoppio del Carro a Firenze :
About Cristina Romeo
Born in Florence at the end of the fabulous '70s, Cristina has always lived in the famous "cradle of the Renaissance". She's in love with her homeland, but also enjoys traveling and discovering new places. Cristina is mum to a lovely little girl, to whom she hopes to pass on all the passion and love of our precious, wonderful Tuscany.