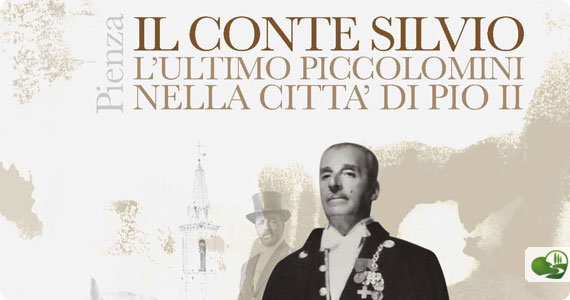 Chi sta programmando un viaggio in Val d'Orcia ed in particolare a Pienza, certo non può non visitare lo splendido Palazzo Piccolomini, affacciato sulla piazza centrale di Pienza.
Residenza della famiglia Piccolomini e di Papa Pio II, il palazzo racchiude tutta la storia della nobile famiglia che trasformò Pienza nella deliziosa città che ammiriamo ancora oggi.
Oltre al palazzo ed alla sua mostra permanente, da alcuni giorni e fino a Novembre sarà possibile visitare una mostra temporanea del titolo "Il Conte Silvio, l'ultimo dei Piccolomini nella città di Pio II". Il Conte Silvio, ultimo esponente della famiglia, lasciò il palazzo ed il suo prezioso contenuto alla Società di Pie Disposizioni alla sua morte, 50 anni fa.
La mostra ricorda la vita del conte e lo fa esponendo documenti del suo archivio privato, fotografie di famiglia e ricordi personali conservati nel palazzo con l'intento di far conoscere la personalità del conte ed i suoi rapporti con Pienza e la realtà locale.
In questa occasione lo studio privato del Conte Silvio verrà aperto per la prima volta dopo il restauro ed entrerà quindi a far parte dell'itinerario proposto ai visitatori del palazzo. Lo studio fu il rifugio privato del conte nell'ultimo anno di vita, dopo la tragica morte del giovane figlio Niccolò e l'allestimento odierno rispecchia esattamente quello originale.
In mostra anche due importanti dipinti che furono rubati nel 1972 e recuperati dai Carabinieri nel 2010: una Madonna col Bambino del XV secolo ed un dipinto fiammingo dal titolo "Il suicidio di Cleopatra".
Il Conte Silvio: l'Ultimo dei Piccolomini nella Città di Pio II
Pienza
14 Aprile – 3 Novembre 2013
Palazzo Piccolomini è aperto dal MARTEDI' alla DOMENICA: 10 – 18:30
L'ingresso comprende una visita guidata con audioguida al Palazzo Piccolomini ed al giardino.
Prezzo intero: € 7.00
Ridotto: € 5.00 gruppi e studenti (gruppi di 15 -25 visitatori)
Prezzo speciale: € 3.50 per scolaresche con prenotazione
Ingresso gratuito: bambini sotto i 5 anni e disabili
About Lourdes Flores
An American living in Florence for over 10 years, Lourdes continues to explore and discover new places in Tuscany with the eyes of a tourist but with the experience of living in Italy. She shares her experiences on this blog and website, particularly offering lots of travel planning help on the Forum!