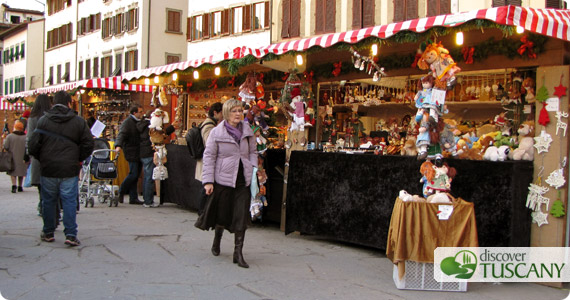 Il Natale si avvicina e come ogni anno a dicembre a Firenze e dintorni vengono organizzati mercatini ed eventi a carattere natalizio.
Segnaliamo alcuni tra gli appuntamenti più interessanti a Firenze, in Mugello ed in Chianti:
Mercato di Natale Tedesco
Appuntamento dal 2 al 20 dicembre 2009 in piazza Santa Croce a Firenze con l' ormai tradizionale mercatino natalizio tedesco con le sue caratteristiche casette in legno. Aperto dalle 10 alle 22.
Mostra mercato di Natale organizzata alla Stazione Leopolda a Firenze dal 5 al 13 dicembre 2009. Aperta dal venerdì al martedì dalle 10 alle 22, mentre il mercoledì ed il giovedì dalle 15 alle 22.
Ingresso a pagamento: biglietto intero €7,50 ; ridotto 6€; bambini sotto i 3 anni ingresso gratuito.
Mercato di Natale della Croce Rossa Italiana
Al Saschall a Firenze dall' 11 al 13 dicembre. Mostra mercato a scopo benefico organizzata dalla CRI,  il ricavato dell' evento verrà devoluto ad alcune famiglie bisognose del territorio di Firenze. Aperta venerdì 11 dalle 15:30 alle 19:00,  sabato e domenica dalle 10:30 alle 19:00.
Ingresso 5€;  i bambini fino a 14 possono entrare gratuitamente.
Mercatini di Natale a Marradi
Per le strade del centro di Marradi in Mugello le domeniche 6, 13 e 20 Dicembre 2009 vengono allestiti i banchi dei tradizionale mercato natalizio. Sono previsti anche spettacoli musicali ed esibizioni di artisti di strada per far divertire grandi e piccoli.
Come accade anche in occasione delle celebre Sagra delle Castagne, è possibile raggiungere Marradi anche con il caratteristico treno a vapore con partenza da Firenze (guarda il video del treno a vapore verso Marradi).
Mercatini natalizi a Palazzuolo sul Senio
A Palazzuolo sul Senio, sempre nell' alto Mugello, i giorni 6, 8 , 13 e 20 dicembre 2009 dalle 10 in poi il centro storico sarà animato da bancherelle, spettacoli ed animazioni a carattere natalizio. Guarda tutti gli eventi in programma.
Dall' 8 dicembre al 6 gennaio 2010 è possibile ammirare "1000 Presepi per Palazzuolo" , un percorso per le strade della città alla scoperta dei presepi realizzati dai commercianti, abitanti e associazioni di Palazzuolo.
Mercatini artigiani a Greve in Chianti
Il 13 ed il 20 dicembre 2009 in Piazza Matteotti a Greve in Chianti viene organizzato un mercatino artigiano con musica ed intrattenimento.
Mercatino di Natale a Certaldo
I giorni 22, 23 e 24 dicembre 2009 il centro storico di Certaldo ospita un mercatino di Natale.
A Firenze domenica 6 Dicembre verranno accese le luci del grande albero di Natale in Piazza della Repubblica e, in occasione del Natale, anche Piazza Duomo recentemente pedonalizzata avrà una nuova illuminazione.
About Cristina Romeo
Born in Florence at the end of the fabulous '70s, Cristina has always lived in the famous "cradle of the Renaissance". She's in love with her homeland, but also enjoys traveling and discovering new places. Cristina is mum to a lovely little girl, to whom she hopes to pass on all the passion and love of our precious, wonderful Tuscany.