Dal 18 agosto fino al 24 ottobre, il magnifico pavimento del Duomo di Siena sarà completamente scoperto, considerato uno dei capolavori del gotico italiano
Se stai vistando Siena, uno dei luoghi "da non perdere" è la cattedrale di Siena. Molti arrivano in Piazza del Duomo, ammirano le ricche decorazioni della facciata ed i colori del marmo utilizzato per creare questo splendore ma poi non entrano dentro… perchè?
Forse a causa della mancanza di tempo o forse perché si deve pagare per entrare, ma lasciate che vi assicuri, sia il tempo dedicato che il costo del biglietto per entrare valgono sicuramente la pena per due motivi in particolare:
il pavimento del Duomo e la Libreria Piccolomini!
Quando si entra per la prima volta nella cattedrale, si rimane con gli occhi spalancati dalla ricchezza della decorazione. Siena oggi, per la gran parte dei visitatori arriva dopo Firenze, ma nel medioevo era invece molto più importante e ricca di quest'ultima. Siena si trovava proprio lungo la via Francigena, la strada principale di pellegrinaggio che collega la Francia a Roma e quindi accoglieva migliaia di pellegrini nel suo "ospedale", inteso con il signifcato di ospitalità, che sta proprio davanti al duomo.
Il suo massimo splendore artistico ed architettonico risale a questo periodo, quando la Piazza del Campo, Palazzo Pubblico e la sua torre detta "del Mangia" ed il Duomo erano in costruzione ed ampliamento. Questo è il periodo di Duccio Buoninsegna e della sua bellissima Maestà, in fase di creazione per il Duomo.
Nel 1339 la città iniziò i lavori per l'espansione della cattedrale – quel muro che vedete a destra del Duomo ancora in piedi oggi (nella prima foto in alto). Poi la peste del 1348 cambiò tutto, ma i piani di espansione e crescita del duomo possono ancora darvi un'idea della ricchezza e influenza di Siena in quei giorni, potete vederli all'interno del Duomo ancora oggi.
All'interno del Duomo
Torniamo al motivo principale per cui il Duomo merita di essere visitato: il suo pavimento! L'intero pavimento è decorato con scene riprse dalla mitologia e dai pensieri classici, mentre le parti verso l'altare contengono storie bibliche, come la Strage degli Innocenti. Molte delle scene sono transennate per proteggerle dal calpestio delle persone, ma visibili durante tutto l'anno – invece quelle più importanti sotto la cupola e vicino all'altare sono completamente coperte,  di solito ci sono le panche per assistere alle messe.
Il pavimento è un lavoro iconografico incredibile e complesso. Nel corso dei secoli vari artisti hanno contribuito alla sua creazione, dal Sassetta a Beccafumi a Pinturicchio, questi sono solo alcuni dei maestri che hanno fatto i cartoni di alcune delle 56 scene intarsiate.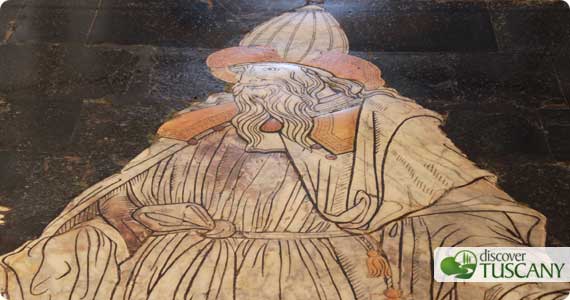 L'intarsio è stato realizzato con due tecniche: alcune scene sono state create da incisioni realizzate su parte della pietra, poi riempite con intonaco nero per creare le figure e le immagini, mentre altre scene sono state fatte con un sistema molto più difficille chiamato complesso marmoreo, dove diversi pezzi di marmo colorato sono tagliati come pezzi di puzzle e intersecati per creare ogni parte dell'immagine.
Sotto la cupola, nella zona esagonale si trovano gli intarsi di Domenico Beccafumi, risalenti al '500. Questi sono particolarmente complessi, realizzati seguendo la seconda tecnica indicata sopra. Visitare il Duomo in questo periodo permette di vedere questi capolavori,  di solito non visibili!
Siamo stati a Siena diverse volte ma ancora non abbiamo visto tutto il pavimento, questa è un'occasione perfetta per tornare e non la perderemo! Se siete in Toscana prossimamente, vi consigliamo di includere Siena ed il suo Duomo nel vostro itinerario per non perdere questo straordinario evento!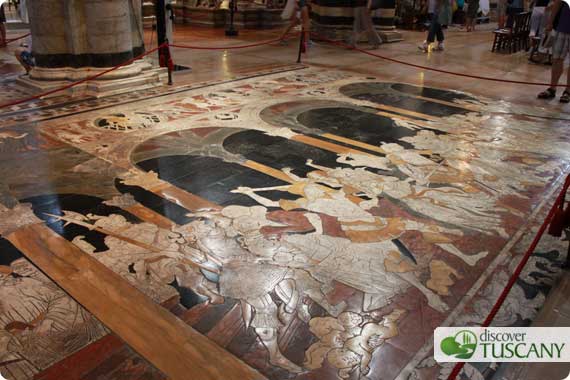 Duomo di Siena
Pavemento Completamente Scoperto: 18 agosto – 24 ottobreOrari:
Feriali: 10:30 – 19:30
Festivi: 9:30 – 18:00
Biglietto:
adulti € 6,00; ridotti € 5,00
OPA SI pass
(per visitare tutto il complesso museale del Duomo di Siena (
ottimo affare!
): € 12,00Costo prenotazione:€ 1,00 a persona
Servizi aggiuntivi:
– Visita la cattedrale con una guida multimediale su tablet
– Visita guidata per piccoli gruppi di visitatori ogni giorno alle: 11:00 – 12:00 – 14:30 – 15:30Per ulteriori informazioni e per prenotare i biglietti, visitare il sito web ufficiale del Duomo di Siena:
www.operaduomo.siena.it
About Lourdes Flores
An American living in Florence for over 10 years, Lourdes continues to explore and discover new places in Tuscany with the eyes of a tourist but with the experience of living in Italy. She shares her experiences on this blog and website, particularly offering lots of travel planning help on the Forum!