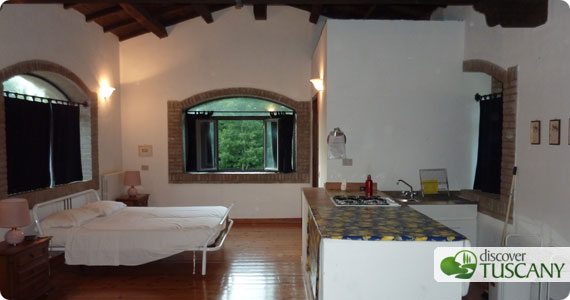 Per la nostra vacanza in Lunigiana abbiamo scelto un agriturismo vicino ad Aulla dal nome senz'altro originale: il Convivium Lunae Pow Wow. Lo abbiamo scelto per la sua posizione piuttosto centrale nella terra di Lunigiana che ci ha consentito di visitare agevolmente l'area durante la settimana in cui vi abbiamo soggiornato.
L'agriturismo è a circa 15 minuti da Aulla, vicino Bigliolo, paese rinomato per i propri fagioli.
Appena arrivati i primi ad accoglierci sono i simpatici cani Ulisse e Peggy. Scopriremo in seguito che ci sono anche altri due cani, più convinti del proprio ruolo di cani da guardia, e diversi gatti, cosa che ci fa senz'altro piacere!
Facciamo subito conoscenza con la famiglia Grulli, ed in particolare con Aristide, il proprietario. E' innamorato della sua terra e si appassiona a raccontarne i segreti e le tante ricchezze. Capiamo subito anche una settimana forse non basterà a fare e vedere tutto ciò che la Lunigiana ha da offrire.
La cosa più bella dell'agriturismo Pow wow Lunae è che è veramente tranquillo, ed anche un po' isolato: l'ideale per staccare con il lavoro! In effetti il telefono prende pochissimo ed è davvero difficile connettersi ad Internet tramite telefonia mobile. Questo, sommato al fatto che il televisore nel nostro appartamento non funziona, ci regala una settimana di completo stacco, magari un po' forzato, ma che ci fa senz'altro bene.
La tranquillità è però destinata a durare poco: già durante il nostro soggiorno stavano lavorando per costruire una pista da motocross proprio davanti all'agriturismo!
Vicino all'agriturismo c'è anche un piccolo lago, che però non visitiamo. L'appartamento è grande e piuttosto bello, con tante grandi finestre. Le finestre la mattina fanno entrare molta luce, a malapena fermata della tende, perciò non rischiamo di dormire troppo e perderci le bellezze della Lunigiana. La cucina ed il bagno non sono troppo organizzati: in cucina il gas non si accende se non si hanno fiammiferi, e non ci sono molte pentole, o detersivo. In bagno l'acqua calda si fa desiderare e non ci sono piccole comodità quali le saponette.
Le prime due sere facciamo cena all'agriturismo approfittando della cucina della sig.ra Grulli e delle sue due figlie. Non si tratta di un vero e proprio ristorante, si mangia ciò che viene portato in tavola. Ceniamo in un bel salone con la compagnia della famiglia che ci racconta tra l'altro del santuario della Madonna del Castagno e dei suoi miracoli, che si trova nel vicino Bigliolo. Aristide ci suggerisce itinerari di trekking e ci parla dei tanti posti che potremo vedere nei giorni successivi, e che racconteremo nel prossimo post!
About Stefano Romeo
Stefano is a native from Florence but with a quarter of Sienese blood in his DNA and many years living in Pisa is a true Tuscan. He is still learning that his homeland has many corners and hidden gems he has to discover, ones he particularly enjoys seeing from the saddle of his bike.