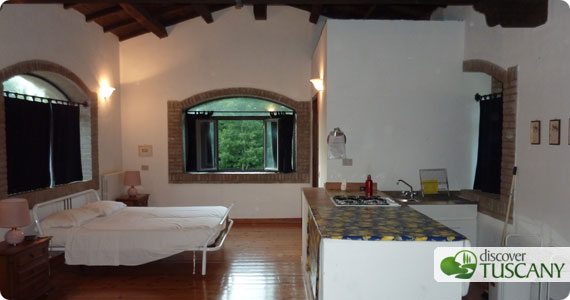 During our vacation in Lunigiana (details and pics coming soon), we selected a farmhouse near Aulla with a very original name: Convivium Lunae Pow Wow. We chose it mainly because of its central location in the Lunigiana area, perfect for moving around to visit the various villages during the week we were there.
The farm is about 15 minutes from Aulla very close to the town of Bigliolo, known for the particular beans grown in the area and a crop grown on this farm.
As soon as we arrived, two friendly dogs named Ulisse and Peggy came up to welcome us. We later found out there are two other dogs, sticking to their role of guard dogs, and several cats. Since we like pets, we immediately warm up to their friendly presence and wagging tails.
We soon meet the entire Grulli family, and get to know the owner, Aristide, in particular. He is in love with "his" Lunigiana and gets passionate as he shares its secrets and many riches. We understand immediately that a week might not be enough to see all that the Lunigiana offers.
The thing we like best of the Pow Wow farmhouse is that it is really a quiet, tranquil place and even a bit isolated: the ideal setting for getting away from work! Actually, our cellphones have trouble getting reception which makes it almost impossible to connect to the Internet through our mobile. This, added to the television that doesn't work in our apartment, really permits us, albeit without a choice, to enjoy a whole week away from the modern world of continual interconnectivity.
The tranquillity of the place, however, is destined to not last long: already during our stay, workers were putting the finishing touches and getting ready to test a motocross/scrambling circuit right in front of the farm house!
Close to the house is a small lake but we didn't have a chance to to visit it. The apartment is large and very nice, with wooden floors, wood beamed ceilings and several large windows. The windows offer a lot of natural light although in the mornings the curtains offered little protection against the sunshine, thus assuring we would not miss going out to see all corners of the Lunigiana. The kitchen corner and bathroom are however not that well furnished: in the kitchen, the cooktop/hob wouldn't turn on without the help of matches (that we had to buy) and some basic cooking utensils, skillets and detergent were missing. In the bathroom, hot water was a distant dream and small comforts such as a piece of hand soap were missing.
The first two evenings we decided to have dinner at the farmhouse enjoying the labor of Mrs. Grulli and her two daughters in the kitchen. It isn't a proper restaurant, you eat was is brought to the table as if you were back at home. Meals are in the main farmhouse hall in the company of the family while they share information on local sights, including the stories of the miracles and sanctuary built to the Madonna del Castagno in nearby Bigliolo. Aristide offered his suggestions for hiking trails and told us of several places he recommended we visit during the week… and thus we have a lot to tell you about our week in Lunigiana in upcoming posts!
About Stefano Romeo
Stefano is a native from Florence but with a quarter of Sienese blood in his DNA and many years living in Pisa is a true Tuscan. He is still learning that his homeland has many corners and hidden gems he has to discover, ones he particularly enjoys seeing from the saddle of his bike.