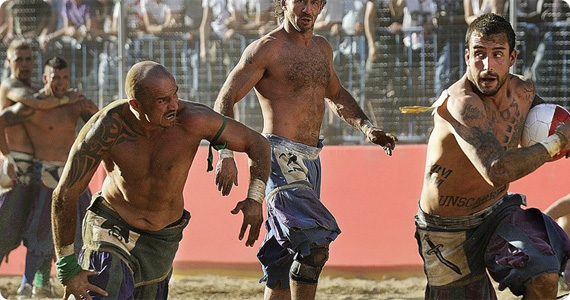 Questo weekend a Firenze si giocano le prime due partite del Calcio Storico Fiorentino in Piazza Santa Croce – state ancora pensando se andare o no?
Sabato 16 giugno i Bianchi di Santo Spirito giocano contro i Verdi di San Giovanni, mentre domenica 17 giugno la partita è tra i Rossi di Santa Maria Novella e i Blu di Santa Croce. Le partite iniziano alle 17 dopo il corteo storico per le vie della città. La finale si gioca il 24 giugno come parte delle celebrazioni del santo patrono di Firenze, San Giovanni Battista. Potete comprare biglietti online o direttamente in Piazza Santa Croce in questi giorni.
Nel frattempo, potete vedere un anteprima del bellissimo documentatio sui "Gladiatori del Calcio" diretto da Fabio Segatori per vedere come è questo antico gioco con radici nella Firenze del 1530 che continua ad essere un gioco molto sentito tra i quartieri e Fiorentini di oggi.
Il documentario intero sarà proiettato all'cinema Odeon il 22 giugno alle 20.30, due giorni prima della finale. Il documentario ha ricevuto fondi del cinema della Regione Toscana.
Godetevi l'anteprima!
About Lourdes Flores
An American living in Florence for over 10 years, Lourdes continues to explore and discover new places in Tuscany with the eyes of a tourist but with the experience of living in Italy. She shares her experiences on this blog and website, particularly offering lots of travel planning help on the Forum!