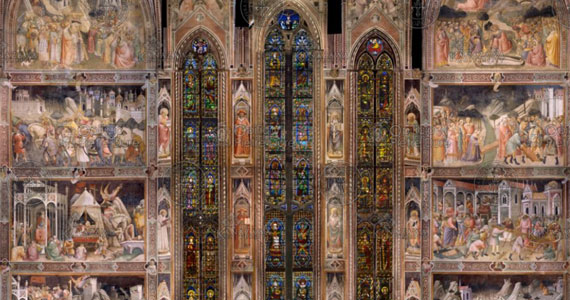 Volete vedere qualcosa di veramente unico durante la vostra permanenza a Firenze? Nei prossimi mesi non mancate di visitare la chiesa di Santa Croce!
La Cappella Maggiore della Basilica è stata sottoposta a restauro da parte dell'Opificio delle Pietre Dure ed è attualmente coperta da impalcature. I lavori impediscono la vista da terra dei meravigliosi affreschi della "Leggenda della Vera Croce" di Agnolo Gaddi, ma sono praticamente terminati ed in pochi mesi gli affreschi potranno essere di nuovo ammirati da tutti.
La "Leggenda della Vera Croce" attualmente è visibile grazie a degli speciali tour guidati (in lingua italiana ed inglese) organizzati dall'Opera di Santa Croce, ma questo sarà possibile solo per pochi mesi ancora: non perdete quest'occasione!
L'Opera di Santa Croce propone delle visite guidate sulle impalcature grazie alle quali è possibile vedere gli affreschi a pochi metri di distanza e saperne di più sulla loro storia e significato. È una vista davvero imperdibile, un'occasione più unica che rara: vi sembrerà di poter quasi toccare gli affreschi con un dito, stando a ben 30 metri di altezza!
La Cappella Maggiore è dedicata alla leggenda della Santa Croce e fu costruita dalla famiglia Alberti (eccetto l'altare, finanziato dalla famiglia Alamanni). Intorno al 1380, Agnolo Gaddi – figlio del più famoso Taddeo e ultimo dei seguaci della scuola di Giotto – la affrescò con "La Leggenda della Vera Croce", basandosi su un libro dal titolo "La Legenda Aurea" scritta dal monaco Francescano Jacopo da Varagine.
Le visite guidate sono organizzate dal Lunedì al Sabato alle 11 ed alle 15 e costano 10€ a persona. Compresi nel prezzo delle visita l'ingresso alla Basilica di Santa Croce e l'accesso a tutto il complesso della Chiesa (Cappella dei Pazzi e Museo). Considerando che il costo normale è di 6€ (eccetto che per i residenti a Firenze, che entrano gratuitamente), la visita guidata conviene decisamente!
È necessaria la prenotazione che può essere effettuata per email scrivendo a booking@santacroceopera.it. Il tour ha la durata di circa 1 ora, durante la quale si saliranno le impalcature utilizzate per il restauro facendo 90 gradini, circa 7 piani, per un'altezza di 30 metri. Durante la visita la guida effettua delle fermate nei punti di maggior interesse spiegando la storia e le tecniche utilizzate sia per la realizzazione degli affreschi che per i restauri.
Terminata la visita, potete ammirare la Basilica ed i capolavori che conserva: tombe e memoriali di alcuni degli italiani più famosi come Michelangelo, Galileo, Niccolò Machiavelli e Dante Alighieri, un magnifico crocifisso restaurato di Cimabue (era stato danneggiato nell'alluvione del 1966) nel museo ed affreschi di Giotto nella Cappella Bardi e Peruzzi e di Taddeo Gaddi (padre di Agnolo, suoi alcuni affreschi nella chiesa e l'Ultima Cena nel refettorio), opere del Rinascimento nella cappella dei Pazzi di Brunelleschi, un crocifisso di Donatello e altro ancora.
La Basilica francescana di Santa Croce è una delle chiese più belle di Firenze, non perdetevela!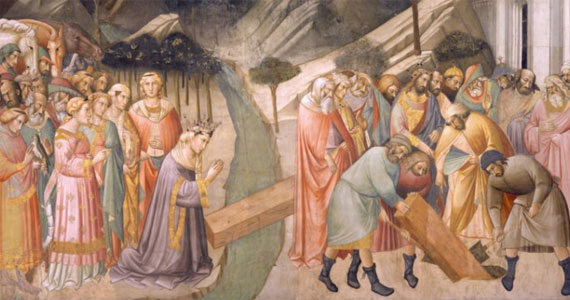 ANCHE NOI ALLA VISITA: Il 20 Giugno anche noi abbiamo visitato la Cappella Maggiore e vi confermiamo che è davvero imperdibile! I lavori di restauro sono quasi completati, ma le impalcature rimarranno per tutta l'estate per permettere ai visitatori e studiosi di ammirare gli affreschi da vicino. La "nuova" cappella dovrebbe essere inaugurata in occasione del giorno di San Francesco il prossimo 4 Ottobre. Non solo gli affreschi sono bellissimi, ma i colori sono così brillanti che sembrano appena stesi. Grazie alla guida della Basilica abbiamo approfondito la storia della "Leggenda della Vera Croce", inserita nel contesto storico del XIII secolo.
Un'occasione davvero unica per ammirare visi, abiti e dettagli che solitamente non si possono vedere altro che sui libri.
About Lourdes Flores
An American living in Florence for over 10 years, Lourdes continues to explore and discover new places in Tuscany with the eyes of a tourist but with the experience of living in Italy. She shares her experiences on this blog and website, particularly offering lots of travel planning help on the Forum!