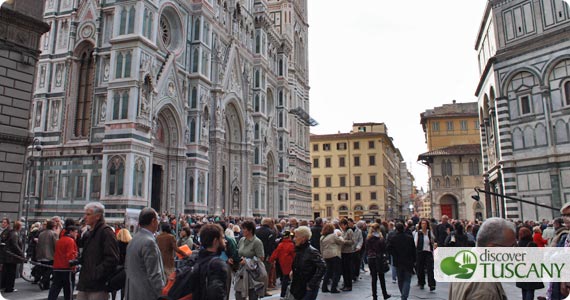 La giornata di ieri è stata davvero bella per Firenze così come per i suoi residenti ed i turisti. Ieri infatti, oltre al tempo quasi perfetto, Piazza del Duomo è ufficialmente diventata pedonale ed è stata chiusa al traffico che negli ultimi 60 anni ha attanagliato una delle più belle piazze d' Italia. Le facciate del Battistero e del Duomo, ormai annerite dallo smog, sono state segnate dal passaggio di oltre 2.100 autobus e centinaia di taxi, scooter, macchine e camion che attraversavano la piazza ogni giorno.
Sia gli edifici che i pedoni trarranno certamente beneficio dalla maggior pulizia dell'aria e dalla riduzione del rumore del traffico conseguenti alla pedonalizzazione di quest' area.
In generale tutti sembrano felici di questa iniziativa, annunciata a sorpresa in una conferenza stampa poco più di un mese fa dal sindaco recentemente eletto Matteo Renzi. I visitatori apprezzeranno sicuramente la possibilità di ammirare la splendida facciata del Duomo da una nuova angolazione, senza timore dell' arrivo di automobili o autobus.
Ci siamo uniti anche noi all' inaugurazione di ieri in Piazza Duomo e certamente abbiamo apprezzato lo spazio aggiuntivo – la piazza sembra davvero molto più grande adesso che le strade sono state convertite in zone pedonali. Abbiamo visto un sacco di famiglie con bambini e passeggini, ciclisti e turisti, molti dei quali sono stati attratti anche dalla possibilità di fare una visita guidata gratuita del Duomo e del Museo dell'Opera del Duomo, dalla sfilata in costume storico e dalle caldarroste e palloncini che venivano distribuiti gratuitamente.
Questo cambiamento della viabilità nella piazza ovviamente ha significato una rapida ripianificazione delle linee di autobus che transitavano per Piazza Duomo, che sono state deviate verso due nodi principali: Piazza San Marco e la stazione ferroviaria di Santa Maria Novella . Ci vorrà un po' di tempo prima che tutti si abituino a questi cambiamenti – attenzione sopratutto che non tutte le fermate degli autobus sono stati aggiornate secondo le nuove rotte! Ad esempio: la linea 7 che porta a Fiesole transita adesso solo da Piazza San Marco, e non passa neanche dalla stazione ferroviaria di SMN. Con tutti gli autobus che passano da Piazza San Marco però non era chiaro dove fosse la fermata del 7 (abbiamo poi scoperto che la fermata è di fronte alla Chiesa di San Marco, ma non siamo ancora riusciti a capire dove sia il Capolinea dell'  autobus!).
Non ci resta che aspettare e vedere in quanto tempo le persone si adatteranno a questi cambiamenti ed alle nuove strade e percorsi nel centro di Firenze. Chiunque a breve visiti Firenze con l' aiuto di un navigatore GPS dovrebbe comunque essere avvertito che il dispositivo potrebbe portare verso strade che non sono più aperte alle auto, tuttavia biciclette e pedoni sono sempre benvenuti!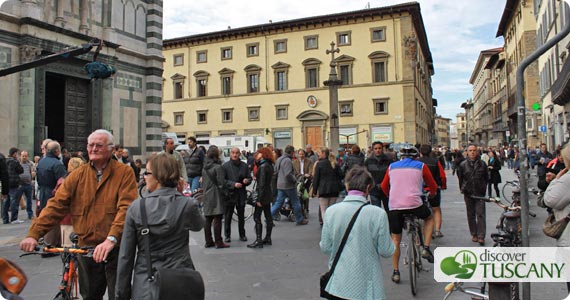 About Lourdes Flores
An American living in Florence for over 10 years, Lourdes continues to explore and discover new places in Tuscany with the eyes of a tourist but with the experience of living in Italy. She shares her experiences on this blog and website, particularly offering lots of travel planning help on the Forum!