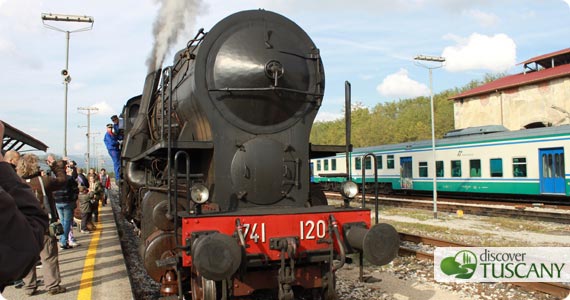 Qualche domenica fa abbiamo fatto una bella gita a Marradi, cittadina dell'appennino tosco-romagnolo, dove si teneva l'annuale sagra delle castagne.
I marroni del Mugello sono rinomati e godono del marchio IGP (Indicazione Geografica Protetta) e la sagra è un'ottima occasione per gustare e comprare non solo le castagne ma anche tanti prodotti tipici della zona. Abbiamo fatto incetta di pecorini oltre che di farina e torta di castagne. 🙂
Eravamo stati alla sagra anche l'anno passato ed è carina ma veramente affollatissima! Segno di un gran successo ma è anche vero che in certi momenti non si riesce neanche a camminare e diventa un po' meno godibile.
Anche più bello della sagra è stato il mezzo con cui ci siamo arrivati: un autentico treno d'epoca, trainato da una locomotiva a vapore che ci ha portato da Firenze a Marradi con una lenta corsa  fra paesini e colline toscane. Abbiamo viaggiato nelle carrozze d'epoca, veramente ben mantenute e ricche di dettagli che hanno dato al viaggio un sapore d'altri tempi. Ma la vera star era la locomotiva, con i suoi sbuffi di vapore ed un fascino davvero di altri tempi !
Ad ogni sosta (il treno si ferma per far salire passeggeri e anche per fare rifornimento) la locomotiva era presa d'assalto da grandi e piccoli per fare foto e provare a salire assieme ai macchinisti.
Fra i passeggeri l'età media era molto bassa: tantissime le famiglie con bambini, che viaggiavano a prezzo ridotto e gratis sotto i 5 anni. Per gli adulti il costo era di 45 euro, comprensivo dell'entrata alla sagra, non proprio economico ma almeno per una volta nella vita ne vale la pena!
Se non volete aspettare la sagra del prossimo ottobre per fare una corsa sul trenino a vapore, nelle tre domeniche prima di Natale saranno organizzati dei viaggi da Firenze, ed a Marradi in quell'occasione ci saranno i mercatini di Natale. Per acquistare i biglietti per il treno a vapore potete contattare Sabrina Travel.
About Stefano Romeo
Stefano is a native from Florence but with a quarter of Sienese blood in his DNA and many years living in Pisa is a true Tuscan. He is still learning that his homeland has many corners and hidden gems he has to discover, ones he particularly enjoys seeing from the saddle of his bike.