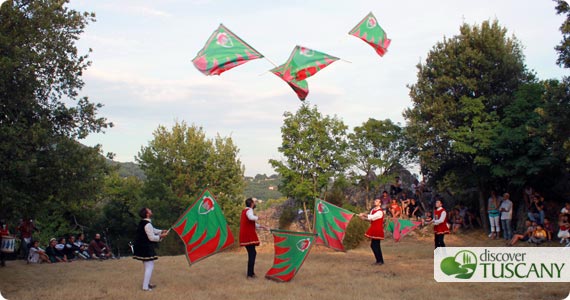 Siamo tornati a Roccatederighi, sabato scorso, per partecipare alla "Festa del Borgo", la festa medievale che si tiene ogni anno. E' stata una sorpresa positiva, ne parliamo nel nostro nuovo blog Feste Medievali che sta nascendo in questi giorni.
Abbiamo voluto prendercela comoda e dormire fuori dopo la festa (che è comunque finita dopo le 2 del mattino). Siamo stati in un bel Bed and Breakfast nella vicina Sassofortino, il Podere Usignolo. I proprietari, Martin e Barbara, sono simpatici e gentili ed hanno saputo creare davvero un ambiente accogliente e rilassante nelle colline maremmane, sicuramente lo consigliamo anche per lunghi soggiorni di relax.
Leggi la recensione della Festa Medievale di Roccatederighi
About Stefano Romeo
Stefano is a native from Florence but with a quarter of Sienese blood in his DNA and many years living in Pisa is a true Tuscan. He is still learning that his homeland has many corners and hidden gems he has to discover, ones he particularly enjoys seeing from the saddle of his bike.