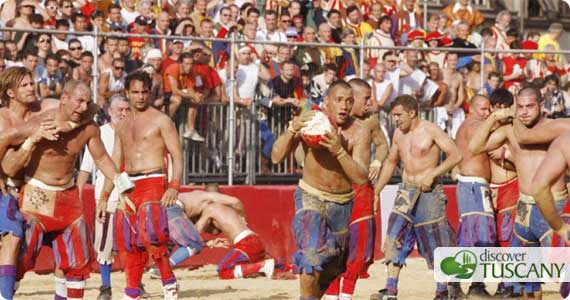 Oggi a Firenze è San Giovanni la festa del Santo Patrono e giorno speciale per la città.  Le strade sono silenziose come di domenica. No, oggi non si lavora! Tutte le telefonate in ufficio oggi arrivano rigorosamente da fuori città e parlano con la Segreteria telefonica. 🙂
Sembra che anche l'estate si sia ricordata di arrivare: fa piacevolmente caldo, perfetto per un bel gelato passeggiando per il centro! Non è la giornata migliore invece per una passeggiata verso il piazzale Michelangelo, chiuso in preparazione dei "Fochi" di stasera.
Chi ha la fortuna di poter visitare Firenze oggi può partecipare all'atmosfera particolare che si respira. Molte della manifestazioni sono naturalmente a sfondo religioso, incluso la grande messa che si celebra questa mattina nella cattedrale. Ma molte altre altre sono parte della storia di Firenze ed è divertente parteciparvi.
Per i tifosi alle 16 innanzitutto c'è la partita dell'Italia ai mondiali: non c'entra molto con San Giovanni ma potete star sicuri che la città sarà ancora più deserta, almeno dove non vi sia un televisore acceso! A cominciare dalle 6 del pomeriggio da Piazza Santa Maria Novella parte la parata in costume del Calcio Storico Fiorentino, a cui parteciperanno i calcianti, gli Sbandieratori degli Uffizi e le autorità cittadine.
Alle 19 vi sarà l' incontro "amichevole" di Calcio Storico fra i Blu del quartiere di Santa Croce e i Bianci di Santo Spirito, in piazza Santa Croce. E' possibile comprare i biglieti al box office al Teatro Verdi, in via Ghibellina 99 a partire dalle 5 del pomeriggio. Costano da 15 a 40 €.
Alle 20.45 sul Lungarno della Zecca è possibile assistere ad un concerto musicale, mentre i "Fochi di San Giovanni" ( i fuochi artificiali che fin da bambini aspettavamo impazienti di ammirare) iniziano alle 10. Tutta Firenze si ritrova sulle rive dell'Arno per vederli, lo spettacolo è garantito, con i bellissimi effetti pirotecnici che si riflettono nell'acqua del fiume. Ci vediamo sul lungarno stasera, e buon San Giovanni 😉
un po' di foto dei passati San Giovanni »
About Stefano Romeo
Stefano is a native from Florence but with a quarter of Sienese blood in his DNA and many years living in Pisa is a true Tuscan. He is still learning that his homeland has many corners and hidden gems he has to discover, ones he particularly enjoys seeing from the saddle of his bike.