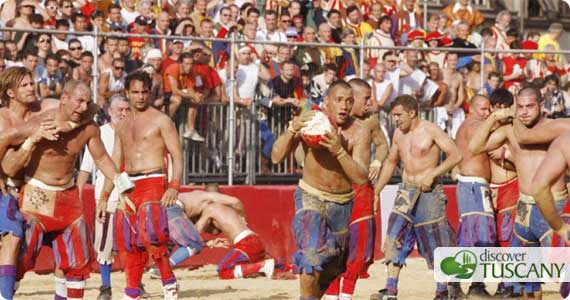 Summer is finally here! Aside from enjoying a walk with a gelato in hand through downtown, enjoy the special events connected to today's celebration of Florence's patron saint, St. John the Baptist. As you can imagine, the day's celebrations are mostly religious – including a large mass this morning in the cathedral – but many more are part of Florence's long history and are fun to watch and participate in.
Starting at 6pm tonight, the parade in historical costume of the Calcio Storico Fiorentino starts in Piazza Santa Maria Novella. The participants in the game as well as musicians, flag-throwers from the Sbandieratori degli Uffizi and city officials will join in the parade toward Piazza Santa Croce.
At 7pm the "friendly" Calcio Storico match begins between the Blues (Santa Croce neighborhood) and Whites (Santo Spirito neighborhood) in Piazza Santa Croce. You can buy your tickets at the Teatro Verdi's box office on via Ghibellina 99 starting at 5pm today. Tickets cost from € 15 to € 40, depending on the seating area.
At 8.45pm there is a musical concert along the Lungarno della Zecca while the "Fochi di San Giovanni" or fireworks display starts at 10pm. Just head toward the Arno to get a great view of the fireworks. As they are set up and go off from Piazzale Michelangelo, the piazzale has been closed off to foot traffic all day but the best view is from the Arno, with the fireworks' bright colors reflecting off the river. See you there tonight!
View photographs of the historical parade and June 24 celebrations »
About Lourdes Flores
An American living in Florence for over 10 years, Lourdes continues to explore and discover new places in Tuscany with the eyes of a tourist but with the experience of living in Italy. She shares her experiences on this blog and website, particularly offering lots of travel planning help on the Forum!