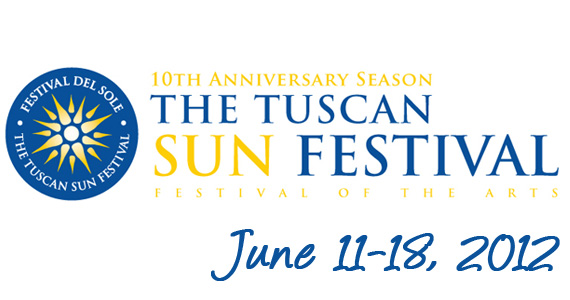 Quest'anno giunto alla sua decima edizione, torna il prestigioso Tuscan Sun Festival, inaugurato nel 2003 e considerato l'evento più importante realizzato in Toscana. Per la prima volta si allontana dalla sede originale di Cortona per spostarsi al centro della città rinascimentale per eccellenza, Firenze, dal 11 al 18 giugno 2012.
Come definito da coloro che da anni lo realizzano, Il Tuscan Sun Festival rappresenta un "lifestyle festival", ovvero un evento che celebra l'arte in ogni sua forma espressiva, dalla musica al teatro, alla danza fino ad arrivare alla cucina e all'enologia.
Vi aspettano quindi una serie di concerti con artisti internazionali di grande fama ma anche eventi di tutti i tipi che abbracciano tante categorie diverse.

Musica
Tanti nomi importanti, tra quelli degli artisti che si esibiranno al Tuscan Sun Festival, da ricordare in particolare la soprano Angela Gheorghiu, considerata la più dotata del panorama musicale attuale, il pluripremiato trombettista Sergei Nakariakov, la pianista Valentina Lisitsa, la violoncellista Nina Kotova, Sir James Galway al flauto, Il Maestro Pogorelich, la mezzo soprano Susan Graham, ancora Il violinista classico Nigel Kennedy e per finire John Malkovich e i Technobohemians.
La Scuola di Musica di Fiesole considerata una delle più prestigiose accademie di musica d'Europa, sarà presente al festival con i suoi alunni (tra i 10 e i 17 anni) il 12 giugno 2012 e eseguirà il Concerto del Tramonto, i cui fondi serviranno per la formazione di altri giovani artisti di talento.
Chiude la manifestazione l'evento The 24 Hour Plays dove si rappresentano 4 brevi opere teatrali nell'arco di 24 ore. L'evento vede la partecipazione speciale di Tony Bennett.
Mostre
Durante la manifestazione potrete visitare la mostra dedicata agli impressionisti Americani a Firenze con dipinti di fine 800 e inizio 900 che testimoniano il legame tra vecchio e nuovo continente a 500 anni di distanza dalla morte di Amerigo Vespucci. Fino al 15 luglio 2012 a Palazzo Strozzi.
Eventi Culinari
Nella terra dell'enogastronomia per antonomasia, ecco che 5 chef italiani di fama internazionale propongono ricette non convenzionali e reinventano piatti tradizionali di cui l'Italia è maestra ormai da generazioni.
Espongono le loro esclusive realizzazioni e creazioni nuovissime presso il ristorante del J. K. Place e presso il Four Seasons Hotel al centro di Firenze.
Tribeca Firenze
All'interno di un evento poliedrico come questo non poteva mancare una sezione dedicata al cinema. Dal 3 al 17 giugno al Cinema Odeon verranno proiettati una serie di film di successo internazionale tra cui un documentario su Woody Allen, Ripley's game, The World before her e altro ancora…
Potete acquistare i biglietti dal lunedì al sabato 10:00-18:00 presso la Biglietteria, Via delle Vecchie Carceri, 1 Firenze. Per la prenotazione online, chiedere informazioni a tickets@boxofficetoscana.it
Il Tuscan Sun Festival si celebra dal 11 al 18 giugno 2012 all'interno di prestigiose locations sparse per Firenze: Four Season Hotel, K.KPlace, Nuovo Teatro dell'Opera, Cinema Odeon, Palazzo Strozzi e Teatro della Pergola.
Per saperne di più sugli eventi e per informazioni dettagliate sul programma, potete visitare il sito ufficiale del Tuscan Sun Festival.
Buon Festival a tutti!
About Sara Turini
Social media addicted, keen on travels, in love with my land, Tuscany. Sara has decided to share all the emotions this region can offer through her posts on our blog.