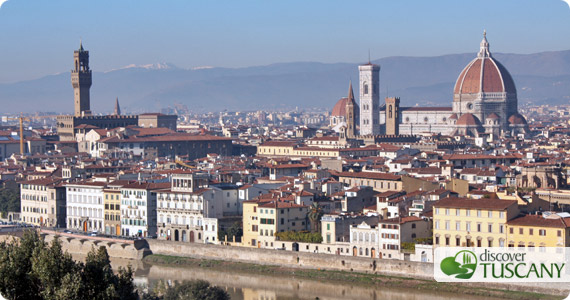 Firenze è una città perfetta per trascorrere un soggiorno romantico col proprio partner. Il centro storico raccolto, i bei palazzi d' epoca, le grandi piazze, i piccoli vicoli tutti da scoprire, il famoso Ponte Vecchio ed i lungarni offrono uno sfondo davvero unico per una coppia di innamorati. Passeggiare tra le strade del centro di Firenze non è solamente romantico, ma è anche il modo migliore per visitare ed apprezzare la città. Da quando poi Piazza Duomo è stata chiusa al traffico, pochi mesi fa, il "cuore di Firenze" è ancora più godibile!
Vogliamo dare qualche idea per chi sta organizzando un San Valentino od un soggiorno speciale a Firenze. Il centro storico, come abbiamo detto, è uno dei luoghi più magici della città. Il Ponte Vecchio, in particolare la sera, è da sempre il posto romantico per eccellenza, così come i lungarni illuminati si prestano ad una bellissima passeggiata sotto le stelle.
Non dimentichiamoci poi che Firenze ha fatto da cornice ad uno degli amori più famosi della storia: quello tra Dante e Beatrice. I due si conobbero nella piccola Chiesa di Santa Margherita de' Cerchi , dove una lapide ricorda, secondo la tradizione, il luogo di sepoltura di Beatrice. A poca distanza dalla Chiesa vi sono le case dei due innamorati. Palazzo Portinari-Salviati (detto anche palazzo Cepparello), la casa di Beatrice, si affaccia su via del Corso ed è stata per molti anni sede di un istituto bancario. La casa di Dante è invece un museo in cui sono conservate riproduzioni, documenti e modellini riguardanti il Sommo Poeta.
Fuori dal centro storico segnaliamo in particolare due luoghi da non perdere: Piazzale Michelangelo e Fiesole. Dalla grande terrazza di Piazzale Michelangelo si gode di una strepitosa vista sulla città. A poca distanza, in cima ad un' alta gradinata, si trova l' antica Chiesa di San Miniato al Monte, una delle più belle di Firenze.
Fiesole si trova a circa 20-25 minuti di autobus dal centro di Firenze, ma è una piccola perla. Il 13 e 14 Febbraio 2010 Piazza Mino, la piazza principale di Fiesole, ospiterà i banchi della Festa del Cioccolato e sicuramente non mancheranno i cuori di cioccolato per la festa degli innamorati! Per godere di un bello scorcio panoramico su Firenze, è sufficiente poi salire fino al Convento di San Francesco, vicino al quale vi è anche un piccolo giardino in cui potersi rilassare in tranquillità.
Per San Valentino alcune strutture ricettive offrono delle particolari offerte per le coppie di innamorati:
About Cristina Romeo
Born in Florence at the end of the fabulous '70s, Cristina has always lived in the famous "cradle of the Renaissance". She's in love with her homeland, but also enjoys traveling and discovering new places. Cristina is mum to a lovely little girl, to whom she hopes to pass on all the passion and love of our precious, wonderful Tuscany.