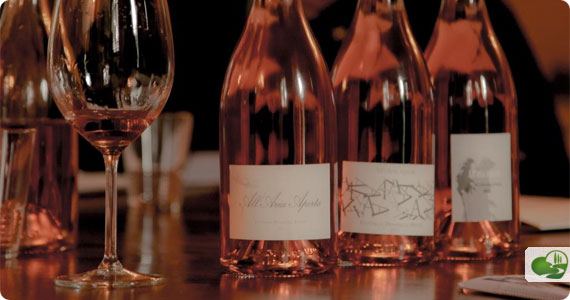 Questa splendida primavera fiorentina oltre a regalarci un piacevole sole ci presenta anche la nuovissima collaborazione tra la Fattoria Dianella Fucini vicino Vinci e  Polimoda, scuola di fashion marketing di Firenze. Due realtà diverse che uniscono in unico concetto due risorse preziose per l'Italia: Il vino e il design.
Agli studenti del secondo anno di Marketing Management, Marketing Communication e Master in Fashion Communication del Polimoda è stata offerta la possibilità di disegnare le nuove etichette per il vino rosè della Fattoria Dianella chiamato All'Aria Aperta. Ieri i tre finalisti del concorso hanno esposto alla Fattoria i loro progetti in base ai quali è stato scelto il vincitore.
L'etichetta perfetta non deve limitarsi soltanto a riassumere le caratteristiche e spiegare il contesto di un vino, bensi' riuscire a comunicarne l'essenza.
Deve essere capace di esprimere il lungo lavoro nascosto dietro a una bottiglia perfettamente confezionata e la passione che accompagna il percorso dalla raccolta di un grappolo d'uva alla produzione di un vino dai mille sapori.
Pensiamo inoltre a tutti coloro che non s' intendono di vino e vengono spesso influenzati soltanto dall' etichetta esposta sulla bottiglia, è cosi' che si condiziona la scelta di un vino piuttosto di un altro.
Questa collaborazione rappresenta una grande opportunità sia per gli studenti di marketing che possono cosi' mettere in pratica il loro studi e allo stesso tempo per l' immagine della Fattoria Dianella che ottiene cosi' un nuovo e fresco design per il suo vino.
Villa Dianella è una villa medicea del 15 secolo che produce vino Chianti, olio extra vergine di oliva e liquori come grappa e vinsanto. La proprietà dispone di splendide e eleganti camere nelle quali gli ospiti possono godersi una rilassante vacanza in Toscana, partecipando a lezioni di cucina, tours attraverso le cantine della proprietà e degustazione di vini.
Polimoda invece è una delle scuole di fashion e design più esclusive d'Italia, offre lauree, master e corsi per tutti studenti appassionati del settore moda: marketing, comunicazione, branding, management e molto altro ancora.
About Lourdes Flores
An American living in Florence for over 10 years, Lourdes continues to explore and discover new places in Tuscany with the eyes of a tourist but with the experience of living in Italy. She shares her experiences on this blog and website, particularly offering lots of travel planning help on the Forum!