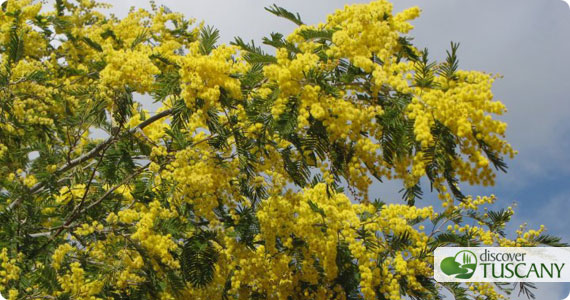 Mancano meno di 20 giorni all' arrivo della Primavera, anche se a dire il vero questa settimana il tempo in Toscana è stato decisamente invernale. Le previsioni meteo per il weekend per fortuna sono piuttosto buone ed in tutta la regione ci aspettano temperature in aumento.
Questo weekend precede l' 8 Marzo, giorno in cui quest'anno si festeggiano contemporaneamente il Martedì Grasso, ovvero l' ultimo giorno di Carnevale e la festa della Donna.
In occasione della Festa della Donna le donne potranno entrare gratuitamente in tutti i musei e luoghi d' arte statali della Toscana (l'iniziativa, promossa dal Ministeri dei Beni Culturali, è valida per tutta l' Italia).
Per tutto il weekend del 5 e 6 marzo proseguiranno invece i festeggiamenti del Carnevale, che saluteremo definitivamente, per quest' anno, martedì 8. Trovate una selezione dei principali appuntamenti dedicati al Carnevale, in questo post dedicato agli eventi del Carnevale 2011 in Toscana.
Altri appuntamenti interessanti in programma per il fine settimana:
A Firenze il 5 marzo apre la XIV edizione del "Salone del Mobile". Ospitata nella bella Fortezza la fiera è una delle principali in Italia e sarà visitabile fino a domenica 13 marzo.
All' Impruneta l'appuntamento per il 5 e 6 marzo è con la "Festa della cioccolata", una piccola fiera dedicata al cioccolato ed ai prodotti dolciari.
Antiquariato e collezionismo:
L' appuntamento principale con l' antiquariato in Toscana è senz' altro quello con la Fiera Antiquaria di Arezzo. Come ogni primo fine settimana del mese Piazza Grande e le strade del centro storico cittadino saranno occupate dagli stand di antiquari e collezionisti.
A Scarperia, in Mugello, domenica 6 si svolge "Collezionisti in Piazza" – mercato di scambio di antiquariato e collezionismo.
In Piazza Mino a Fiesole domenica 6 vi saranno gli stand del piccolo "Mercato di Antiquariato".
Al teatro Saschall a Firenze il 5 ed il 6 si svolgerà "Collezionare a Firenze – Artigianarte", fiera dedicata al collezionismo d' epoca e artigianato. Ingresso a pagamento (3€).
A tutti un buon weekend!
About Cristina Romeo
Born in Florence at the end of the fabulous '70s, Cristina has always lived in the famous "cradle of the Renaissance". She's in love with her homeland, but also enjoys traveling and discovering new places. Cristina is mum to a lovely little girl, to whom she hopes to pass on all the passion and love of our precious, wonderful Tuscany.