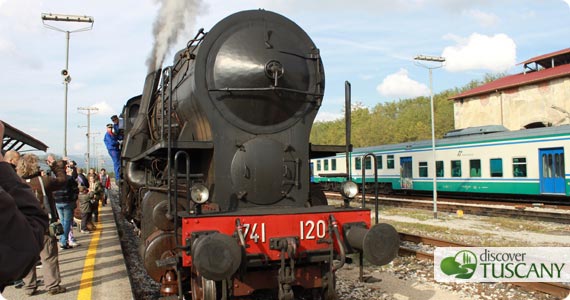 We took a beautiful trip to Marradi a few weekends ago, a mountain village located in the Tuscan Apennines near the border with Emilia Romagna, to go the town's annual chestnut sagra or food festival.
The Mugello chestnuts are famous and are protected by the IGP (Indicazione Geografica Protetta, or Geographical Protected Indication) trademark and the festival was a wonderful occasion to taste and buy not only chestnuts but many local products as well. We bought chestnut flour, several pieces of local cheeses and a small chestnut cake to take home, in addition to all the other chestnut treats we had that day. 🙂
We had already been to the chestnut sagra last year and we found it appealing even if a bit too crowded! While the crowds are a sign of success, at certain moments it was hard to make our way through the streets and this made it a bit less enjoyable.
What we truly appreciated this year was how we got to Marradi: on an authentic vintage train, pulled by a steam-powered locomotive that took us from Florence to Marradi at a steady pace passing through Tuscany's countryside and several villages. We traveled in vintage coaches, in great shape and rich in little details which added the flavor of times long past.  The real star was the locomotive, with its fumes of steam and its charm from other times!
At every stop (the train made stops to both pick up additional passengers as well as to "refuel" with water), children and adults alike crowded around the locomotive to take pictures and try to climb aboard alongside the engine drivers.
The average age of the train's passengers was quite low: there were many families with children taking advantage of reduced tickets or, for those under 5, free passage. The cost for adults was 45 euros each which included entrance into the sagra, and while it wasn't exactly cheap, it was certainly worth trying it at least once in our lifetimes!
If you don't want to wait for next year's festival in October to travel on the steam engine train, you can do so in the 3 Sundays before Christmas when there will be trips from Florence to Marradi for the town's Christmas market. You can buy tickets for the steam engine train by contacting Sabrina Travel.
About Stefano Romeo
Stefano is a native from Florence but with a quarter of Sienese blood in his DNA and many years living in Pisa is a true Tuscan. He is still learning that his homeland has many corners and hidden gems he has to discover, ones he particularly enjoys seeing from the saddle of his bike.