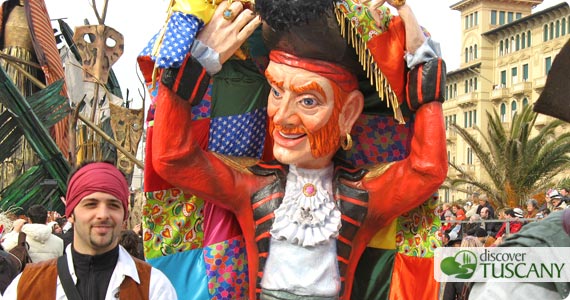 I festeggiamenti del Carnevale quest'anno iniziano davvero molto presto, merito della Pasqua "alta", come si suol dire, che cade il 31 marzo.
I primi corsi mascherati partiranno il fine settimana del 19 e 20 Gennaio, ma le feste in alcune città continueranno addirittura fino ai primi di Marzo, come nel caso del Carnevale di Viareggio.
Il carnevale è un'occasione di divertimento e spensieratezza per tutti, grandi e piccoli, e non c'è forse bisogno di un po' di "leggerezza" per tutti, specialmente in questo momento storico?
Preparate quindi maschere e coriandoli perchè nelle prossime settimane il Carnevale sbarca anche in Toscana, un'occasione in più per fare una gita fuori e visitare magari delle nuove città .
Ecco le sfilate di Carnevale che vi consigliamo di non perdere, in giro per la Toscana:
1. A San Gimignano
Nel suggestivo centro di San Gimignano nelle prossime domeniche potrete partecipare al divertente carnevale cittadino. Carri allegorici in cartapesta, musica e gruppi in maschera animeranno il centro storico della splendida città delle case-torri. È davvero un'ottima scusa per visitare San Gimignano in inverno!
Quando: 20, 27 Gennaio e 3,10 Febbraio 2013 dalle 1530 in poi.
2. Il Carnevale Mugellano a Borgo San Lorenzo
Borgo San Lorenzo, una delle principali cittadine del Mugello, propone per quattro fine settimana di seguito le sfilate dei fantasiosi carri di Carnevale rionali. La manifestazione si svolge in Piazza Dante, nel centro del paese ed è completamente gratuita.
Quando: 20 e 27 Gennaio, 3, 10 e 12 febbraio dalle 15 in poi.
3. A San Mauro a Signa
Domenica 27 Gennaio a San Mauro a Signa, un piccolo centro a circa 15 km da Firenze, si svolgerà la tradizionale Fiera di Carnevale, con sfilata di carri allegorici e maschere.
Quando: 27 Gennaio dal primo pomeriggio.
4. Il Carnevale dei Bambini a Vitolini
A Vitolini, vicino a Vinci, si svolge il "Carnevale dei bambini", una manifestazione dedicata in particolare alle famiglie. A ingresso libero.
Quando: 20 gennaio, 27 gennaio, 3 febbraio 2013 dalle 1430 fino a tarda serata.
5. A Foiano della Chiana
Gruppi mascherati, sfilata di carri allegorici, street band, degustazioni gratuite sono gli ingredienti del Carnevale di Foiano della Chiana, in provincia di Arezzo.
I bambini con meno di 12 anni entrano gratis, per tutti gli altri il biglietto costa 8€.
È possibile arrivare al Carnevale di Foiano anche con una navetta gratuita, in partenza dal Valdichiana Outlet Village ogni 15 minuti.
In Piazza Garibaldi si svolgerà i più piccoli troveranno animazione e giostre, ad ingresso gratuito.
Tutte le informazioni sul sito ufficiale.
Quando: 27 Gennaio, 3-10-17 Febbraio, 3 Marzo 2013 ore 15.
6. A Viareggio
Il Carnevale di Viareggio inizierà il 3 Febbraio ed i festeggiamenti andranno avanti fino al 3 Marzo. Qui vi attendono i più giganteschi e famosi carri allegorici di Toscana.
Per informazioni più dettagliate sul Carnevale, la sua storia e consigli, leggete questo articolo.
Quando: 3 Febbraio, 17 Febbraio e 3 Marzo alle 15; 10 Febbraio ore 16; 12 Febbraio alle 1450.
7. Il Carnevale d'autore a Santa Croce sull'Arno
Sfilate, maschere e piccoli spettacoli dei bambini delle scuole cittadine animeranno il Carnevale Santacrocese in programma a Febbraio.
Quando: 3 Febbraio alle 15, 9 Febbraio alle 21, 17 Febbraio alle 15.
8. Ad Arezzo il Carnevale dell'Orciolaia
Ad Arezzo si svolgerà il tradizionale Carnevale dell'Orciolaia, con sfilata dei carri allegorici e festeggiamenti per le vie del centro cittadino.
Quando: 10 e 17 Febbraio 2013.
About Cristina Romeo
Born in Florence at the end of the fabulous '70s, Cristina has always lived in the famous "cradle of the Renaissance". She's in love with her homeland, but also enjoys traveling and discovering new places. Cristina is mum to a lovely little girl, to whom she hopes to pass on all the passion and love of our precious, wonderful Tuscany.