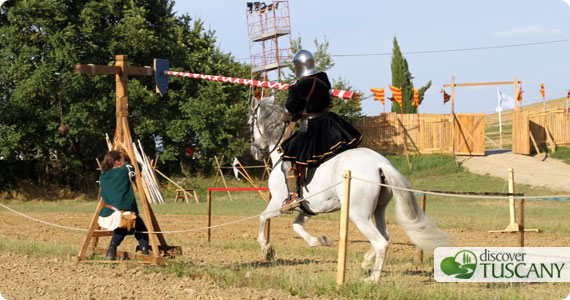 Questo ultimo fine settimana lo abbiamo passato dalla parti di Monteriggioni la cui Festa Medievale è uno dei nostri eventi estivi preferiti. Ne abbiamo poi approfittato per fare qualche giro nei dintorni, visitando sopratutto Colle Val d'Elsa, ne parleremo prossimamente.
"Monteriggioni di Torri si Corona" è la festa medievale che si tiene tutti gli anni, in due "weekend lunghi" consecutivi , in questo bel castello vicino Siena. Il castello, così ben conservato, è veramente un gioiello ed è lo scenario perfetto per ricreare il medioevo.
Circondati dalle grandi mura e dalle loro torri gigantesche, passeggiando fra i cavalieri in armatura, i giullari, i musici e le bancherelle dei vari mestieri medievali, è facile tornare con l'immaginazione a quei tempi. E un bel tuffo nel medioevo ha sempre un certo fascino, fosse altro perchè siamo lontani centinaia di anni degli affanni della vita quotidiana, sopratutto se spegniamo il cellulare 🙂
Quest'anno abbiamo voluto andare addirittura due giorni di seguito, venerdì 10 e sabato 11 luglio, anche per poterci gustare con calma le varie attrazioni. Il venerdì era la giornata decisamente più godibile, con meno affollamento ed un prezzo del biglietto più basso (8 euro invece di 10). Sabato è forse la giornata di punta e il piccolo borgo stenta a contenere le tantissime persone che vengono richiamate dalla festa.
Ci siamo senz'altro divertiti. L'intrattenimento era affidato a gruppi di comici e musicisti, molti dei quali già incontrati in altre feste simili. I Giullari del Diavolo in particolare ci hanno fatto divertire veramente tanto, il loro spettacolo è fortissimo. Peccato ci fossero solo al venerdì. Poi La Giostra, compagnia di musici/menestrelli siciliani a cui era affidato l'intrattenimento musicale. Con le loro parodie e le loro ballate hanno saputo trascinare ogni tipo di pubblico, dalle famiglie con bambini nel pomeriggio ai giovani a notte inoltrata. E poi tanti altri come i giullari-presentatori Messer Lurinetto e il Giullar Cortese, che parlan sempre in rima, o Metenio Atrippa e il suo cammello, immancabile in ogni festa medievale che si rispetti.
Ci sono piaciuti un po' meno gli Zorba Officine Creative, che per quanto simpatici hanno messo in scena una parodia di Otello un po' pesantuccia.. :-/
Nello spiazzo antistante al castello sono stati rappresentati tornei fra cavalieri quali la giostra del Saracino, la giostra dell'anello e duelli con la lancia. La presentazione è stata molto ben riuscita, nelle loro armature e sui loro destrieri i cavalieri facevano una gran bella figura. Nella pratica però hanno fatto quasi tutti una magra figura nelle giostre, dando l'impressione di impegnarsi poco, sarà stato il caldo 😉
Bisogna dire che quest'anno, rispetto alle edizioni passate, abbiamo comunque avuto l'impressione di una festa un po' ridimensionata. C'erano meno bancherelle di mestieri, meno offerta di cibo "medievale" (anche se c'era una apprezzatissima bancherella del pasticcere Nannini di Siena), un po' meno attrazioni per i vicoli di Monteriggioni. L'afflusso di gente però ha sicuramente premiato la festa.
Ah, non ce l'avevamo fatta neanche stavolta a vestirci da uomini e donne medievali… però abbiamo comprato delle belle cinture e borse di pelle da una signora di Treviso specializzata nella produzione di accessori in pelle, e sicuramente per il prossimo appuntamento "medievale" (Roccatederighi o forse Volterra) ce la faremo!
About Stefano Romeo
Stefano is a native from Florence but with a quarter of Sienese blood in his DNA and many years living in Pisa is a true Tuscan. He is still learning that his homeland has many corners and hidden gems he has to discover, ones he particularly enjoys seeing from the saddle of his bike.