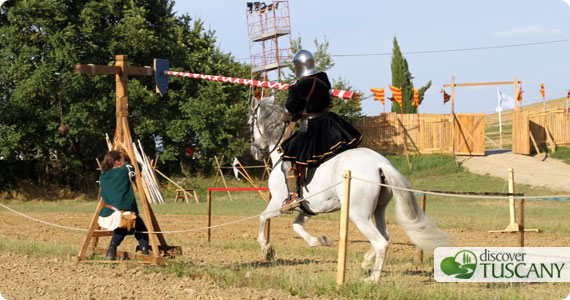 We spent this last weekend around Monteriggioni since its medieval fair has become one of our favorite summer events. We took advantage to visit the area as well, visiting Colle Val d'Elsa and we'll soon post about what we saw there.
"Monteriggioni di Torri si Corona" or "Monteriggioni Crowned by Towers" (the phrase comes from Dante Alighieri) is a medieval fair that takes place over two long weekends every July in this beautiful castle near Siena. The castle, very well conserved, is a pleasure to visit and ideal setting for recreating past eras.
It is easy to go back to the Middle Ages when surrounded by the large defensive walls and giant towers, walking amidst knights in armor, minstrels, musicians and tables set up to illustrate medieval crafts. A step back to medieval times is always fascinating, not least because it offers the possibility of being centuries away from our responsibilities of daily life especially once we turn off our cell phones 🙂 .
This year we even decided to go for two days in a row, on Friday and Saturday July 10 and 11 in order to enjoy the various attractions. Friday was definitely the better day since there were less people and even the entrance ticket cost a little bit less (8 euros instead of 10). Saturday is likely the most popular day to go on but the small castle has trouble containing the amount of people who come for the fair.
We had a lot of fun. Entertainment was provided by several groups of comedians and musicians, many of which we've seen perform on other similar fairs. The Giullari del Diavolo and their show, in particular is great and always makes us laugh. It was a disappointment to see them only on Friday and not on Saturday. La Giostra, a groups of minstrels/musicians from Sicily provided musical entertainment. Their parodies and ballads captured every public, from the families with small children in the late afternoon to the young adults late at night. There were many others including the minstrel presentators Messer Lurinetto and Giullar Cortese which always speak in rhyme or Metenio Atrippa and his camel, present at all of the most popular medieval fairs.
We weren't very impressed with the Zorba Officine Creative who, despite their tumbling and balancing stunts aside, performed a parody of Shakespeare Othello that was a bit on the heavy side… :-/
In the field below the castle a military encampment was set up. Here we saw several tournaments including the joust of the Saracen, the joust of the ring and duels with lances. The presentation was very well executed as the knights made an impressive image in their armor astride their mounts. In practice, though, their performance in the jousts was a bit weak – it might have been the heat but it seemed they were merely presenting the practice and not actually participating in the games 😉
We would also add that this year, compared to the last two times we went, we had the impression that the fair was downsized. There were fewer stalls demonstrating medieval trades, less choices in the "medieval" dishes (there was a well-appreciated stall by the famous Nannini pastry shop from Siena); in general, a bit less attractions along the narrow streets of Monteriggioni. The influx of vistors in any case certainly rewarded the fair's organizers.
Disappointed to say we did not have the chance time-wise to organize ourselves and dress up in medieval costumes… but we did buy nice leather belts and a leather waist pouch from one of the craft stalls – from a lady from Treviso that has specialized in hand-making medieval looking leather accessories – and we will likely be ready in time for our next "medieval" fair (Roccatederighi or maybe Volterra)!
About Stefano Romeo
Stefano is a native from Florence but with a quarter of Sienese blood in his DNA and many years living in Pisa is a true Tuscan. He is still learning that his homeland has many corners and hidden gems he has to discover, ones he particularly enjoys seeing from the saddle of his bike.