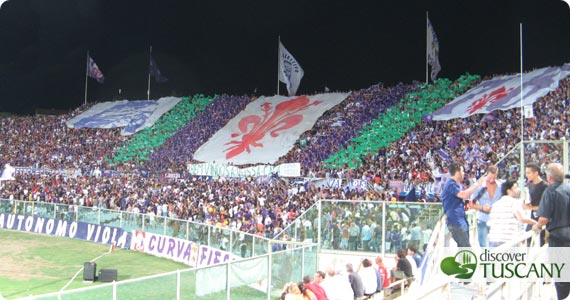 Questo mercoledì non abbiamo fatto mancare il nostro sostegno alla Fiorentina, che allo stadio di Firenze si giocava con lo Sporting Lisboa la possibilità di accedere alla Champions League.
La Curva Fiesole, dove stanno i tifosi fiorentini più appassionati, aveva preparato una bella coreografia per accogliere i tifosi portoghesi, con i quali siamo gemellati.
Non si può dire che la partita sia stata bella: la squadra di casa ha avuto lunghi momenti di difficoltà, rischiando di perdere e rimanere esclusa dalla competizione. Dopo il primo tempo la Fiorentina era sotto di un gol, e qualcuno degli ipercritici tifosi fiorentini ha iniziato a fischiare la squadra. Ma nel secondo tempo la Fiorentina, sospinta dalla Curva Fiesole, ha giocato meglio ed è riuscita a pareggiare con il giovane talento Jovetic. D'altra parte ad agosto raramente le squadre italiane giocano bene e lo Sporting ha mostrato di essere una bella squadra.
L'1-1 qualifica la Fiorentina per la fase a gironi della Champions League, nel quale affronteremo in doppia partita il glorioso Liverpool, il Lione (con il quale abbiamo qualche conto in sospeso dall'anno passato!) e la squadra ungherese del Debreceni.
Sarà molto difficile superare il girone, ma è importante per la squadra di Firenze partecipare al grande calcio Europeo ed alla vetrina offerta dalla Champions League. Sarà anche un ottima occasione per tanti fiorentini di seguire la propria squadra in trasferta, abbinando il tifo a una visita di altre città europee 🙂
E naturalmente anche per molti tifosi stranieri sarà una ottima opportunità per visitare Firenze, seguendo la propria squadra. E se avete bisogno di qualche consiglio, potete sempre contare sulla nostra guida su Firenze 😉
About Stefano Romeo
Stefano is a native from Florence but with a quarter of Sienese blood in his DNA and many years living in Pisa is a true Tuscan. He is still learning that his homeland has many corners and hidden gems he has to discover, ones he particularly enjoys seeing from the saddle of his bike.