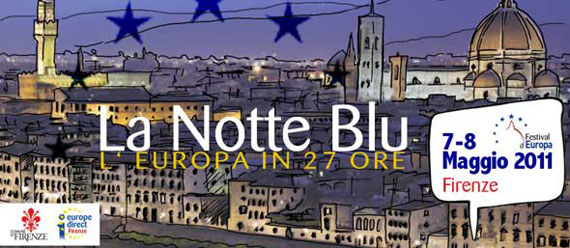 Avete partecipato alla recente notte bianca a Firenze? E' stata davvero una serata speciale per la citta, ricca di eventi e spettacoli che hanno accompagnato fiorentini e turisti fino a tarda notte.
Sono passati solo pochi giorni e Firenze si prepara a vivere un' emozionante notte BLU!
Gli eventi in programma sono tanti e si snoderanno in realtà nell' arco di 27 ore, a partire dal pomeriggio di sabato 7.
Piazza della Repubblica ospiterà alcuni degli eventi più interessanti. Sabato 7 a partire dalle 16 la piazza farà da sfondo ad una serie di concerti davvero per tutti i gusti. Si inizia con il tango del gruppo Alma Migrante alle 16 fino al rock della band fiorentina Dinamo alle 21 ed al pop-swing del trio femminile The Sixters.
Sabato dalle 17 alle 18:30, a Ponte Vecchio e dintorni sarà la volta di un curioso spettacolo di teatro di strada in bicicletta.
Sabato a partire dalle 17:30 ingresso gratuito al Museo Nazionale Alinari della Fotografia, aperto per l' occasione fino alle 23.
Domenica 8 alle ore 15 in Piazza della Repubblica vi sarà un originale spettacolo degli "Sbandieratori e Musici della Signoria di Firenze" insieme alla "Compagnia dell'Aquila Bianca".
A partire poi dalle 16 e fino a tarda notte ripartiranno invece i concerti, tra cui uno dedicato a Bob Dylan alle ore 20.
La Notte Blu è uno dei principali eventi del Festival d'Europa, organizzato dall' Istituto Europeo di Firenze, dal 6 al 10 Maggio. Per tutta la durata dell' evento Piazza della Signoria si trasformerà in "Piazza Europa" ed ospiterà dei padiglioni dedicati all' Europa.
Le previsioni meteo annunciano tempo splendido a Firenze (e per fortuna in generale in Toscana) per tutto il weekend e allora: buone giornate di sole e buona notte blu a tutti!
About Cristina Romeo
Born in Florence at the end of the fabulous '70s, Cristina has always lived in the famous "cradle of the Renaissance". She's in love with her homeland, but also enjoys traveling and discovering new places. Cristina is mum to a lovely little girl, to whom she hopes to pass on all the passion and love of our precious, wonderful Tuscany.