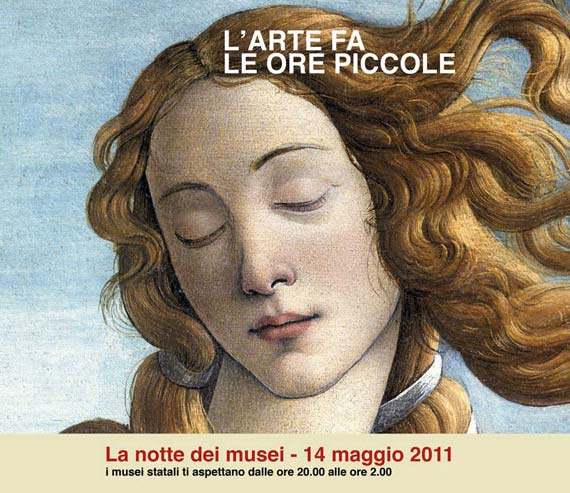 Sabato 14 Maggio 2011 sarà la "Notte europea dei musei", serata durante la quale alcuni musei nei diversi paesi d' Europa rimarranno aperti offrendo visite guidate ed eventi speciali.
L' evento è patrocinato dall' Unesco e dal Consiglio d' Europa.
A Firenze apriranno in veste straordinaria (e con ingresso gratuito) molti musei, tra i quali segnaliamo:
Galleria degli Uffizi – dalle 19 alle 1
Galleria dell' Accademia – dalle 19 alle 1
Museo dell' Opificio delle Pietre Dure – dalle 18 alle 24
Museo di Palazzo Davanzati – dalle 19 alle 1
Museo di San Marco – dalle 19 alle 1
Museo Nazionale del Bargello – dalle 19 alle 1
La Villa Medicea di Poggio a Caiano – dalle 19 alle 1
Particolarmente interessanti le iniziative al Museo di Storia Naturale e Palazzo Vecchio.
Il Museo di Storia Naturale, sarà aperto gratuitamente dalle 20 alle 24 e verranno organizzate visite guidate ogni mezz'ora a partire dalle ore 20. Per informazioni, chiamare lo +39 055 2346760
Saranno visitabili le seguenti sezioni del Museo:
– la sezione di Antropologia ed Etnologia (Via del Proconsolo 12)
– la sezione di Geologia e Paleontologia (Via del Proconsolo 12)
– sezione di Mineralogia e Litologia (Via G. La Pira 4)
– sezione di Zoologia "La Specola" (Via Romana 17)
– Villa il Gioiello (Villa in cui Galileo Galilei trascorse glli ultimi anni della sua vita, situata in Via Pian dei Giullari 42)
Diversi anche gli appuntamenti organizzati nella serata di sabato a Palazzo Vecchio a partire dalle 19 fino alle 1.
Segnaliamo in particolare alle ore 21 nella Sala d' Arme un concerto gratuito di musica rinascimentale. Il concerto e le visite guidate organizzate sono eventi gratuiti, ma per il numero limitato di posti disponibili è necessario prenotarsi allo 39 055 2768224 o tramite email info.museoragazzi@comune.fi.it .
Adulti e ragazzi dagli 8 anni in su potranno partecipare ad alcune visite guidate gratuite, su prenotazione.
Alle 19 partirà la visita al Palazzo "Guidati da Giorgio Vasari", mentre alle 2130 e alle 2215 sarà la volta della visita al Salone dei Cinquecento ed al camminamento di ronda.
Dopo le recenti Notte Bianca e Notte Blu, ecco un' altra straordinaria occasione per vivere Firenze fino a tardi!
About Cristina Romeo
Born in Florence at the end of the fabulous '70s, Cristina has always lived in the famous "cradle of the Renaissance". She's in love with her homeland, but also enjoys traveling and discovering new places. Cristina is mum to a lovely little girl, to whom she hopes to pass on all the passion and love of our precious, wonderful Tuscany.