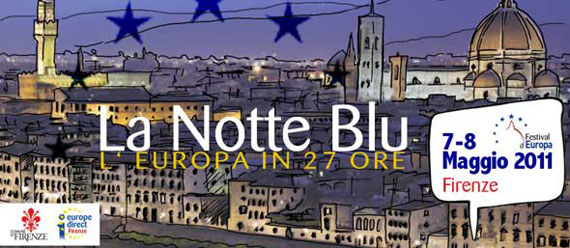 Did you participate in the recent White Night in Florence? It was a really special night for the city, full of events and performances that accompanied both Florentines and tourists until late into the early hours of the morning.
This weekend Florence is going to dress in a new color: it's time for BLUE! On May 7 and 8, in fact, Florence is preparing to live a "Blue Night", 27 hours of events and exhibitions starting from the afternoon of Saturday 7th.
Piazza della Repubblica, in the historical city center, will host some of the most interesting events. Saturday starting at 4pm, the square will be the setting for a set of different short concerts that should have something for all tastes. From the tango music of the Alma Migrante group at 4pm to the rock music of Dinamo at 9pm to the pop-swing of the female trio of The Sixters at late night.
Saturday starting at 5pm up to 6:30pm at the Old Bridge and in the surrounding area you'll find a curious performance of street theater on bicycle.
Saturday starting at 5:30pm, you can enter with free entrance at the Alinari National Museum of Photography, which will remain open until 11pm.
On Sunday the 8th at 3pm in the central Piazza della Repubblica will be an original show of the historical group of "Flag-flyers and Musicians of Signoria in Florence " with the "White Eagle Company" .
Starting at 4pm until late night the square will host some concerts, including one dedicated to Bob Dylan at 8pm.
The Blue Night is one of the main events of the Festival of Europe, organized by the European Institute in Florence from May 6 to 10. During the event Piazza della Signoria will be "Piazza Europa" with some stalls dedicated to Europe.
The weather forecast announces very good weather in Florence (and luckily in Tuscany in general) for all the weekend, so happy sunny days and a fun Blue Night to everyone!
About Cristina Romeo
Born in Florence at the end of the fabulous '70s, Cristina has always lived in the famous "cradle of the Renaissance". She's in love with her homeland, but also enjoys traveling and discovering new places. Cristina is mum to a lovely little girl, to whom she hopes to pass on all the passion and love of our precious, wonderful Tuscany.