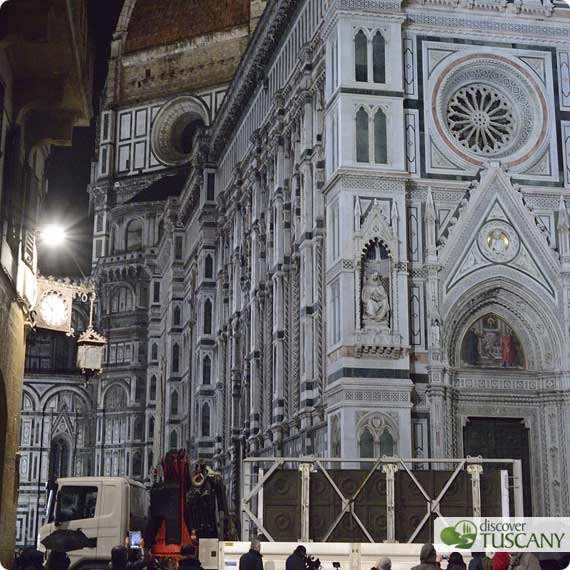 Come abbiamo segnalato di recente sulla nostra pagina Facebook (non dimenticate di mettere "Mi piace" per rimanere informati su tutto ciò che riguarda Firenze), la bronzea porta Nord del Battistero realizzata da Lorenzo Ghiberti sarà sottoposta ad un accurato restauro per la prima volta in 600 anni!
La rimozione della porta è stata completata il 19 Marzo scorso. Il Battistero è chiuso dal 27 Febbraio per permettere agli addetti ai lavori di dedicarsi al trasferimento. La porta, realizzata tra il 1402 ed il 1424, non è stata al centro dell'attenzione e ammirazione al pari della porta Est, conosciuta anche come "porta del Paradiso", che fu commissionata allo stesso Ghiberti appena ebbe terminato la porta Nord.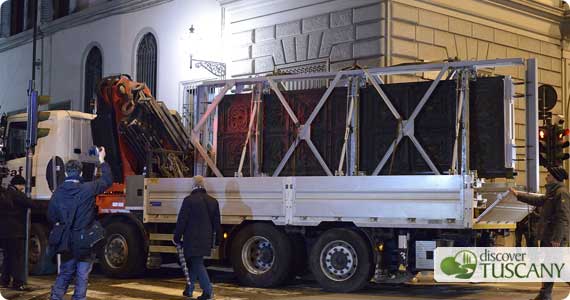 Nel frattempo il Battistero è stato riaperto e, a posto dell'originale, è stata posta una porta in acciaio e legno in attesa che venga terminata una riproduzione definitava della porta Nord, che dopo il restauro sarà esposta nel Museo dell'Opera del Duomo.
Ogni battente della porta pesa circa 4 tonnellate, per un'altezza di oltre 5 metri. La porta Nord è stata trasportata all'Opificio delle Pietre Dure, dove verrà sottoposta a restauro, finanziato dall'Opera di Santa Maria del Fiore e dall'Associazione "Guild of the Dome".
La porta Nord si basa sullo stesso schema usato da Andrea Pisano per la porta Sud.
Ventotto formelle di bronzo dorato, tra cui venti che riproducono la vita di Cristo secondo il Nuovo Testamento. Gli 8 pannelli inferiori invece mostrano i quattro evangelisti e dei padri della Chiesa (Sant'Ambrogio, San Girolamo, San Gregorio e Sant'Agostino). Le formelle hanno una cornice di foglie e busti dorati di profeti e sibille alle intersezioni dei pannelli.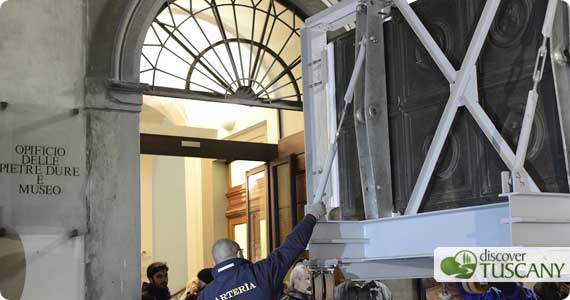 Il Ghiberti impiegò 21 anni per completare la porta. Ci auguriamo che il restauro, ad opera dell'Opificio delle Pietre Dure, non sarà troppo lungo e che potremo quindi presto ammirare di nuovo la porta Nord riportata al suo originale splendore!
Photo credits: Lili76
About Lourdes Flores
An American living in Florence for over 10 years, Lourdes continues to explore and discover new places in Tuscany with the eyes of a tourist but with the experience of living in Italy. She shares her experiences on this blog and website, particularly offering lots of travel planning help on the Forum!