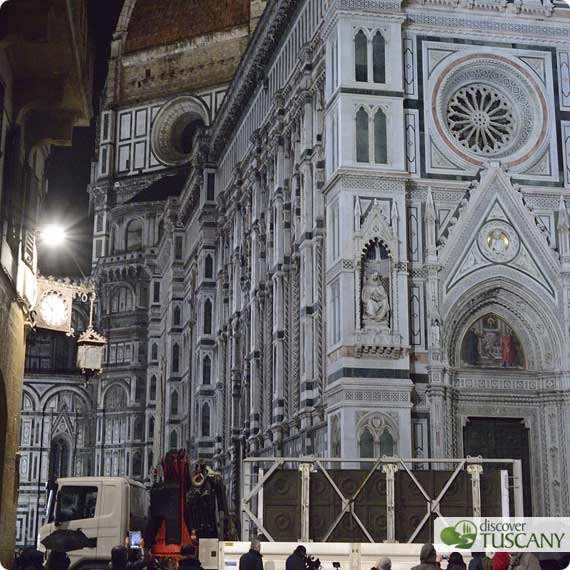 As we recently shared on our Facebook page (make sure "Like us" to keep up to date with latest happenings in Florence), the Northern bronze doors of the Baptistery created by Lorenzo Ghiberti are about to undergo a complete restoration for the first time ever in over 600 years!
The removal of the doors from the Baptistery was completed yesterday. The Baptistery was closed since February 27 when the doors started being taken down. The doors, created between 1402 and 1424, do not receive nearly as much attention or admiration as Ghiberti's own Eastern doors, known as the "Gates of Paradise" and which were commissioned right after he finished the northern doors.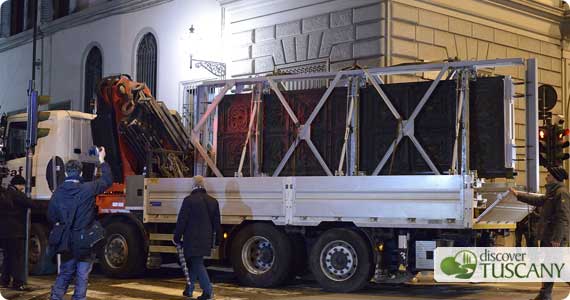 In the meantime, the Baptistery has reopened with a wood and steel door is in its place until a reproduction of the original doors can be created to permanently replace the original, which will be housed in the Opera del Duomo Museum after restoration.
Each of the doors weighs about 4 tons and are over 5 meters tall. The doors were moved to the laboratory of the Opificio delle Pietre Dure where the restoration, funded by the Opera di Santa Maria del Fiore and Guild of the Dome Association, will take place.
The Northern doors are based on the same scheme used by Andrea Pisano for the southern doors.
These gilded bronze doors consist of twenty-eight panels, with twenty panels depicting the life of Christ from the New Testament. The eight lower panels show the four evangelists and the Church Fathers (St. Ambrose, St. Jerome, St. Gregory and St. Augustine). The panels are surrounded by a framework of foliage in the case and gilded busts of prophets and sibyls at the intersections of the panels.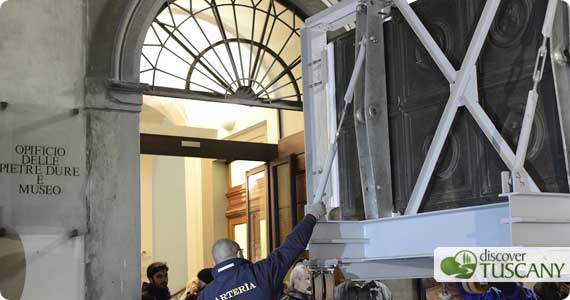 It took Ghiberti 21 years to complete these doors. We hope the restoration, carried on by masters at the Opificio delle Pietre Dure, will not take too long so that we can admire Ghiberti's masterpiece restored to its original splendor soon!
Photo credits: Lili76
About Lourdes Flores
An American living in Florence for over 10 years, Lourdes continues to explore and discover new places in Tuscany with the eyes of a tourist but with the experience of living in Italy. She shares her experiences on this blog and website, particularly offering lots of travel planning help on the Forum!