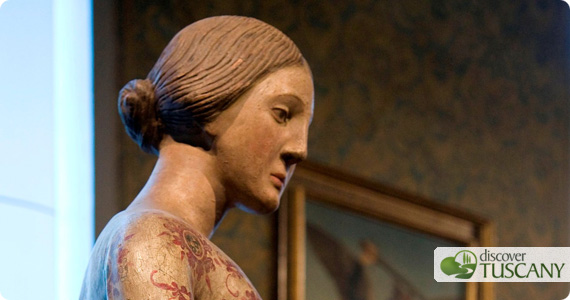 dal 29 settembre 2011 al 15 aprile 2012
Palazzo Medici Riccardi – Museo Stibbert – Museo Bardini – Museo Horne – Museo Salvatore Romano – Palazzo Davanzati – Fondazione Salvatore Romano – Museo Bandini – Museo Casa Rodolfo Siviero
Da poche settimane a Firenze, i vari musei che fanno parte del progetto "Piccoli Grandi Musei" hanno dato il via al vasto calendario di esposizioni dedicate all'artigianato artistico fiorentino e all'epoca d'oro dell'antiquariato e del collezionismo con il titolo collettivo "Le stanze dei tesori".
La mostra di Palazzo Medici Riccardi riassume l'epopea di quei decenni analizzando il fenomeno nei vari aspetti, in particolare il bisogno di affermazione di una borghesia imprenditoriale novecentesca per cui arte e collezionismo diventano status symbol.
Lo Stibbert mette in mostra le celebri maioliche fiorentine Ginori e Cantagalli, mentre che il Bardini riapre il Salone dei Dipinti riallestito secondo il gusto del donatore, con il trecentesco crocifisso di Bernardo Daddi appena restaurato.
Il museo Horne offre una raccolta di disegni da Raffaello a Constable, mentre a Palazzo Davanzati, il Museo della Casa Fiorentina Antica, mette in mostra le foto di Elia Volpi che documentano gli arredi originali prima che li vendesse tutti durante la Grande Guerra in un'asta faraonica a New York.
Con il Pass dei Tesori (€ 10), creato appositamente per la mostra, si può visitare tutti i musei del progetto* ed inoltre visitare gratuitamente: Fondazione Salvatore Romano, Museo Bandini, Museo Casa Rodolfo Siviero, Museo della Ceramica di Montelupo ed il Museo della Manifattura Galileo Chini.
Inoltre, offre ingresso ridotto a Museo di Palazzo Vecchio, Cappella Brancacci, Museo di Santa Maria Novella e Museo Richard Ginori della Manifattura di Doccia.
Per maggiori dettagli, visitate http://www.stanzedeitesori.it/
* tranne il Palazzo Davanzati che mantiene il suo biglietto di 2 euro
About Lourdes Flores
An American living in Florence for over 10 years, Lourdes continues to explore and discover new places in Tuscany with the eyes of a tourist but with the experience of living in Italy. She shares her experiences on this blog and website, particularly offering lots of travel planning help on the Forum!