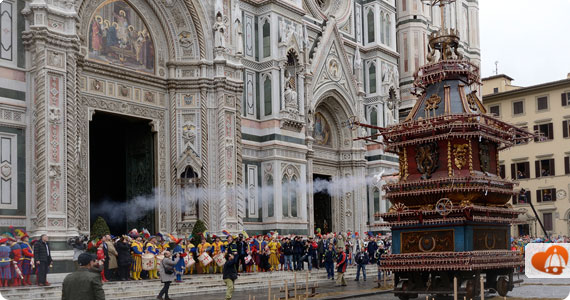 Sarete a Firenze questo fine settimana di Pasqua? Allora andate a vedere lo Scoppio del Carro!
Se volete anche visitare dei musei, abbiamo la conferma ufficiale (finalmente!) che gli Uffizi e l'Accademia, ed altri musei fiorentini, saranno aperti questo fine settimana ed il Lunedi di Pasquetta.
In via straordinaria, la Galleria degli Uffizi e l'Accademia saranno aperti lunedì, giorno normalmente di chiusura.
Altri musei sono aperto o domenica o lunedì e non tutte e due giorni (per esempio, le Cappelle Medicee sono aperti domenica, il Bargello lunedi). Per dettagli completi, orari e prenotazioni online, vedete questo post.
Se vogliate avere qualcosa in mano, stampate questo schemino con tutti i musei e orari.
Il Museo della Scienza Galileo che si trova dietro agli Uffizi sarà aperto lunedì di Pasquetta con visite guidate gratuite (per coloro che visitano il museo, naturalmente) incentrate sugli strumenti di misura del tempo presenti nelle collezioni. Le visite saranno alle: 10:30, 15:00 e 16:30. Posti disponibili sono limitati quindi vi consigliamo la prenotazione al 055.265.311 (o con mail a info@museogalileo.it) entro questo sabato alle 13.
Se in questi prossimo giorni veniamo a conoscenza di altri musei aperti questo weekend, aggiorneremo questo post!
Buona Pasqua!
About Lourdes Flores
An American living in Florence for over 10 years, Lourdes continues to explore and discover new places in Tuscany with the eyes of a tourist but with the experience of living in Italy. She shares her experiences on this blog and website, particularly offering lots of travel planning help on the Forum!