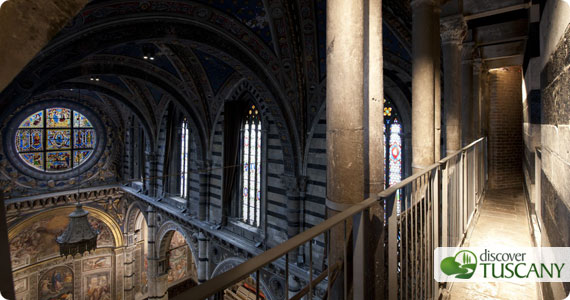 A partire dal 6 aprile, i visitatori a Siena avranno la possibilità di ammirare una vista completamente nuova della citta di Siena ed il "cielo" del Duomo!
Dopo lunghi restauri, la cattedrale apre la sua porta alle sommità della fabbrica in cui per secoli nessuno è potuto accedere – fatta eccezione per le maestranze dirette dai grandi architetti che hanno fatto modifiche e aggiunte attraverso i secoli.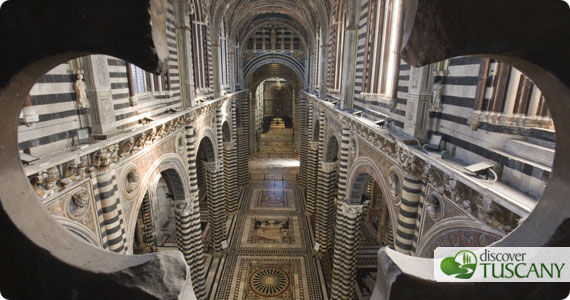 La magnifica facciata del Duomo è fiancheggiata da due imponenti torri che vi portano verso il "cielo" del Duomo. Una volta giunti sopra le volte stellate della navata destra, si inizia un itinerario riservato a piccoli gruppi accompagnati da un'esperta guida che riserva una serie di scoperte ed emozioni.
Sarà possibile camminare "sopra" il sacro tempio ed ammirare suggestive viste panoramiche "dentro" e "fuori" della cattedrale.
Si percorre il ballatoio della cupola dal quale sarà possibile contemplare l'altar maggiore e la copia della vetrata di Duccio di Buoninsegna da vicino, tra tante altre capolavori scultorei.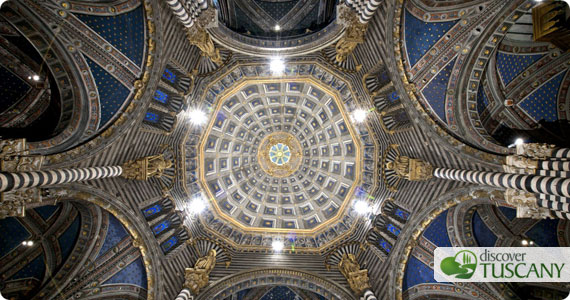 Si procede per la navata sinistra da dove è possibile ammirare uno splendido panorama sulla Basilica di S. Domenico, la Fortezza Medicea, l'intera cupola della cappella di S. Giovanni Battista, il paesaggio circostante fino alla Montagnola senese per poi rientrare dietro il prospetto della facciata e poi al ballatoio della controfacciata.
Fate un tour intero della cattedrale in questi spazi nascosti da dove si può ammirare tutti gli angoli del Duomo di Siena da una perspettiva nuova, insolita, spettacolare!
Vogliamo andare a vedere anche noi, chi viene? Se ci andate prima di noi, fateci sapere e condividete le vostre foto!
La Porta del Cielo Visite Guidate
Siena, Cattedrale
6 aprile – 27 ottobre 2013 ** PROROGATA FINO AL 6 GENNAIO 2014 **
Biglietti (solo su prenotazione): Intero €25.00; Gruppo €400.00 (max 17 pax)
Prenotate preso il tel. 0577 286300 (dal lunedì al venerdì dalle 9 alle 17) o per email: opasiena@operalaboratori.com
Trovate altre informazioni su http://www.operaduomo.siena.it/.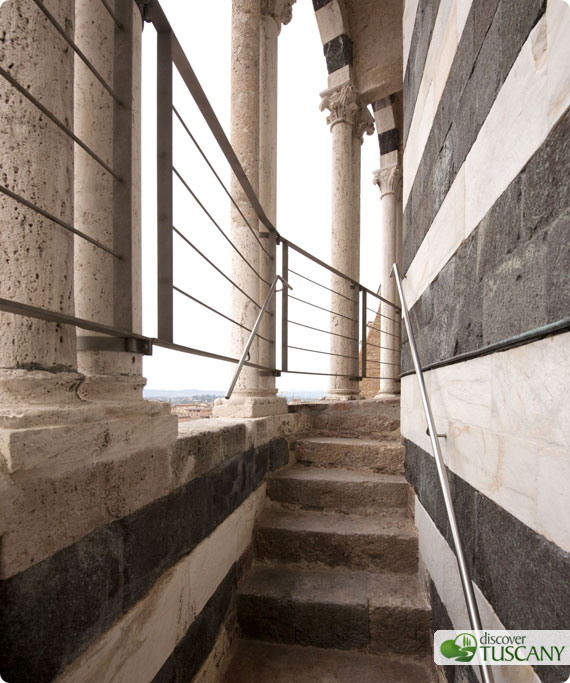 About Lourdes Flores
An American living in Florence for over 10 years, Lourdes continues to explore and discover new places in Tuscany with the eyes of a tourist but with the experience of living in Italy. She shares her experiences on this blog and website, particularly offering lots of travel planning help on the Forum!