La Toscana non è solo la patria del celebre Brunello di Montalcino o del Chianti: rossi e bianchi, senza distinzione, i vini prodotti in questa regione sono sempre garanzia e sinonimo di alta qualità.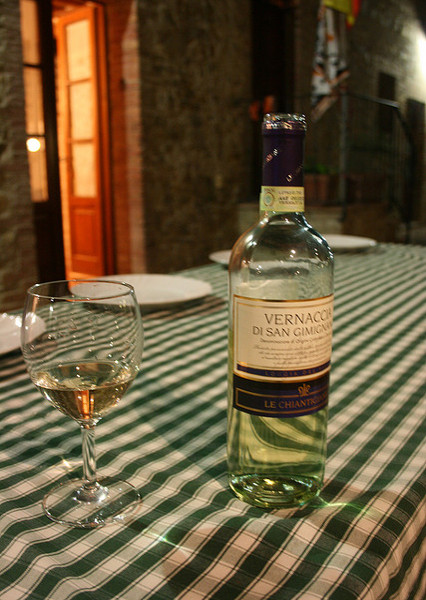 Partiamo, allora, per un breve excursus tra i migliori bianchi toscani, a cominciare dalla Vernaccia di San Gimignano, membro ormai quasi millenario del club. La Vernaccia, infatti, sembra avere radici molto remote, che risalgono addirittura fino al lontano tredicesimo secolo, quando allietava le tavole imbandite di nobili commensali, papi, signori del periodo e personaggi illustri, divenendo ben presto un vino pregiato e molto richiesto. Ne parla addirittura Dante Alighieri nella sua Divina Commedia, quando incontra Papa Martino IV tra i golosi del Purgatorio, colpevole, appunto, di esser stato molto spesso preda della bramosa voglia di Vernaccia.
Un DOCG esclusivo
Ma da dove viene la rinomata Vernaccia di San Gimignano? Come dice il nome, la Vernaccia viene prodotta esclusivamente nei territori del comune di San Gimignano, una zona molto ristretta che ne garantisce qualità ed autenticità.
Chiaramente DOCG, è stato il primo tra i vini italiani a ricevere il prestigioso marchio di qualità DOC nel 1966, tanto per farvi capire che si tratta di un vino storicamente e tradizionalmente rinomato in Italia e in tutto il mondo.
Un itinerario all'insegna del food & wine
Se siete appassionati di buona cucina e state organizzando una vacanza all'insegn del food & wine, questo potrebbe essere un itinerario molto interessante da percorrere.
San Gimignano si trova, infatti, tra Siena, Pisa e Firenze, una zona particolarmente strategica da un punto di vista turistico (e non solo): il triangolo delle meraviglie, se così si può definire, offre innumerevoli spunti e siti interessantissimi da visitare in Toscana.
Un'idea potrebbe esser quella di partire da Firenze, dopo averla visitata per almeno qualche giorno, pernottando in uno dei tanti B&B o hotel del centro storico – o, se preferite un pò più di pace e relax, in uno degli agriturismi nelle immediate vicinanze – per dirigersi verso Siena. Potreste percorrere la strada panoramica chiantigiana, che offre alcuni tra i panorami più belli di tutta la regione – il Chianti merita di essere trattato in un capitolo a parte: se avete abbastanza giorni a disposizione, potete fermarvi ad esplorarne il territorio, qui trovate alcuni suggerimenti per soggiornare – e procedere verso Siena, il cui centro storico è stato dichiarato Patrimonio dell'Umanità dall'Unesco. A quel punto, siete veramente a due passi da San Gimignano, che non merita soltanto per il suo pregiatissimo vino, ma anche per le meraviglie artistiche ed architettoniche che conserva nel suo piccolo centro.
San Gimignano, Patrimonio dell'Umanità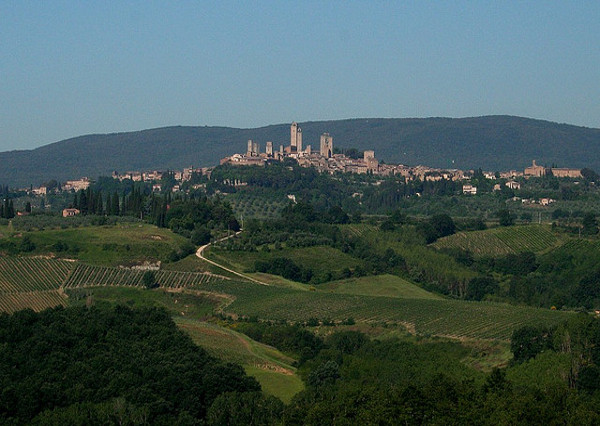 Anch'esso dichiarato Patrimonio dell'Umanità, San Gimignano è famoso per l'autentico e pressochè intatto aspetto post medioevale che tuttora conserva, oltre che per le torri che svettano alte nel suo profilo, grazie alle quali la città è stata soprannominata la Manhattan del Medioevo.
Per l'itinerario che vi sto suggerendo è preferibile muoversi con l'auto, anche se una volta giunti a San Gimignano è importante sapere dove parcheggiare, dato che tutti i parcheggi sono a pagamento e fuori dal centro storico, per cui qualche consiglio e informazione in più potrebbe esservi utile: leggete quest'articolo su dove parcheggiare a San Gimignano. Se, invece, preferite partire direttamente da Firenze o Siena, qui trovate qualche suggerimento per muovervi anche con i mezzi pubblici.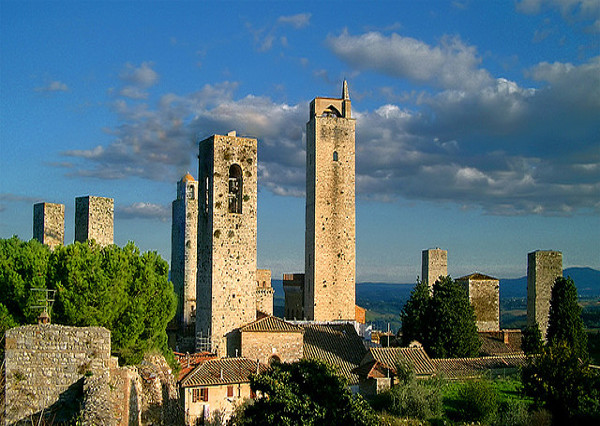 Nei dintorni di San Gimignano ci sono un sacco di paesini caratteristici da visitare, primi tra tutti Certaldo, che d'estate ospita diversi eventi musicali e tradizionali, Poggibonsi e Volterra.
Pisa, antica repubblica Marinara
Da qui, potete poi proseguire per far tappa a Pisa, la città della Torre Pendente, antica Repubblica Marinara dall'affacinante centro storico. Se vi capitate durante la festa del Santo Patrono, San Ranieri, il 17 giugno, non perdetevi la luminara (che in realtà si svolge il giorno prima) con tanto di fuochi d'artificio.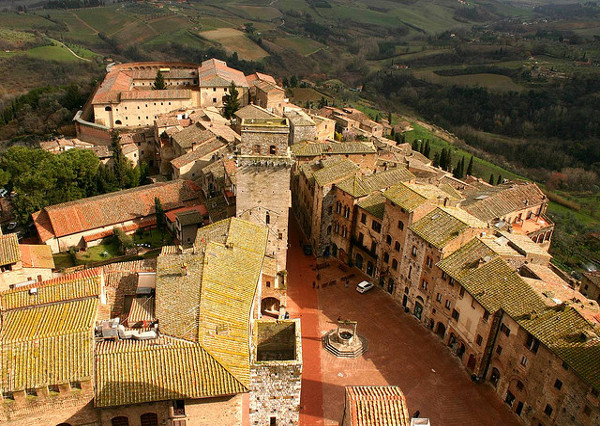 E non dimenticate che, protagonista di questo itinerario dedicato alla ad uno dei vini bianchi più pregiati d'Italia, deve essere proprio lei, la Vernaccia di San Gimignano, accompagnata – a seconda di dove vi trovate – da piatti della tradizione locale. Ricordate che si sposa alla perfezione con antipasti, carni bianche e pesce…senza considerare che come aperitivo è semplicemente squisito, leggero e gustosamente fruttato!
About Chiara Ricci
Chiara was born in Pescia, where the province of Pistoia borders with Lucca, has lived and studied in both Florence and Pisa for several years. Traveling is her second passion... Her first one? To swim, but up to now it's still impossible for her to explore Tuscany and the world swimming so she has to use other means!