Tuscany is not only home to the famous Brunello di Montalcino and Chianti wines: red or white, all Tuscan wines have always stood for guaranteed high quality products.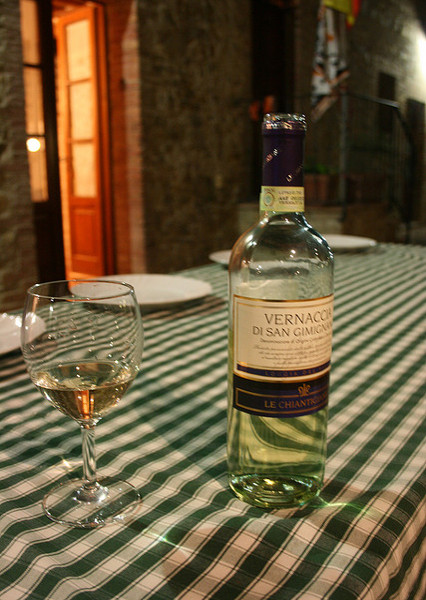 Let's go to a short trip among the most renowned white wines of Tuscany, starting from the Vernaccia di San Gimignano. As historical documents state, Vernaccia seems to be deeply rooted in Tuscan wine tradition – its origins go back to the 13th century: nobility, popes and prestigious people used to set their tables with a bottle of Vernaccia, that soon became a very popular and prestigious wine.
Even Dante Alighieri speaks about Vernaccia in his Divine Commedy, when he meets Pope Martino IV among Gluttons, said to have been glutton of Vernaccia.
An exclusive DOC
Where does it come from? As the name suggests, Vernaccia is produced exclusively in San Gimignano territory, whose restricted and limited area is a guarantee for its authenticity and high quality.
It has been the first Italian wine to get the prestigious award Denominazione di Origine Controllata (DOC) in 1966, recently upgraded to DOCG (Denominazione di Origine Controllata e Garantita), that further confirms the importance gained both in Italy and all over the world.
Itineraries dedicated to food & wine
If you're foodies and are planning a trip dedicated to food & wine, this could be an interesting itinerary. San Gimignano is located, in fact, among Florence, Pisa and Siena, an amazing area that offers lots of tourist popular sites to visit and art treasures to discover as well.
The first step of your wine trip could be Florence: after visiting the Renaissance Cradle a bit – at least a couple of days – you could drive to Siena for your next stop (there you'll find all B&B and hotels in Florence city center, but if you prefer a more peaceful and restful accommodation, here you'll find all the farmhouses in Florence surroundings). The Chiantigiana panoramic route is the best choice for enjoying one of the most beautiful panorama in Tuscany, but keep in mind that Chianti area is such an enchanting place that deserves an exclusive travel for exploring all the rolling hills and tasteful wine cellars. You could also include it as a privileged stop in your trip if you've enough days to spend in Tuscany: in this case, here you'll find some suggestions for finding an accommodation in Chianti.
So Siena next stop. Declared World Heritage Site – the old city center, to be more precise – by Unesco, Siena is like a precious gem nestled among the green landscape of Tuscany.
San Gimignano, Patrimonio dell'Umanità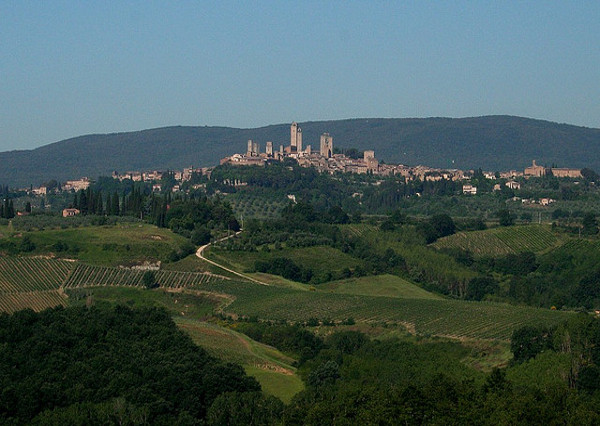 At a short driving distance from the city you'll find San Gimignano, that is really worthy more than just a quick visit, for both its prestigious wine and its artistic and architectural treasures.
Alike Siena, San Gimignano is an Unesco World Heritage Site, mainly thanks to its authentic post medieval aspect that has preserved till today, and to its famous towers standing out against the skyline (whose nickname – Medieval Manhattan comes from).
For this itinerary, car is the best mean of transport, but once got in San Gimignano you need to know where to park, since all car parks are located outside the old city center and are not free of charge. Have a look at this article about parking in San Gimignano, there are useful information and helpful advices. If you prefer, instead, leaving directly from Florence or Siena, here there are some suggestions for using public transports.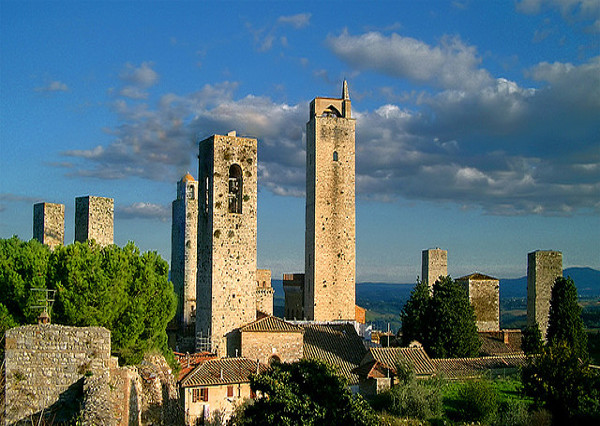 Close to San Gimignano, there are many other quaint villages that deserve a visit; Certaldo, home to traditional and music Summer festivals, Poggibonsi and Volterra just to name the most important.
Pisa, antica repubblica Marinara
From there, you'll easily reach Pisa, the old Maritime Republic and home to the famous Leaning Tower: if you get to drop by there during the Saint Patron Feast on June 16th, don't miss the Luminara di San Ranieri with splendid fireworks.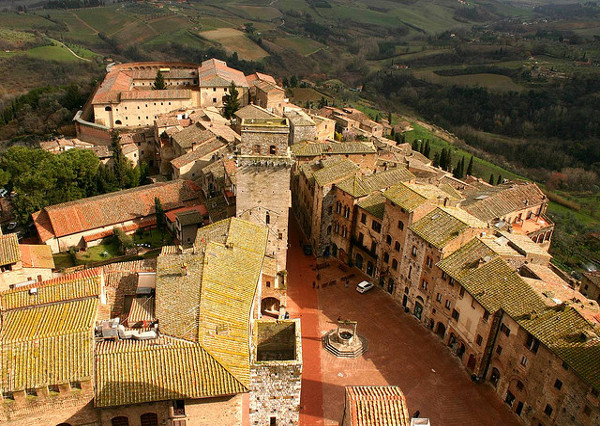 All along your travel, keep in mind that the main protagonist of this itinerary dedicated to food & wine should be her, the Vernaccia: try it with typical local dishes, based on white meats or fish, with snacks and appetizers, that simply emphasize its fruity and delicious taste.
Enjoy the trip…and the wine 🙂
About Chiara Ricci
Chiara was born in Pescia, where the province of Pistoia borders with Lucca, has lived and studied in both Florence and Pisa for several years. Traveling is her second passion... Her first one? To swim, but up to now it's still impossible for her to explore Tuscany and the world swimming so she has to use other means!