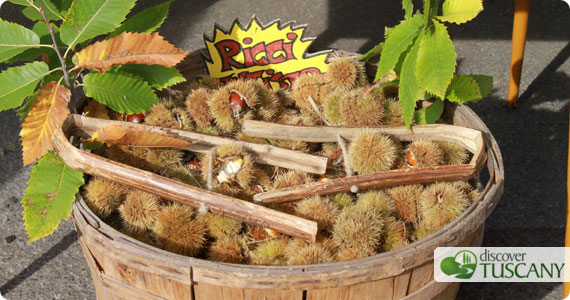 E' arrivato l' autunno ed i paesaggi della Toscana cominciano a tingersi di quei bei colori caldi dalle sfumature gialle e rosse tipiche di questo periodo.
In Mugello l' autunno è anche una stagione particolarmente ricca di eventi ed appuntamenti da non perdere. Ottobre è il mese in cui si possono gustare marroni, castagne ed altri prodotti del sottobosco, che sono i protagonisti di sagre e feste in diversi borghi mugellani. Nelle prossime settimane vengono inoltre organizzate alcune interessanti escursioni e visite guidate, come ad esempio agli Scavi Archeologici di Frascole (Dicomano).
Vi segnaliamo gli appuntamenti principali delle prossime settimane, per il calendario completo vi consigliamo di consultare il sito dell' Ufficio Turistico del Mugello :
PALAZZUOLO SUL SENIO
3 Ottobre
Ambientavola – Mostra e vendita di prodotti tipici toscani e romagnoli, con degustazioni.
10-17-24-31 Ottobre
Sagra del Marrone e dei frutti del sottobosco
MARRADI
10-17-24-31 Ottobre
Sagra delle Castagne – In occasione della sagra è possibile arrivare a Marradi in treno a vapore (domenica 17 Ottobre il caratteristico trenino parte da Firenze, per informazioni consultate il sito della sagra)
10-17-24 Ottobre
Visite guidate a Palazzo Torriani – Visita al palazzo e degustazione di prodotti tipici (prenotazione obbligatoria, per informazioni tel. 0558042363)
DICOMANO
9-10 Ottobre
Fiera dell' uva e dei marroni
10 Ottobre
Visite guidate agli scavi archeologici di Frascole (per informazioni tel. 055 8385408)
BARBERINO DI MUGELLO
30-31 Ottobre e 1 Novembre
Mostra mercato del tartufo nero e bianco – Mostra mercato con stand e degustazioni.
L' autunno sembra davvero essere il periodo giusto per una gita in Mugello: non lasciatevi sfuggire l' occasione!
About Cristina Romeo
Born in Florence at the end of the fabulous '70s, Cristina has always lived in the famous "cradle of the Renaissance". She's in love with her homeland, but also enjoys traveling and discovering new places. Cristina is mum to a lovely little girl, to whom she hopes to pass on all the passion and love of our precious, wonderful Tuscany.