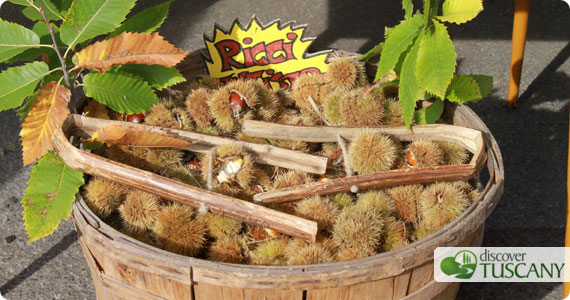 Autumn is here and the Tuscan countryside is changing its colors: from the vibrant green of summer into warm yellows and reds typical of this season.
In Mugello, autumn is a very special season full of events and festivals we suggest you take note of. October is the month of chestnuts and other products from the brushwood. These typical products are celebrated in several festivals and fairs all around Mugello. In the next few weeks, there will also be interesting guided tours and excursions, such as the visit to the Archaeological area of Frascole in Dicomano.
These are the main events for the upcoming month. For more details we suggest you visit the official website of the  Official Tourist site of Mugello:
PALAZZUOLO SUL SENIO
October 3
Ambientavola – Food market of typical products from Tuscany and Romagna together with food tastings.
October 10-17-24-31
Festival of the "marrone" and other products of the woods including tastings of local dishes.
MARRADI
October 10-17-24-31
Chestnut festival – For the occasion you can take the traditional steam engine train to Marradi (it will leave from Florence on Sunday October 17th, for more details visit the Italian official website)
October 10-17-24
Guided tours to Palazzo Torriani – Visit and tasting of typical products (reservation is mandatory by calling 0558042363)
DICOMANO
October 9-10
Grape and Marrone fair
October 10
Guided tours to the archaeological area of Frascole (for more information call 055 8385408)
BARBERINO DI MUGELLO
October 30-31 and November 1
Trade fair of white and black truffles – fair and market with tastings
It looks like autumn is the best season to visit Mugello: don't miss this opportunity if you are here!
About Cristina Romeo
Born in Florence at the end of the fabulous '70s, Cristina has always lived in the famous "cradle of the Renaissance". She's in love with her homeland, but also enjoys traveling and discovering new places. Cristina is mum to a lovely little girl, to whom she hopes to pass on all the passion and love of our precious, wonderful Tuscany.