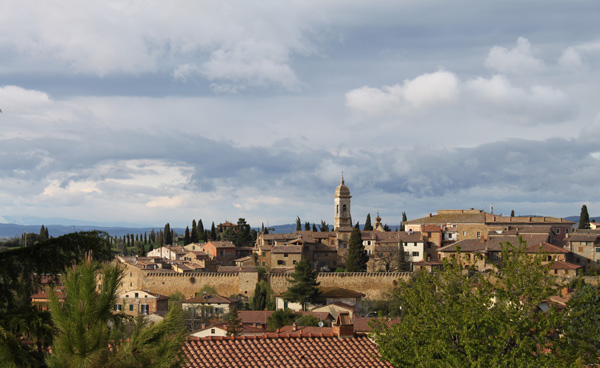 Firenze nel 2011 è stata la prima tra le città toscane a imporre la tassa di soggiorno nelle strutture situate all'interno del centro storico fiorentino.
Dopo anche il resto delle province e delle città della regione hanno aggiunto, senza renderlo molto noto, la stessa imposta sugli alloggi per visitatori non residenti.
Ho detto senza renderlo noto perchè recentemente siamo stati in Val d'Orcia a San Quirico (ci sono molte soluzioni per il vostro alloggio a San Quirico, guardate qui le possibilità) però abbiamo scoperto la tassa soltanto al momento del check-out! Quindi se non ne eravamo a conoscenza noi, è possibile che anche molti altri visitatori non lo siano!
I turisti interessati a trascorrere le proprie vacanze in Toscana ed in Italia da ora in poi dovranno fare i conti con questo recente costo aggiuntivo, anche se in realtà sono abituati già da tempo a pagare la stessa tassa nelle altre città in giro per il mondo.
L'imposta generalmente è una spesa completamente separata dal costo dell'hotel, dal prezzo per notte per la camera. Per farvi capire meglio come funziona, qui di seguito abbiamo condiviso con voi tutto quello che sappiamo sulla nuova tassa di soggiorno.
A Firenze la tassa è calcolata a persona per ogni notte per un massimo di 7 notti. Il costo varia da € 1 a 5 secondo la tipologia di struttura dove alloggiate. Per esempio, se avete scelto un albergo, il costo dipende da quante stelle gli sono state attribuite: 1 stella = 1 euro e così via fino a 5 stelle = 5 euro. La tassa negli ostelli e i campeggi costa solitamente 1 euro, nei B&B 2 euro mentre i residence richiedono dai 2 ai 4 euro, dipende anche dal numero di "chiavi" che gli sono state assegnate. Gli agriturismi sono classificati secondo le "spighe" , da un massimo di 1 a 3 spighe a cui segue un costo che varia da 1 euro a 3 euro.
Tutti i soldi raccolti con la tassa di soggiorno saranno utilizzati per finanziare servizi legati al turismo, sia per sostenere e mantenere strutture come quella dove alloggiate per esempio, ma anche per il recupero e l'utilizzo di luoghi culturali locali e servizi pubblici o per la promozione delle destinazioni.
Quasi tutta la provincia di Firenze ha ormai imposto l'imposta di soggiorno, con l'eccezione di Vaglia, Scandicci e Signa. Scandicci in particolare sembra non avere nessuna intenzione di applicarla.
Qui di seguito troverete una lista delle città che in Toscana hanno deciso di aggiungere la tassa nei mesi scorsi.
La tassa è attiva dal 1 gennaio 2012 nelle seguenti città del Valdarno e della Valdisieve:
Londa, San Godenzo, Rufina, Pelago, Pontassieve, Reggello, Rignano sull'Arno
–> 0.50-3 euro per 6 notti al massimo.
Dal 1° febbraio vicino a Firenze:
Calenzano – 1-3 euro per 2 notti al massimo.
Sesto Fiorentino – 1-5 euro per 10 notti al massimo.
Dal 1° di marzo, le città del Chianti senese e fiorentino:
Barberino Val d'Elsa, San Casciano, Tavernelle Val di Pesa, Castellina in Chianti, Castelnuovo Berardenga, Gaiole in Chianti, Greve in Chianti, Radda in Chianti, Bagno a Ripoli, Impruneta
–> 0.50-4 euro per notti per 4-7 notti.
Dal 1° Aprile, Monteriggioni,  il castello medievale vicino a Siena: 1-2 euro per massimo 3 notti.
Dal 1° di luglio i vari comuni del Mugello:
Barberino di Mugello, Borgo San Lorenzo, Dicomano, Firenzuola, Marradi, Palazzuolo sul Senio, San Piero a Sieve, Scarperia, Vicchio
–> da 0,50 a 4 euro per 6 notti al massimo.
Sicuramente avrete notato come ogni città applichi la tassa a suo piacimento, con costi differenti e calcolata per un numero di notti diverso. Se queste informazioni non sono abbastanza chiare al momento della prenotazione, assicuratevi di chiedere più informarzioni a riguardo.
Anche se un euro o due non gravano sul budget totale di un viaggio, è comunque utile sapere che oggi la tassa viene applicata in una città e non in una vicina… a seconda del vostro viaggio, potete programmare meglio la vacanza! Però fra poco è quasi sicura che tutta la Toscana la applicherà in una forma od un altra.
E' anche importante sapere che alcune categorie sono esenti dal dover pagare la tassa di soggiorno come: i bambini sotto i 12 anni, i disabili, i pellegrini, i gruppi scolastici e le guide turistiche. Queste regole non sono uguali per tutte le città o aree della regione, quindi anchq qui conviene chiedere maggiori informazioni al momento della prenotazione.
Altre città che applicano la tassa sul turismo includono Montecatini Terme, Cortona, Chianciano Terme, Livorno, Pisa, Arezzo…. praticamente quasi tutta la Toscana a breve la applicherà, quindi, non fatevi trovare impreparati al momento del check-out!
About Lourdes Flores
An American living in Florence for over 10 years, Lourdes continues to explore and discover new places in Tuscany with the eyes of a tourist but with the experience of living in Italy. She shares her experiences on this blog and website, particularly offering lots of travel planning help on the Forum!