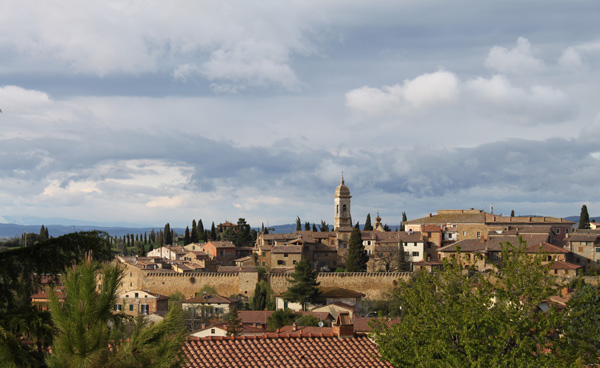 In July 2011, Florence was the first Tuscan city to implement a tourism tax on all lodgings within the city of Florence. Since then, the rest of the province and towns across the region have been quietly implementing the tax as well. I say quietly because we were recently in San Quirico in Val d'Orcia (several great options here) and only discovered the tax upon checkout! So if we didn't know about it, it's likely many of our visitors also don't know.
While it is not uncommon for tourists to have to pay a service tax in many cities across the world, this is a recent addition to the cost of visiting Tuscany and Italy you have to factor into your budget. The tax is generally completely separate from your hotel or accommodation per room/per night cost so we're sharing what we know so you can at least know about it ahead of your check-out.
In Florence, the tax is per person per night for a maximum of 7 nights. The cost goes from 1 to 5 euro and depends on the type of accommodation you're staying at. For example, if you're in a hotel, the cost depends on the star ratings they have: 1 star = 1 euro and so forth until 5 stars = 5 euro. Hostels and campgrounds are mostly 1 euro, B&Bs are 2 euros and residences go from 2-4 euro also depending on the number of "keys" they rate. Farmhouses are rated by "spiga" which literally translated into "ears of wheat" and go from 1 to 3 levels so cost is from 1-3 euro.
All funds collected by this tax are to go into paying for services related to tourism, from support to the lodging such as the one you stay at to maintenance, reclamation and use of local cultural sites and local public services and promotion of the destination.
Almost the entire province of Florence since then has implemented the tax, with the exception of Vaglia, Scandicci and Signa. Scandicci in particular has stated it has no intention of applying it at all.
Below are other towns in Tuscany that have implemented the tourism tax and the cost they have decided to charge.
Tax has been active since January 1, 2012 for the following towns in the Valdarno and Valdisieve area:
Londa, San Godenzo, Rufina, Pelago, Pontassieve, Reggello, Rignano sull'Arno
–> 0.50-3 euro for 6 nights max
Since February 1, just outside of Florence:
Calenzano – 1-3 euro for 2 nights max
Sesto Fiorentino – 1-5 euro for 10 nights max
Since March 1, the towns in the Florentine and Sienese Chianti:
Barberino Val d'Elsa, San Casciano, Tavernelle Val di Pesa, Castellina in Chianti, Castelnuovo Berardenga, Gaiole in Chianti, Greve in Chianti, Radda in Chianti, Bagno a Ripoli, Impruneta
–> 0.50-4 euro per night for 4-7 nights
Since April 1, Monteriggioni, the medieval castle near Siena: 1-2 euro for max 3 nights
Since July 1, towns in the Mugello valley:
Barberino di Mugello, Borgo San Lorenzo, Dicomano, Firenzuola, Marradi, Palazzuolo sul Senio, San Piero a Sieve, Scarperia, Vicchio
–> from 0,50 to 4 euro for max 6 nights
Note the diversity in how each town or area has chosen to apply the tax at various rates and for a different amount of nights. So if the information is not clear when you reserve, make sure to ask so you'll know ahead of time how much you will be charged for your stay. While a euro or two might not make a difference in where you stay at, it could be a factor to know that maybe the next time over does not apply it at all!
Also note there are also exemptions for which the tax is not paid, such as children under 12, pilgrims, disabled, school groups or tour guides. These are also set by each town or area.
A few more towns charging the tourism tax include Montecatini Terme, Cortona, Chianciano Terme, Livorno, Pisa, Arezzo…. practically all of Tuscany is now or in the near future going to charge the tourism tax so be prepared for it at check-out time!
About Lourdes Flores
An American living in Florence for over 10 years, Lourdes continues to explore and discover new places in Tuscany with the eyes of a tourist but with the experience of living in Italy. She shares her experiences on this blog and website, particularly offering lots of travel planning help on the Forum!