If you are moving around Tuscany by car and you are going to Siena, you have to think about parking lots.
Like Florence, the historical city center of Siena is a limited traffic area (ZTL zone). You need special permits to enter and if you enter without these permit, fines are really expensive.
There are generally signs as well as what look like stoplights which will be RED (sometimes barriers) as well as photo cameras mounted on polls (to take a pic of your license plate) that generally signal you are about to cross into the ZTL area. If in doubt, stop! If there are cars behind you, they might not be happy but it is better you double check you take the right turn and head to the lots instead of into the ZTL area.
Above is a useful map of the main parking lots in Siena. Below the parking lots are listed with the most useful details, mainly opening hours and cost per hour and per day.
All parking lots have bathroom facilities and a few have mobile escalators to reach the historical center easier, without climbing steep hills.
How to pay for parking
Street parking is by the meter. You have to estimate how many hours you might be staying, look for a meter nearby (there are signs with a "P" above it to make them more visible) and go pay for the hours you think you'll stay. Head back to your car and place the ticket on the dashboard closest to the street side so that it is visible. If you realize you're staying longer, send someone back to put more hours on your ticket! Cities do check and will give out tickets if you stay longer than planned (some say they will give you a margin of 15 minutes beyond what you've paid for). Outdoor parking is generally FREE between 8pm and 8am.
Paid parking lots generally have a barrier at the entrance (and exit), which make you take a ticket for you to enter. The ticket has time and date on it of when you entered the lot. You can take this ticket with you but don't lose it!! Better to leave it in the car and get it once you come back. You'll then head to an automated machine and pay for the time you've actually stayed there, a second ticket comes out that will let you exit the parking garage.
If you enter the parking garage because you had no other option other than to enter into the ZTL (that is what happens if you take the street in the photo below headed to the Il Campo lot), go into the garage, grab a ticket and then head to the exit. Since you just entered and left, the same ticket is valid to let you leave the lot and you don't pay anything. It is a one-way street so it is the ONLY option you have!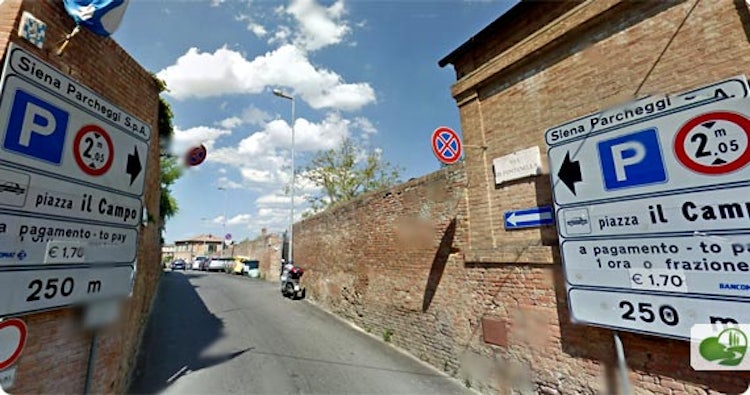 Parking Garages
These are covered garages that offer parking closest the historical center and are all the city, along the walls. Siena Parcheggi finally has a website in English so please make sure to check their information on rates and hours (just in case it has changed since the last time we updated this page ;)
NOTE: There is a discounted daily rate of €25 for those who STAY in Siena (as opposed to €35) - you need to take the ticket at the parking entrance to your hotel and ask them for the QR code you then use to "pay" once you're ready to leave. You use it to pay at the automatic machines, once you've paid you use the same ticket to leave the parking structure (just scan at the exit gate).
Il Campo
This large parking lot is near Porta Tufi and within walking distance to famous Piazza del Campo and Siena, Torre del Mangia and Palazzo Pubblico.
Open daily 24 hours a day
RATES
€ 2,00 per hour
1 day parking pass: € 35,00
3 days parking pass: € 85,00
Il Duomo
This medium-size parking lot is located near Porta San Marco. It is near the Duomo and the Santa Maria della Scala Museum Complex. Piazza del Campo is also within walking distance.
Open daily 24 hours a day
RATES
€ 2,00 per hour
1 day parking pass: € 35,00
3 days parking pass: € 85,00
Santa Caterina
This large parking lot is located near the Duomo and the Complex of Santa Maria della Scala. The Church of San Domenico and Sanctuary of Santa Caterina are nearby. Piazza del Campo is within walking distance. There is a mobile escalator nearby to get you up to the cathedral faster.
Open daily 24 hours a day
RATES
€ 2,00 per hour
1 day parking pass: € 35,00
3 days parking pass: € 85,00
San Francesco
A medium-size parking lot near the beautiful Church of San Francesco and close to the University of Siena. There is a mobile escalator nearby to get you to the center faster.
Open daily 24 hours a day
RATES
€ 2,00 per hour
1 day parking pass: € 35,00
3 days parking pass: € 85,00
Fortezza-Stadio
This is one of the largest parking lots in Siena with almost 800 spaces. It is located next to the Medicean fortress and walls near the Stadium. The main city center of Siena is within walking distance. If you're visiting Siena on the day of the Palio, arrive early and head here as it is pretty close to the center.
Open daily 24 hours a day
RATES
€ 2,00 per hour between 7am and 8pm year round
1 day parking pass: € 26,00
** Stazione - Train station **
This large parking lot is located next to the train station. If you are staying in Siena for the whole day, this is the cheapest parking lot to park at. There is a mobile escalator that takes you near to Porta Camollia to the Antiporto right along the ZTL boundary line where lots of buses head to the center of Siena, at least every 15 minutes all day long.
Open daily 24 hours a day
RATES
€ 0,50 for 1st hour
€ 2,00 from 2nd hour and for the entire day! This is the cheapest parking garage in the city!
Free Parking Areas in Siena
In Siena, there are very few free parking areas left but there are a few still located in different areas of the city. Ones that were once free are no longer so; if you find any areas where you are able to park for free, do share in the comments below!
STRADA DEI TUFI
We noticed a parking lot last time we passed by on SS2 Cassia Road right at the turn onto the Strada dei Tufi (which leads to the Porta dei Tufi and the "Il Campo" parking lot). You can park here (it seems it remains free parking) and then catch a bus up into the center as there is a bus stop right in front of the lot. Do not try to walk to Siena from there, it is far and the road is narrow with many cars. It isn't safe to walk along that road.
STRADA LATERINA
This small parking near the city cemetery is located within walking distance from Piazza del Campo and other attractions. It is often full, so if you don't find anything here, resign yourself to finding paid street parking just past the Porta Laterina or in the "il Duomo" parking structure. There is more paid street parking outside of the Porta San Marco along Strada Comunale Giuggiolo (meter parking).
VIALE MARIO BRACCI
This long street takes you to the city hospital and has street parking on one side of the street where you can find free parking. From the street, you can catch a bus that takes you to the city center.
STRADA DI MALIZIA
This small parking lot might be a bit hard to find but there are buses that take you to the train station and then on to the center.
Updated: February 2020