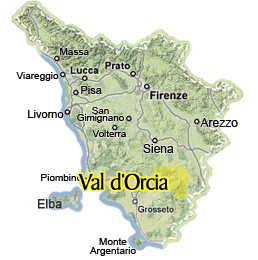 Medieval castles, sunny rolling hills, isolated hilltop towns, charming farmhouses and isolated rural homes, avenues of cypresses, rows of vineyards, olive groves, and golden wheat fields are just some of the elements of the fantastic and harmonious landscapes of Valdorcia!
Crossed by the Orcia river, from which the valley derives its name, this wonderful region in southern Tuscany stretches alongthe provinces of Siena and Grosseto. The area is now protected as a natural and cultural park, and it has been recognized as a World Heritage Site by UNESCO since 2004. Beautiful nature is the actual absolute protagonist in Valdorcia, with many different colors according to the season.
There are few other places that are able to impress the traveler so deeply. It is almost a surreal and suspended land, which is home to the most precious and appreciated Italian wines: the Brunello di Montalcino, the Nobile di Montepulciano, the Rosso Orcia, and other superb and fine wines with the protective DOCG denomination.
The impressive views of Val d'Orcia, which inspired so many Renaissance painters, is dotted with many little villages, castles, abbeys and hamlets, each telling a fascinating ancient history. Time here can still pass slowly and you can enjoy every second of it. You'll discover villages like Pienza, a real jewel known as the "Ideal City": a unique Renaissance monument designed by the great humanist Pope Pius II, with its narrow winding streets and the beautiful Palazzo Piccolomini.
And then you'll find Castiglion d'Orcia with its fortress, Abbadia S. Salvatore and its ancient Benedictine Abbey, Radicofani standing high on a cliff top with its imposing castle tower and the walled medieval city of Montalcino, dominated by the 14th century fortress offering breathtaking views over all the valley. East of Pienza you will then be enchanted by the harmonious renaissance hilltop town of Montepulciano (even if isn't in the valley of the Orcia river)!

Main towns in Val d'Orcia: Montalcino, San Quirico d'Orcia and Pienza
After a day visiting museums, ancient abbeys and castles, you can relax yourself in one of the many thermal baths of the region, such as the ones in Bagno Vignoni or in Bagni di San Filippo. Bagno Vignoni is highly recommended: you'll find an absolutely unique tiny hamlet with a series of ancient buildings all surrounding the central Renaissance swimming pool with its beautiful arcades. It is perfect for a relaxing holiday, far from the crowds!
This region is very rich in high quality local products such as the "pecorino" cheese of Pienza (a typical cheese made with sheep's milk), the genuine olive oil, the gorgeous wine resulting from a long and ancient tradition, saffron, mushrooms, chestnuts, truffles, game and a lot of other specialties.
Finally, a must-see is the beautiful and suggestive Romanesque Abbey of Sant' Antimo, one of the best examples of medieval monastic architecture; here you can really breath a mystic and medieval atmosphere and listen to the beautiful Gregorian chants during the mass. When kissed by the sun, the magnificent travertine stone facade of the abbey shines with golden reflections.
A vacation in Valdorcia is a special journey between sweet tastes and marvellous panoramas that you will never forget. The most beautiful photos you see of Tuscany come from this paradise!