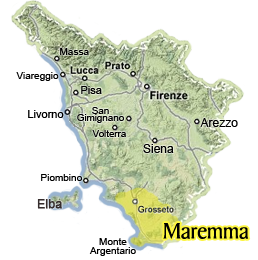 Maremma is a large area in southern Tuscany. It is a perfect microcosm that stretches between the provinces of Livorno and Grosseto. In the Divine Commedy, Dante Alighieri identified its borders from "Cecina to Corneto" (Tarquinia in Lazio). Maremma is unique because of the variety of its territory: blue sea, long beaches, black rock, hills covered with woods, marshes and flat lands, green hills and natural thermal baths.
It's a timeless region with ancient roots. Here the Etruscans and then the Romans flourished for centuries leaving behind important traces in the Etruscan cities of Populonia and Roselle and many archeological finds around the region. Then the Aldobrandeschi clan arrived and ruled in Maremma during the dark era of the Middle Ages leaving behind high towers, castles and walled towns such as Santa Fiora and Sovana. The Medici and Lorena families also lived here, as the massive Medici wall in Grosseto remind us. The Medici actually started the land reclamation of the marshes in Maremma that ended only after the Second World War.
Maremma is not just culture and landscapes; it is also a region rich in typical products to be tasted and savoured while drinking a good glass of wine. Sea, hills and mountains melt perfectly in its food, the acquacotta soup is a just one example.