What's Showing around Tuscany?
Trying to make plans for your holidays? Check out a selection of some of the most interesting ongoing exhibits in Tuscany. And we suggest that you read our blog post to learn more about some of the more intiguing contemporary art exhibits in Florence.
But don't stop there, click on one of the links below and use a few of our helpful tools to keep you updated on both local activities and recurring events throughout Tuscany, with an emphasis on those that are easy to find and fun to participate.
- monthly recurring events (links below)
- art exhibits in Tuscany (calendar below)
- what's happening now in Tuscany
- what's happening now in Florence
Plan your Holidays
Check out recurring festivals, sagras, events and special holidays on our special edition monthly events page. Simply click on the month below for an up-to-date list of major events all over Tuscany:
A Selection of the Best Exhibits in Tuscany
---
Siena | LA GRANDE GUERRA | until Jan 15, 2017
through the eyes of Siena
When: 29 Oct, 2016 - 15 Jan, 2017
Hours: Mon - Thur: 10am - 5pm, Fri: 10am - 8pm & Sat - Sun: 10am - 7pm, Closed on Tuesday
Special holiday hours Everyday from 10am - 7pm, Friday 10am - 10 pm & Closed on 25 December
City: Siena
Where: Santa Maria della Scala
100 photos taken by soldiers from Siena during the 41 months of conflict. Through these evocative images it is possible to see the events, not as a journalist, but as a young man living the war.
From the private archives of soldiers from the Siena area, this exhibition takes their personal photos and enlarges them to share the pain and joy, the images that made it to film of the activities during World War I.
Travel through the emotional journey with photos, diaries and more that tell a personal story.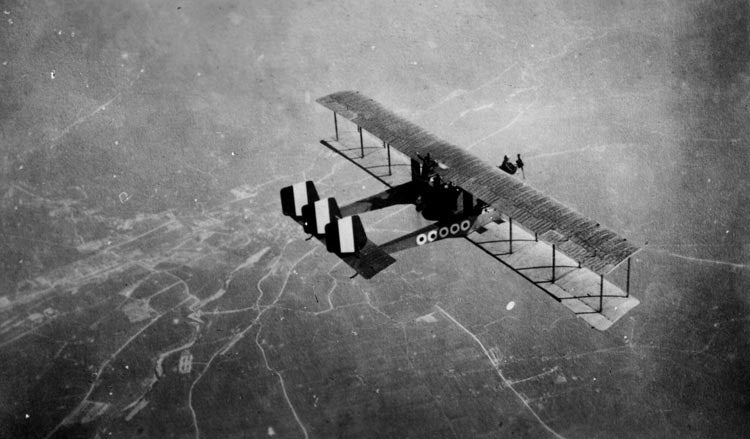 ---
Pisa | DALI. IL SOGNO DEL CLASSICO | until Feb 5, 2017
Dalí. The Classic Dream
When: 1 Oct, 2016 - 5 Feb, 2017
Hours: Mon - Fri: 10am - 7pm & Sat - Sun: 10am - 8pm
City: Pisa, Palazzo Blu
Where: Palazzo d'Arte e Cultura - Palazzo Blu, Lungarno Gambacorti, 9, 56125
"Start by imitating the classics, and then you can do anything" - Salvado Dalì
Metamorphism, provocative, visionary, Salvador Dalí is an artist; both a myth and myth-maker. Salvador Dalí is exhibited in direct comparison with the ancient traditions and with the great masters of the past.
This is the Dalí who loved the great Italian Masters, citing Raphael & Cellini, illustrating Dante and Michelangelo, the star of this show, is the trilogy dedicated to Surrealism.

---
Viareggio | SIGNORINI E DI NITTIS | until Feb. 26, 2017
The 1800's open for the World to See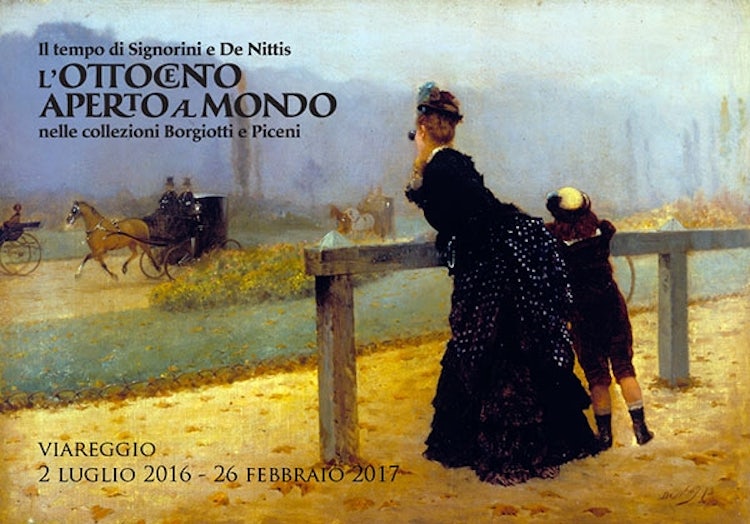 When: July 2 - February 26, 2017
Where: Centro Matteucci per l'Arte Moderna, Via D'annunzio, 28, Viareggio
For Hours see Website
The newest exhibition at the Matteucci Center for Modern Art features an impressive display of masterpieces by the artists De Nittis, Zandomeneghi and Boldini.
The above works will be shown side by side to those of Signorini, Lega and other protagonists for the "Macchiaiolo" period.
---
Prato | LA FINE DEL MONDO | until March 19, 2017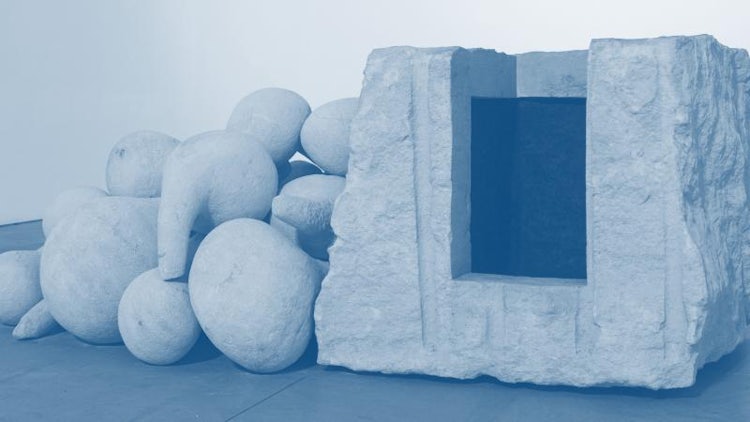 When: October 16 - March 19, 2017
City: Prato
Where: Centro Pecci Prato, Viale della Repubblica, 277, 59100 Prato
For Hours see Website
View today as from a distance, the idea is to "experience the feeling of being projected thousands of light years away to view our current world as if it were a fossil, geological eras from the present time, resulting in a feeling of being suspended in a limbo between a now distant past and a still distant future."
Throughout the exhibition, many expressions and artistic languages will be interconnected: music, theatre, cinema, architecture and dance represented not just as side events but as integral moments of the show, helping to build an immersive and captivating narrative.
---
Montepulciano | AGATHOS. UNIVERSO ADIMENSIONALE | until April 30, 2017
When: December 3, 2016 - April 30, 2017
City: Montepulciano
Where: Cantine Icario, Via delle Pietrose, 2, 53045 Montepulciano Siena
For Hours see Website
A fun opportunity to combine a fabulous landscape, good wine and art! This wine cellar is famous for its contemporary art and excellent Vino Nobile production. Make a reservation and combine a visit to their personal art gallery and explore the vineyards and production of their wines.
Carlo Franzoso, a.k.a Agathos, is a mathematician and a painter renowned in both fields and, above all, a heretical thinker. In the Artistic court he is the founder of Trans-geometric Spatialism (or Trans Geometry), which seeks to put men near science again.

---
Arezzo | LE ETA' DELL'ORO | until May 7, 2017
When: August 5, 2016 - May 7, 2017
City: Arezzo
Where: Casa Museo Bruschi, Piazza San Francesco, 1
For Hours see Website
The Reflections of Piero della Francesca, music images, and jewelry presented on an innovative video guide concentrating on the magical work of Piero della Francesca.
The presentation of an exhibition in the format of a high resolution video, animated with images and details from the most important work of Piero della Francesca. You will find the amazing copies of the jewelry represented in his artwork, pieces that were executed by Giulio Manfredi in 1992 and which now make up part of the Museum treasures.
After almost 25 years of their first showing, the Casa Ivan Bruschi has them on exhibition in honor of the 600th anniversary of the birth of Piero della Francesca.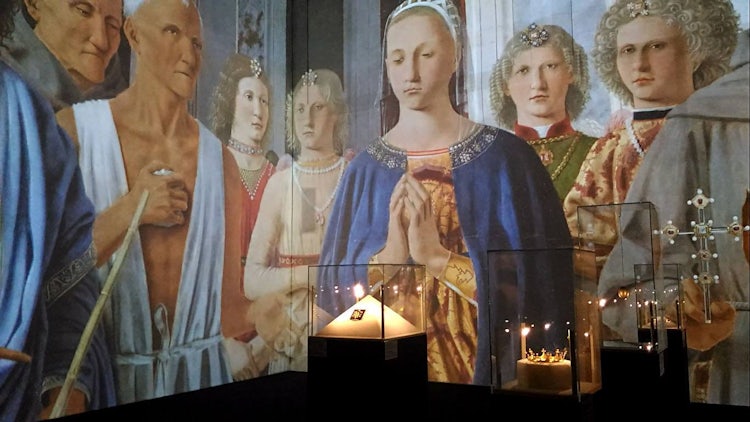 ---
Pisa | VOLAREARTE | until June 15, 2017
When: Until June 15, 2017
City: Pisa
Where: Galileo Galilei Airport
Well into the third edition of this initiative by the Henraux Foundation together with the Tuscany Airports, you will find a collection of 9 sculptures from Park Eun Sun gracing the Pisa airport.
This renowned Korean artist, a long time resident of Versilia, arrived in Italy to satisfy his desire to work with Apuane marbles. His artwork, known on an international level, is remarkable for the pure geometric forms composed of bi-color slabs of marble.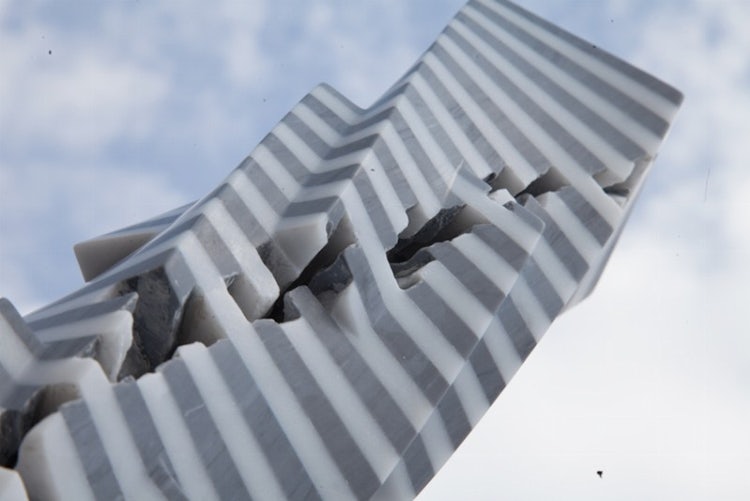 ---
Siena | LA BELLEZZA FERITA | Oct 29, 2017
Norcia, Earth Heart Art Quake.
When: December 23, 2016 - October 29, 2017
City: Siena
Where: Crypt of the Duomo Santa Maria della Scala
For Hours see Website
Italy rallies and embraces the zones that were devastated by the earthquake on the 24th of August. Siena, following a long tradition of giving refuge to those in need, has opened the crypt of its Duomo to house several important pieces of art while their original homes (churches, monasteries and convents) are repaired.
On exhibition will be various pieces recused from the debris immediately following the tremors that have left a permanent mark on the central region of Italy. A collection of paintings, sculptures rescued by the Protezione Civile, the Corpo Nazionale Vigili del Fuoco, and the Comando Carabinieri will be open to the public to admire together with videos showing the rescue efforts and their damaged homes.
---