What's Showing around Tuscany?
Trying to make plans for your holidays? Check out a selection of some of the most interesting ongoing exhibits in Tuscany.
But don't stop there, click on one of the links below and use a few of our helpful tools to keep you upated on both local activities and recurring events through out Tuscany, with an emphasis on those that are easy to find and fun to partcipate.
- monthly reoccuring events (links below)
- art exhibits in Tuscany (calendar below)
- what's happening now in Tuscany
- what's happening now in Florence
Plan your Holidays
Check out recurring festivals, sagras, events and special holidays on our special edition monthly events page. Simply click on the month below for an up-to-date list of major events all over Tuscany:
A Selection of the Best Exhibits in Tuscany
---
Arezzo | IL SOGNO DI THEIMER | until Oct 23, 2016
When: June 24 - October 23, 2016
City: Arezzo
Where: Fortezza Medici
For Hours see Website
A modern figure sculpture, with a poetic beauty that pulls from man's cultural memory and important artistic traditions including Italian Renaissance, French Neo Classic and a bit of Egyptian, Greek and perhaps some unknown Asian cultures.
Set in part at the newly stored Medici Fortress, the art exhibition adds color and life to the massive stone walls. Take the opportunity to visit both the fortress and the exhibition for a truly special experience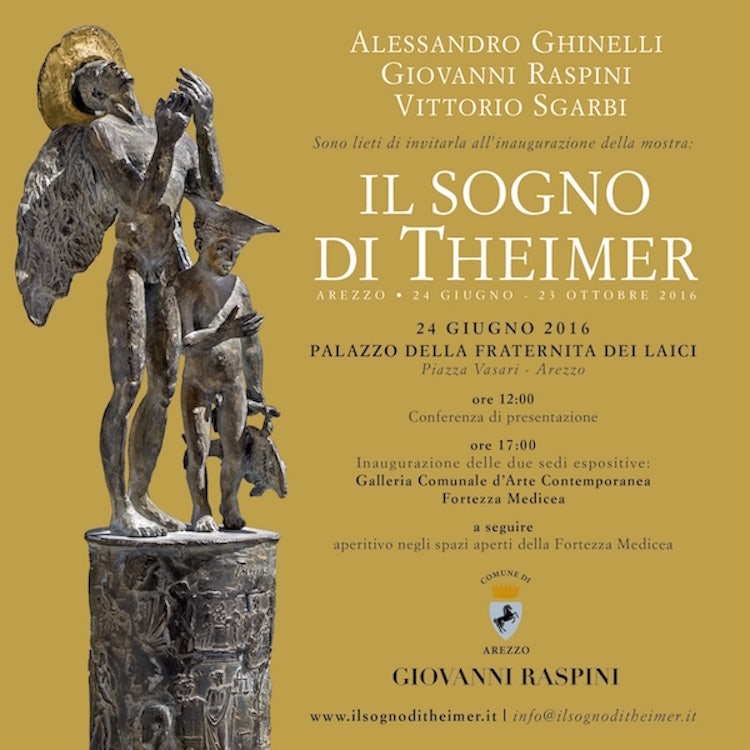 ---
Siena | DISCOVER THE DUOMO | until Oct 26, 2016
When: August 18 - October 26
City: Siena
Where: Cathedral of Siena
Hours: Monday Saturday 10:30 am – 7 pm Domenica 9:30 – 18:00
During the Holy Year, the L'Opera della Metropolitana di Siena, is opening its doors!
And more importantly in this period - uncovering its floors for guests to admire the spectacular stone floors of the Duomo di Siena.
The floor is a unique masterpieces not only for its level of technical skill involved but also for the expressive images that encourage the viewer to look for inner peace and knowledge.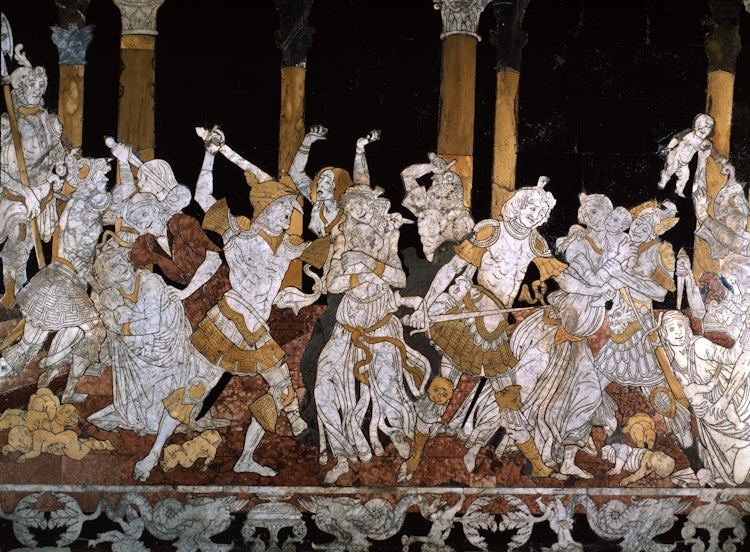 ---
San Gimignano| BENOZZO GOZZOLI | until Nov 1, 2016
When: Until November 1, 2016
City: San Gimignano
Where: Pinacoteca, Piazza Duomo 2
Hours: Website
San Gimignano will host an exhibition dedicated to the artist Benozzo Gozzoli (Florence 1420/21 - 1497).
He was one of the more active artist in the 1400's in Italy.
The exhibition celebrates, for the first time, the time spent in San Gimignano, perhaps one of the most intensive periods in his career.

---
Pisa | DALI. IL SOGNO DEL CLASSICO | until Feb 5, 2017
Dalí. The Classic Dream
When: 1 Oct, 2016 - 5 Feb, 2017
Hours: Mon - Fri: 10am - 7pm & Sat - Sun: 10am - 8pm
City: Pisa, Palazzo Blu
Where: Palazzo d'Arte e Cultura - Palazzo Blu, Lungarno Gambacorti, 9, 56125
"Start by imitating the classics, and then you can do anything" - Salvado Dalì
Metamorfist, provocative, visionary, Salvador Dalí is an artist; both a myth and myth-maker. Salvador Dalí is exhibited in direct comparison with the ancient traditions and with the great masters of the past.
This is the Dalí who loved the great Italian Masters, citing Raphael & Cellini, illustrating Dante and Michelangelo, the star of this show, is the trilogy dedicated to Surrealism.

---
Pisa | VOLAREARTE | until June 15, 2017
When: Until June 15, 2017
City: Pisa
Where: Galileo Galilei Airport
Well into the third edition of this initiative by the Henraux Foundation together with the Tuscany Airports, you will find a collection of 9 sculptures from Park Eun Sun gracing the Pisa airport.
This renowned Korean artist, a long time resident of Versilia, arrived in Italy to satisfy his desire to work with Apuane marbles. His artwork, known on an international level, is remarkable for the pure geometric forms composed of bi-color slabs of marble.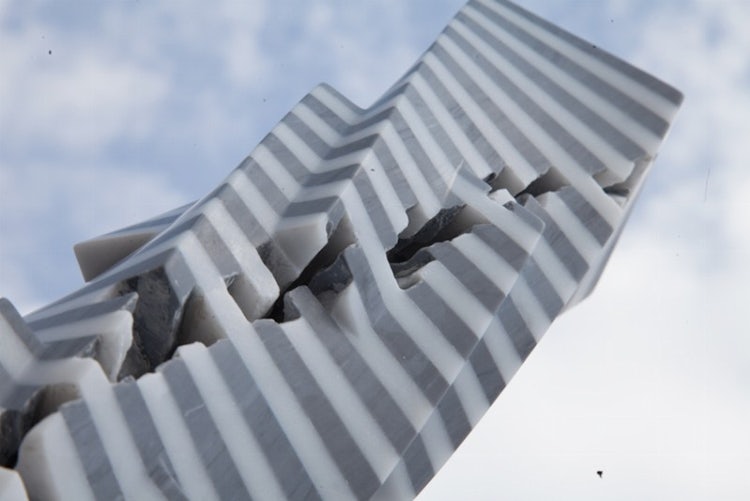 ---
Viareggio | SIGNORINI E DI NITTIS | until Feb. 26, 2017
The 1800's open for the World to See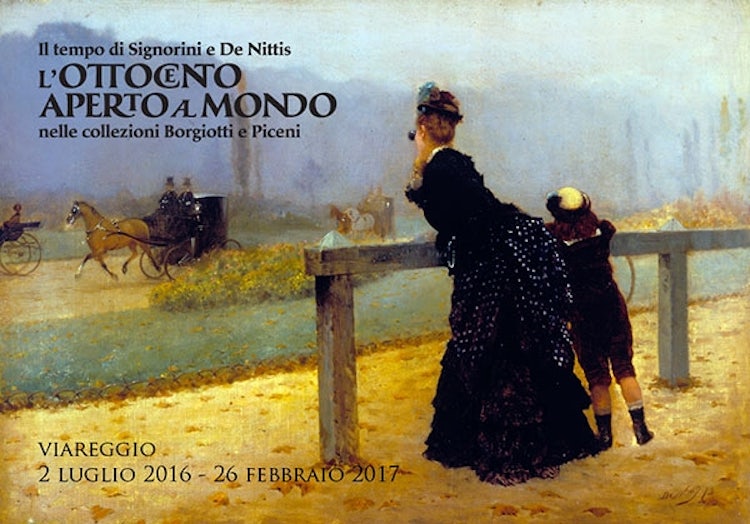 When: July 2 - February 26, 2017
Where: Centro Matteucci per l'Arte Moderna, Via D'annunzio, 28, Viareggio
For Hours see Website
The newest exhibition at the Matteucci Center for Modern Art features an impressive display of masterpieces by the artists De Nittis, Zandomeneghi and Boldini.
The above works will be shown side by side to those of Signorini, Lega and other protagonists for the "Macchiaiolo" period.
---
Prato | LA FINE DEL MONDO | until March 19, 2017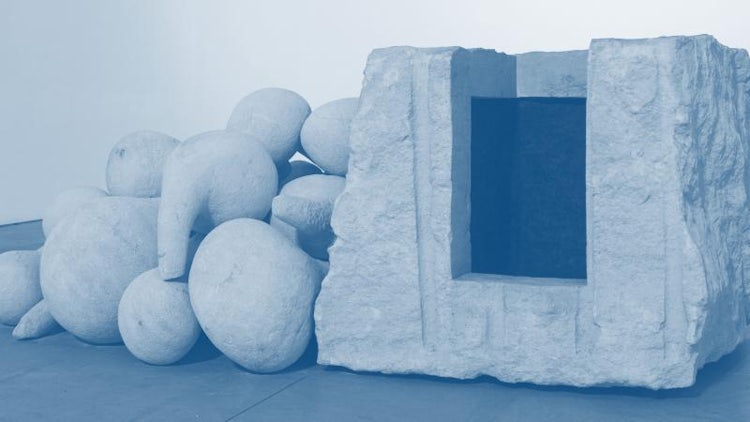 When: October 16 - March 19, 2017
City: Prato
Where: Centro Pecci Prato, Viale della Repubblica, 277, 59100 Prato
For Hours see Website
View today as from a distance, the idea is to "experience the feeling of being projected thousands of light years away to view our current world as if it were a fossil, geological eras from the present time, resulting in a feeling of being suspended in a limbo between a now distant past and a still distant future."
Throughout the exhibition, many expressions and artistic languages will be interconnected: music, theatre, cinema, architecture and dance represented not just as side events but as integral moments of the show, helping to build an immersive and captivating narrative.