See the top sights in Tuscany in a day!
Most everyone has limited days to visit Italy and there is so much to see in that short time! If your time in Tuscany is also limited, but you still want to get a chance to see the highlights of the region, I suggest you make Florence your base and then take day trips to the top sights in Tuscany, such as Siena, San Gimignano, Chianti and Pisa.
Depending on the time you have in Florence, you can organize these day trips on your own, with bus or train or by renting a car: check out our tips for day trips from Florence.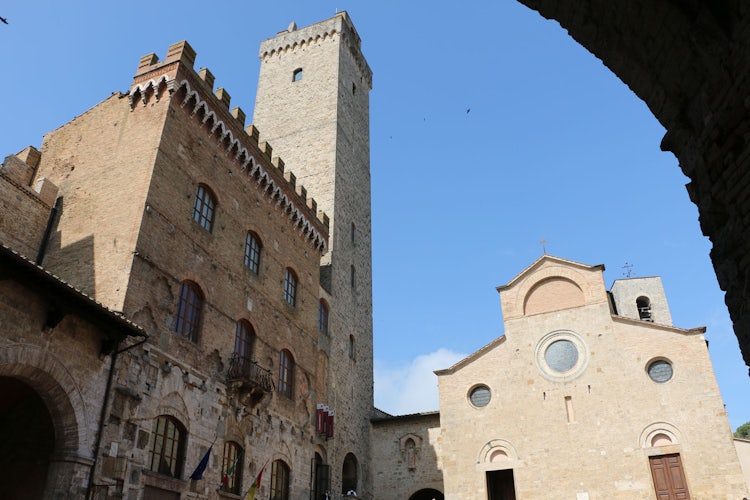 This page contains affiliate links. More details »
If you do not want to plan the details of moving around on your own, but still want to see the top sights, I suggest joining a guided tour! To better know what I am recommending, I like to try these tours myself and today I'm sharing with you my experience of a full day "Tuscany in a day" tour that takes you to Siena, San Gimignano and Chianti, with a stop at a winery for wine tastings as well. I'm going to share the general idea of what we did, what I liked about the tour, who I think it is perfect for and who might be happier choosing a different option, all so that you choose the right tour for you.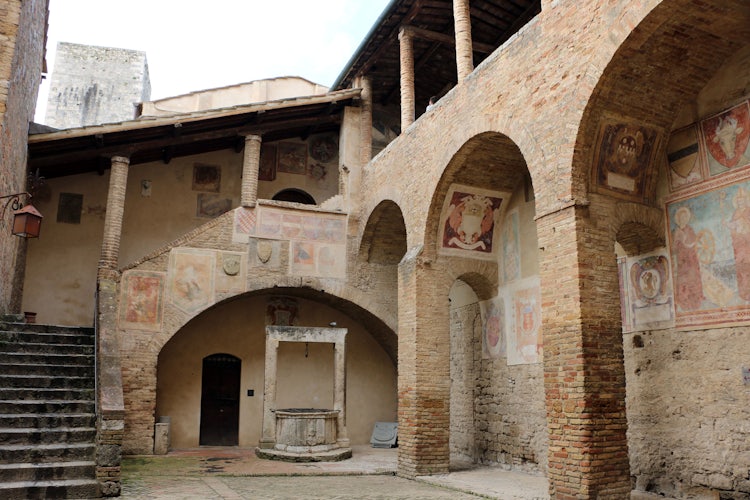 Tuscany in a day: what and where
This is one of the most popular tours from Florence, which includes a winery tour with tastings in Chianti, San Gimignano and Siena. This tour in particular also adds in a visit to the museum and church for a Contrada in Siena. Getting to know Siena means understanding how important the Palio horse race is for the city. The Palio and the way of life in each Contrada is an essential part of Siena's history which continues into today's modern life so getting to see inside a contrada museum and church is actually a unique experience. Other day tours will switch out the wine tasting to include Pisa instead and will not include the Contrada visit, so that's another option to consider. This tour is a full day trip from Florence - a full 11 hours out - that also offers some info on Florence as you leave and re-enter the city and of the Chianti region as you drive through it.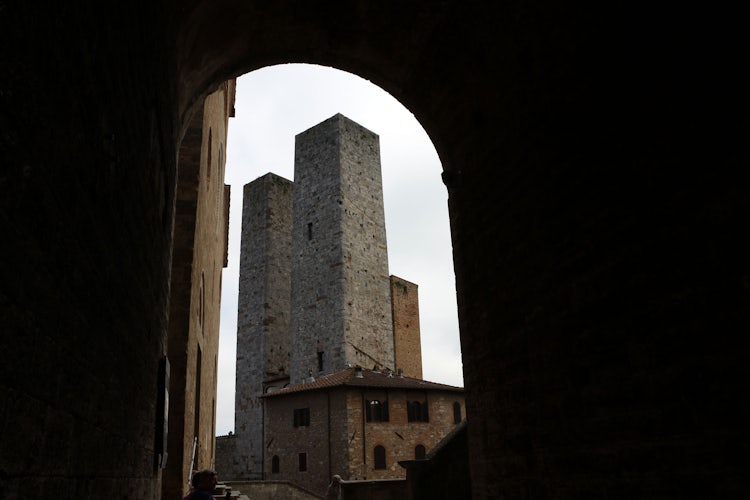 At a Glance
lasts about 11 hours and runs every day
includes winery visit and tastings of wine, cold cuts, olive oil and balsamic vinegar
extra option to include visit to Duomo in Siena
large group of around 50 people max
no need to drive anywhere!
multilingual guide on the bus, group divided by language into smaller groups in Siena for guided tour of Contrada and Duomo
This tour starts in Piazzale Montelungo, which is along the back of the SMN train station right by the back of the Fortezza da Basso. Here's a waypoint on Google Maps to help you place it.
Guided tours, especially one this popular, has a pretty strict schedule but one of the positive things about it is that you do not have to worry about driving (or renting or parking, for that matter!). This is particularly important when you want to visit wineries and taste wines, as you do not want to drink and drive.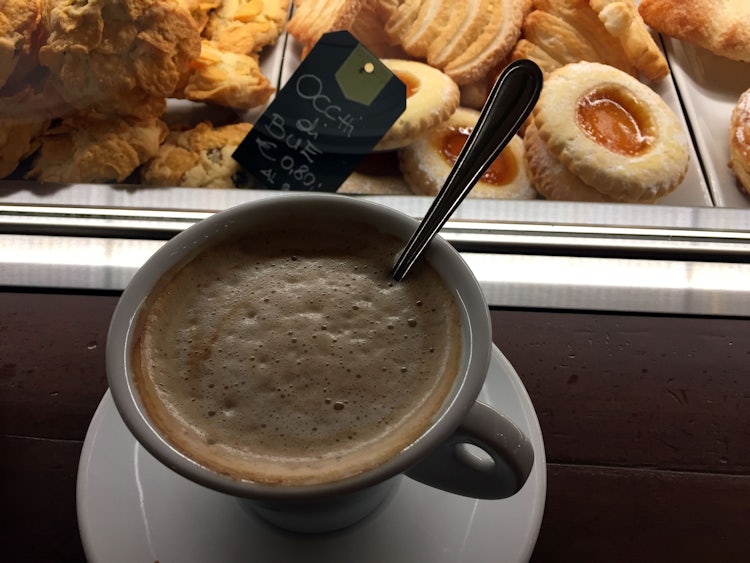 I also think you get great value for the stops you make. Consider also that the visit to the Contrada museum and church in Siena is also a special opportunity that most will never get a chance to experience, so I highly recommend you consider this tour over others for that reason alone. The guided tour in Siena ends at the Duomo, whether you go inside and continue the tour is an extra option which I also absolutely say you should add on for just 5 euros more! You'll get a chance to see the mosaic pavement as well as the gorgeous frescoes in the Piccolomini Library.
This is a quick run-through of what we did:
first stop San Gimignano: we had about an hour so we had time to walk into the center of town to Piazza del Duomo and Piazza della Cisterna and snap lots of pics. We also stopped for a cappuccino and bathroom break so there is time to instead get a gelato if you feel so included ;-).
on to Siena: we walked together to Piazza del Campo and then had about an hour free time in which to grab lunch, wander a bit around and meet back to start the guided tour. The guide then took us to the Contrada of the Eagle before heading to the Duomo (a visit inside with the guide is an extra option). The guide left us before we had to meet back with the full group in Piazza del Duomo so we got a chance to wander around on our inside too. Overall, we spent about 3.5 hours in Siena.

Monteriggioni: this is the stop in Chianti and for us it was unfortunately quick - we got caught in a thunderstorm that made us return to the bus earlier than planned. We did get a chance to walk around while eating a gelato!
Winery visit and tastings: this was a great stop, we got to learn interesting info on the wines the winery makes, it's history, the production process and enjoy the wines. We tasted 3 wines, 2 olive oils - one with truffles - and a balsamic vinegar made by the same estate in Modena. A stop by their wine shop at the end was just obligatory ;-).
It was a long day but well balanced. Let me tell you more about the specific points I enjoyed.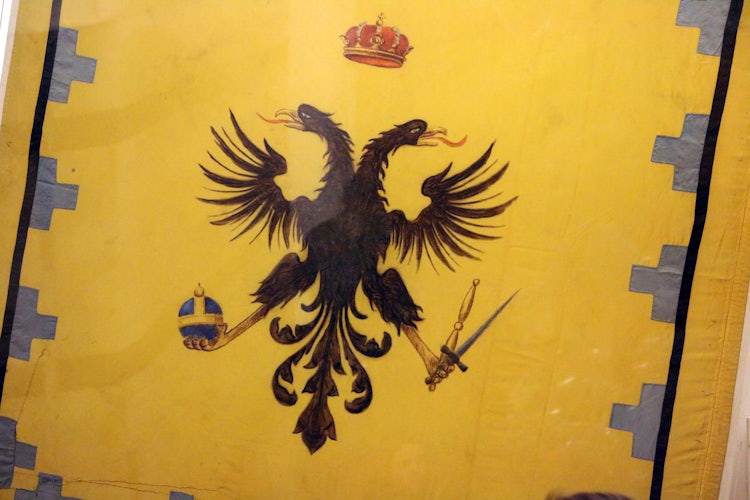 What I particularly liked about this tour
Tour of the contrada in siena and interesting info on Palio: I particularly liked the time we spent in Siena, with the tour of the museum and chapel of the Contrada of the Eagle. It was interesting to see the many "palios" that the Contrada has won (getting to learn what Palio is/means is part of the tour ;-)), learn about the Palio race itself and what it represents to the city.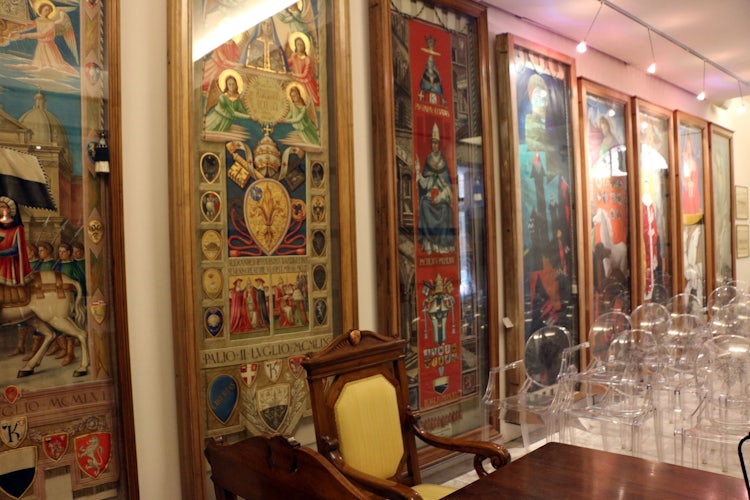 Tour of the Siena Duomo to see pavement and Piccolomini Library: as part of the time in Siena, the time going inside the Duomo with the tour guide was a definite bonus! The guide pointed out some of the most interesting ones and the stories they portrayed, as well as the artists and the time it took for them to be made. I think going inside the Duomo in Siena is a must for everyone who visits the city, so the fact that this tour included it will always be a positive reason for me to recommend this tour. The visit inside is an extra option, I suggest you add it on for sure!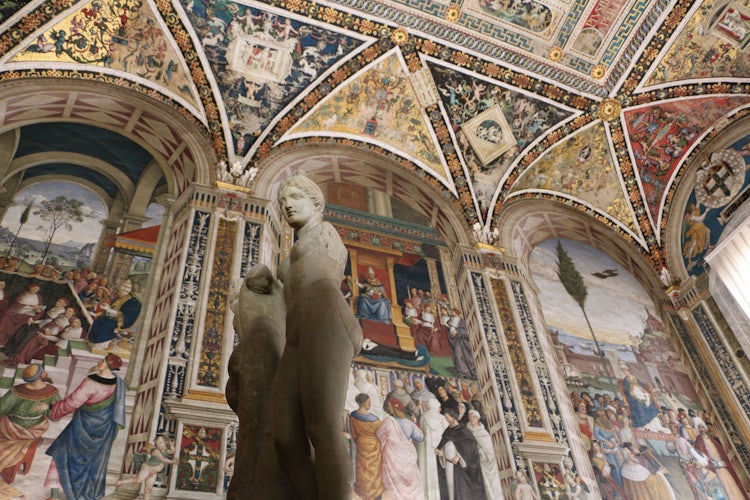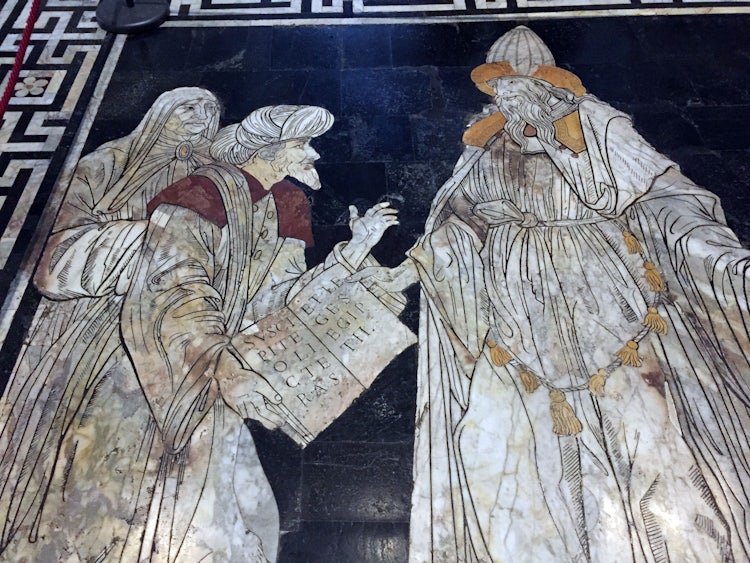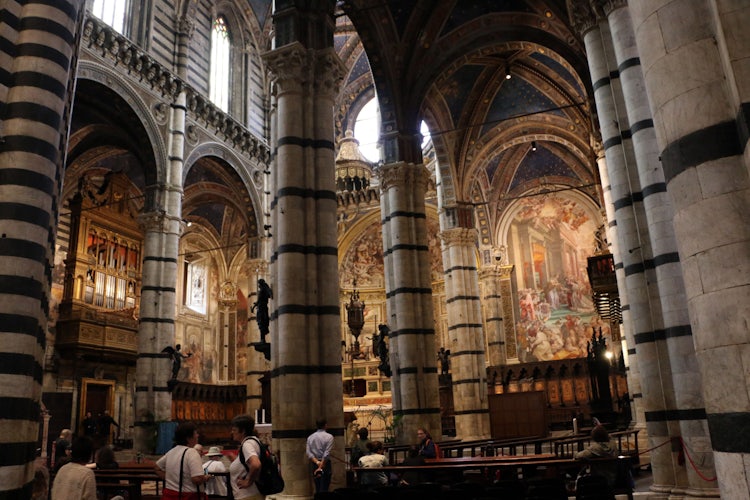 This tour is perfect for...
I would recommend this tour to anyone:
with limited time in Tuscany: in a day see some of the top sights
who doesn't want to drive and still see top sights
looking for good value: 4 stops, including wine and tastings in price of the tour
Wine tasting and winery tour: Every single winery I have visited in Tuscany offers a new insight into the wine making process, the history of the business which is almost always tied to a family and getting a chance to taste them makes it possible to learn the differences in tastes and quality. I find it really refreshing to also see the passion in which the wine and other products, in this case it was olive oil and balsamic vinegar, are produced and sold. We visited the Poggio ai Laghi winery, a modern and recently built vineyard not far from Monteriggioni, and found it interesting to hear how the family focuses on small but high quality production.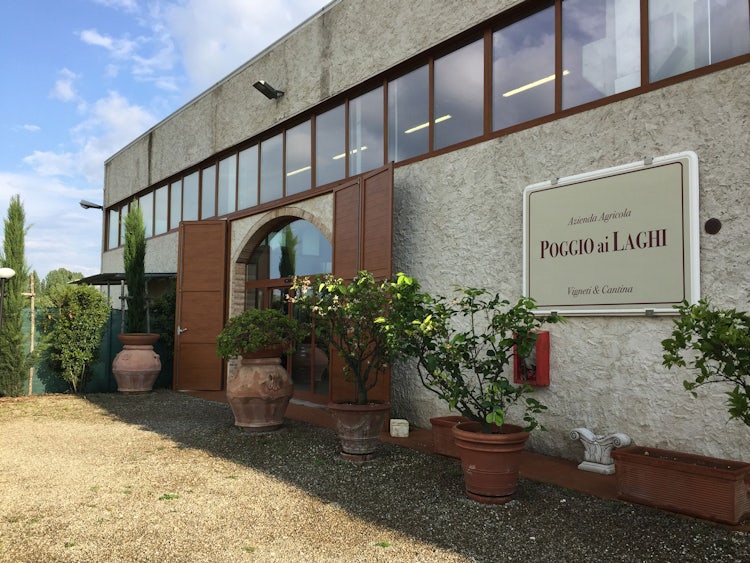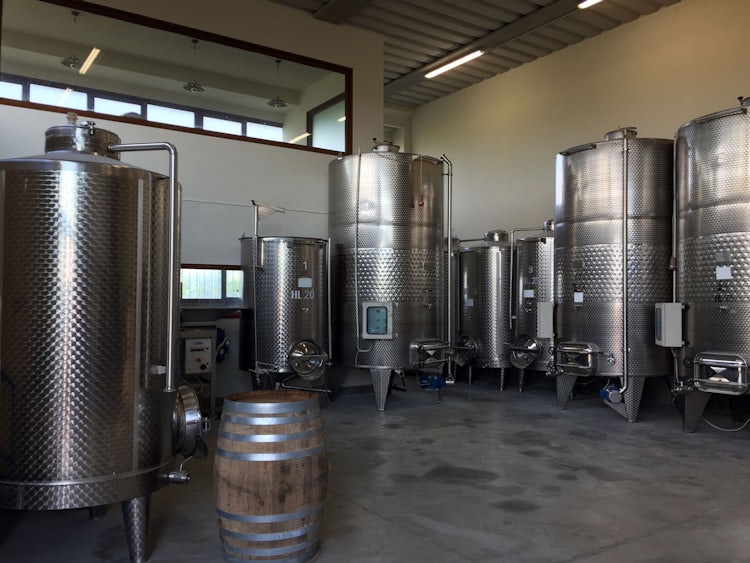 Well organized, with the timings just right to see enough: While I won't lie and say that you get to see all of the top sights in Siena or San Gimignano, I think the amount of time in each place was enough considering the scope of the tour. In the time you have, you get a chance to visit and see some of each place, important when you want to see a bit of Tuscany when time is limited. I hope that anyone that enjoys what they see will get a chance to return to Italy and spend more time in the places they saw so consider this tour a sort of preview into what else you will find in Tuscany if you can return. We would have liked the time in Monteriggioni to be more relaxed but you cannot influence the weather! ;-)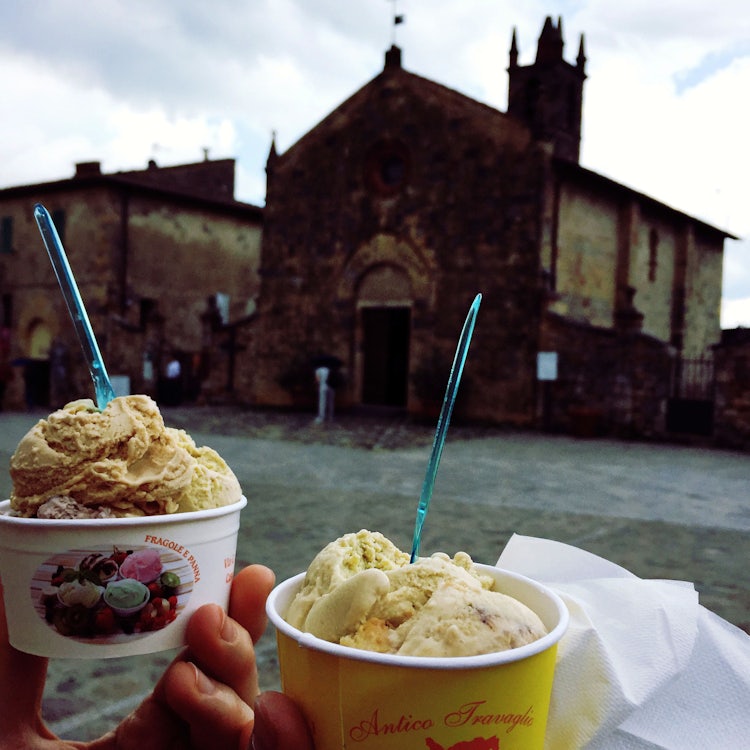 Multilingual guide on the bus: the guide that accompanies you on the bus gets the chance to explain where you're going before you get there, so you don't waste time once you're at each stop! Definite plus, although depending on the languages that need to be covered you might zone out some interesting pieces of info.
Ready to book your Tuscany in a day tour? Book your tour now »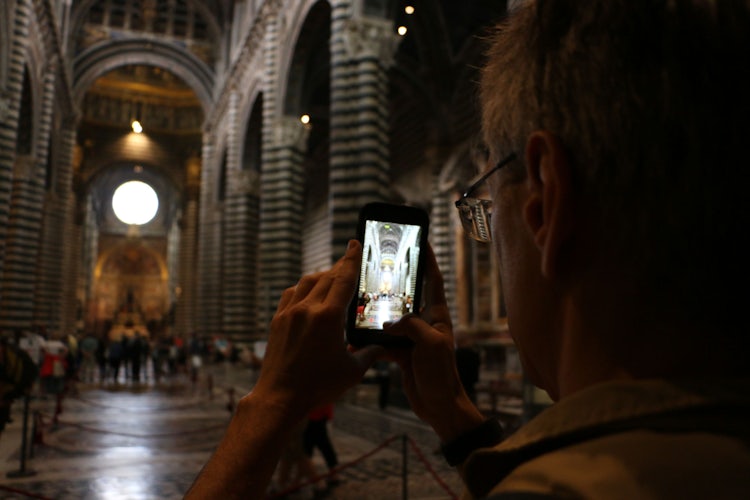 There are just a few things that I generally don't enjoy from these guided tours, and in this case, I have to point them out: the group can be big since the bus is a 50 seat bus. In the busy season, I would expect the bus to always be full as it was when we did the tour (mid-May). I generally enjoy smaller groups, getting a chance to ask questions of the guide and have a more intimate feel to the group. This preference is obviously personal so it might not be a negative for many.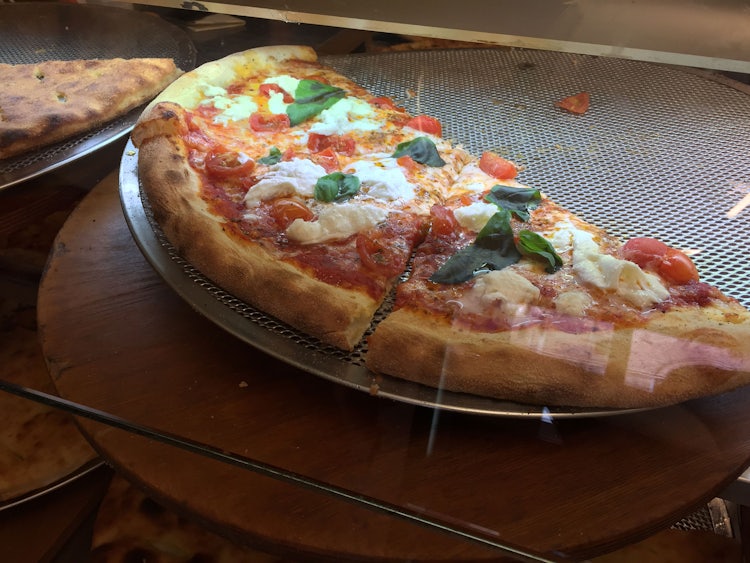 The only other thing I have to say I would have liked to be different was the amount of "free" time in Siena. The amount in San Gimignano was enough to see the two main piazzas and wander through town as it is small, but in Siena we were supposed to grab lunch too in the time we had before starting our guided tour. The best solution, of course, is to grab a quick lunch by eating pizza by the slice (which is what we did, trying out La Piccola Ciaccina and found it delicious!) so that we would have a bit more time to wander around. Once you meet up with the guide, you do a specific tour starting in Piazza del Campo before continuing to the Contrada and then on to Piazza del Duomo. At that point, you either go in to the Duomo or not and I suggest you do. After that, you meet up to head back to the bus. While you see the two main piazzas and sights in Siena, with half an hour more of "free" time, whether you use it for exploring or for eating at a slower pace, the pace would have been more balanced.

Who should choose another option
If you love guided tours but appreciate small groups, I suggest you look into another option such as one of these private tours:
DISCLOSURE
This page and website contains affiliate links. This means that if you make a purchase after clicking on such links (to Viator.com, Italy-Tickets.com, Booking.com, RentalCars.com, etc), Discover Tuscany will get a small percentage of the purchase price, at no additional cost to you. Thanks for your support! Read more details.