Have you ever been to the Caribbean without having to fly there? How strange this question is, you may wonder, since you're in Tuscany but believe me, once you're here it won't be necessary to take a plane! The Gulf of Baratti is a patch of unspoilt nature between the Tyrrhenian and Ligurian Seas, situated at a stone's throw from Piombino (to be more precise, on the coastline approaching Grosseto from Livorno). It's a destination within everybody's reach for all those visiting Tuscany and feel like touring a timeless place, where nature, history and art come together.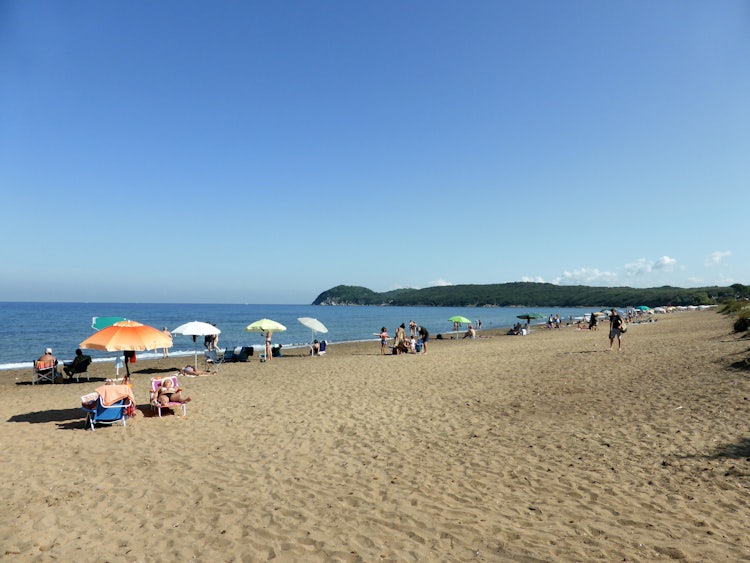 A Few Historical Notes
Hundreds and hundreds of years ago, this part of the Tuscan coastline was one of the most important Etruscan settlements; Populonia, an ancient Etruscan town especially noteworthy for its archaeological remains, is located just over top of the the Baratti bay.
The modern Gulf of Baratti was originally one of the most important Etruscan ports on the Tuscan coastline, an active and bright trading place whose main activity was iron processing and which even today can be considered its distinctive and rich feature. Why, you must certainly be wondering, since we're talking about iron and not gold? Well, if you drop by Baratti and take a few minutes to relax on the beach and enjoy the marvellous sun, you'll immediately understand what I'm talking about! Even today, you may admire the particular black-and-silver color of the sand shining under the sun: they're the remains of the ancient iron processing and you may also find bigger pieces scattered all over.
The Seaport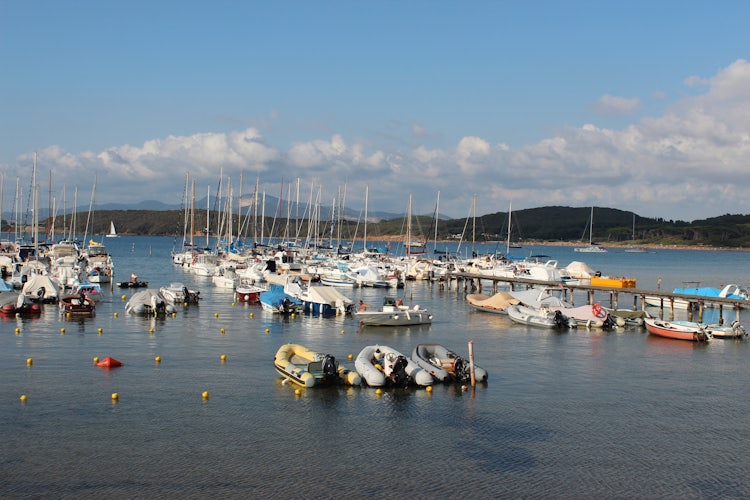 Nowadays there's a little tourist harbor on the far left end of the bay, which adds a further timeless atmosphere to this place; unfortunately, the port, which was of high relevance at that time, has lost most of its commercial importance over the years.
During the Etruscan age, in fact, the function of this seaport was totally different, as well as its aspect and position in the sea: it was the heart of trading of that time and all indications lead to the conclusion that the original, ancient port now lies about 50 metres from the beach, under the quiet and mild sea of the gulf, subject to the passing of time. As years went by, in fact, the sea wore (and still does) away the sand of the bay, and that means that, if this phenomenon won't be stopped, the Gulf of Baratti is bound to disappear in a few decades.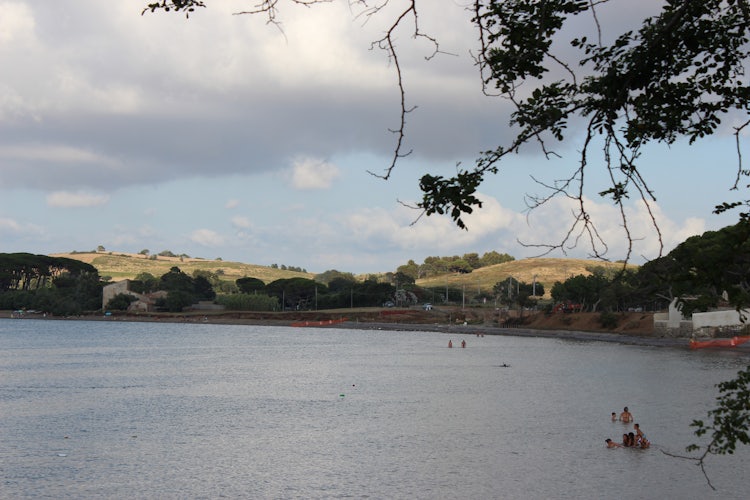 Nature, the Real Treasure
These are not the only reasons for which Baratti is worth your while: just behind the wonderful beach there's a thick pine forest that every year, when spring comes on, fills up with families, children and teenagers, all ready to enjoy the first warm weather of the year.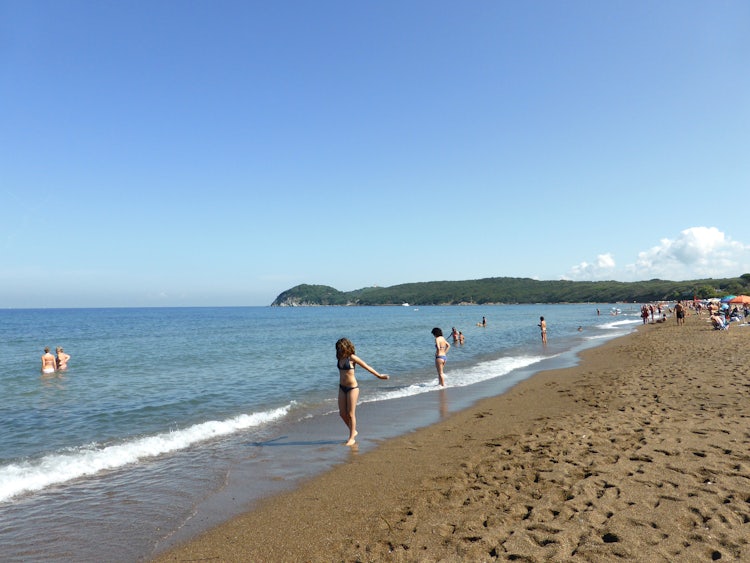 If you're fond of diving and snorkeling, moreover, you'll certainly meet your match here! You'll lose all track of time while you discover the beautiful undersea world, if the water temperature is bearable – unless you've got a good wetsuit!
Speaking about treasures, your chances to find some real archaeological relics are not as far fetched as you may think. Sometimes, in fact, the remains of that ancient civilization comes out from the sea-bed, like the world-renowned silvery amphora, found about 40 years ago and now conserved in the Piombino Museum. Actually, these findings seem to be an eternal testimony to how this past civilization is somehow still present in our culture.
What Still Remains of an Ancient Civilization
Do you think Baratti has just about run out of surprises? Well, you're wrong! Crossing the tiny street that covers the gulf until its southern edge, you come upon a real open-air museum: the Etruscan necropolis, which is part of the Archaeological Park of Baratti and Populonia. It really seems to have gone through the march of time, creeping into the bay and proudly lying there, just in front of that always crowded beach with astonished tourists looking at the timeless remains, or simple passers-by taking pictures of the marvellous landscape, or waiting to take a seat at one of the welcoming restaurants.
Paradoxically, just behind this mass teeming with tourists, the Etruscan necropolis lies silently, a place where earthly life ceased to exist and the body rests forever. You may think now 'What a gloomy description of this place this is', but I assure you that what I wrote before is the real feeling you get while visiting these timeless places.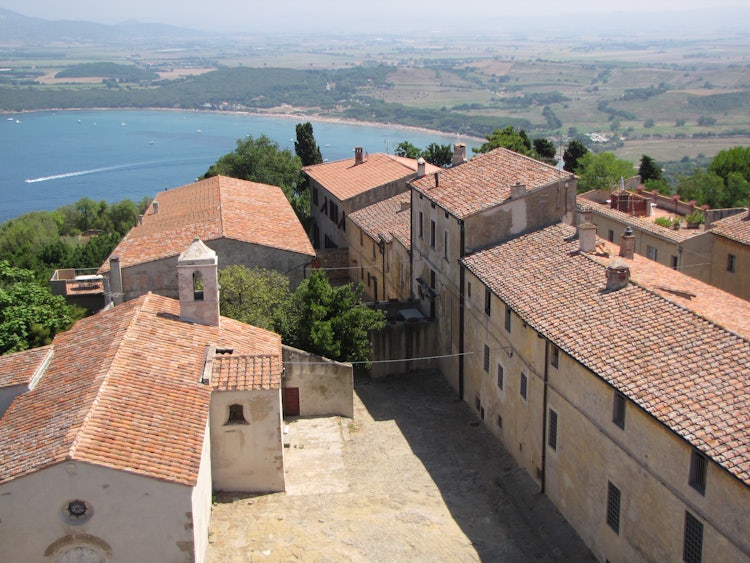 Anyway, if you prefer adventure experiences over guided tours, walk beyond those burial mounds (even if they're really worth your while) towards Buca delle Fate, a nearby little bay of rare beauty. While crossing the wood, pay attention to some mounds you may glimpse among the trees: they're not actually clearly grave-shaped, but they're said to be a few remains of the same Etruscan city of the dead... seeing is believing!
Don't feel like exploring wild nature? Don't worry, your archaeological experience may also begin on the beach! For a few years now, in fact, a few ancient remains have slowly come up from the ground near the coast. A boundary red-and-white line should keep people out (actually, it doesn't) but you can head there to catch a glimpse of the old civilization.
Unfortunately, due to the lack of public funds, careful archaeological works have not been carried out and consequently, excavations are left at the mercy of time, sun, rain but mostly to vandals, as if a bell jar could prevent them from being damaged. Why, I often wonder, do we risk losing our cultural heritage in this manner?
How to Get to Baratti
I hope I've been able to attract your curiosity for this wonderful place, but now I feel bound to focus your attention to a matter that is worth a few more words: this place is so precious to me, and to many other people as well, that I can't help but ask you to respect it carefully and to be one of the best environmental-friendly visitor Baratti sees so that its beauty can continue to shine for years to come.
That said, here's how you may get to Baratti: no doubt, the easiest way to reach the gulf is by car. Take the motorway "Livorno-Grosseto" and exit at "San Vincenzo" (or at "Venturina", the following exit) and follow directions to "Piombino". The indications to Baratti are on the right.
You may also get there by train; in this case, you need to get off at "San Vincenzo" station and take a bus to "Piombino". From the closest bus stop (on the main road, called Principessa), there's a nice twenty minutes walk to the bay... not far at all! Don't worry, there's also a rail station in Populonia, from where you may reach Baratti by bus and shuttle service but service to Populonia is not as often so going to San Vincenzo is often easier.