The Family Makes it Easy
It's always a pleasure to bump into old acquaintances, catch up on the goings and comings and compliment them on all the good things life has brought them. That's how I felt when I went to visit Santa Maria Residence. I first met Giuseppe and his two daughters, Laura and Stefania, the owners, over 10 years ago when they were embarking of their adventure offering hospitality at their beautiful new structure which merged all of the best characteristics of the classic Tuscan villa and farmhouse.
During my first visit years ago, I had admired the classical stone facade, the bright and airy apartments, the private terraces and the traditional country styled interiors. I could see proof that Giuseppe and his daughters had really taken a personal interest in making sure that their agritourism is the perfect home away from home while you are travelling around exploring Tuscany, then and now.
Ten self-catering apartments (offering one, two and even three bedrooms) around a main nucleaus create a relaxed atmosphere where families can get to know each other, swap stories and maybe enjoy a meal or two together around the stone BBQ pit and covered picnic area. This friendly atmosphere is what creates the foundation for a memorable holiday, where one will return year after year… just because it feels like home. Once settled into your comfortable apartment, you can choose to lay out by the pool, place a chair in the shade of the garden or jump back on the road to explore the nearby towns and sites.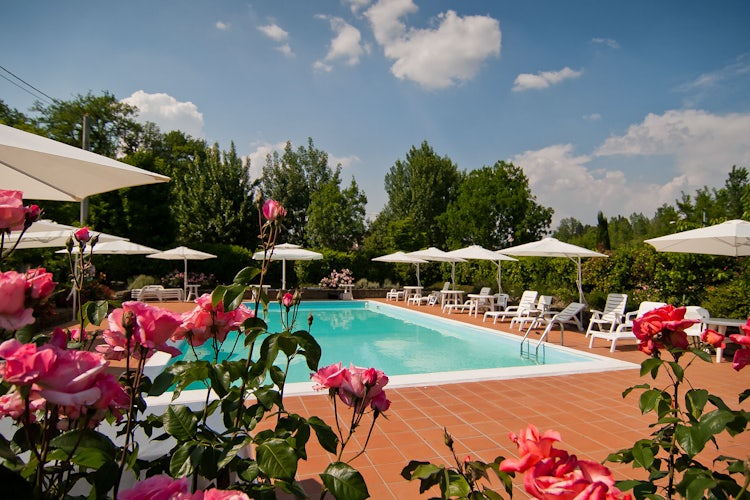 A Review of Santa Maria Residence
We loved: family oriented atmosphere; great for all ages
Ideal for: couples and small families or groups, perfect for exploring all of Tuscany
Each apartment boasts a private terrace area with table and chairs where you can enjoy a cafe latte or an evening meal. The local scenery includes the rich garden which Giuseppe tends to quite diligently and in the distance the hills, fields of grain, olive groves and vineyards all of which abound throughout Tuscany. Inside the vacation rentals, there is a fully equipped kitchen for making of a homemade meal, large bathrooms and comfortable bedrooms. It's the little homey details that make the difference, like the full sized mirrors, the ceiling fans in the bedrooms and the crocheted curtains.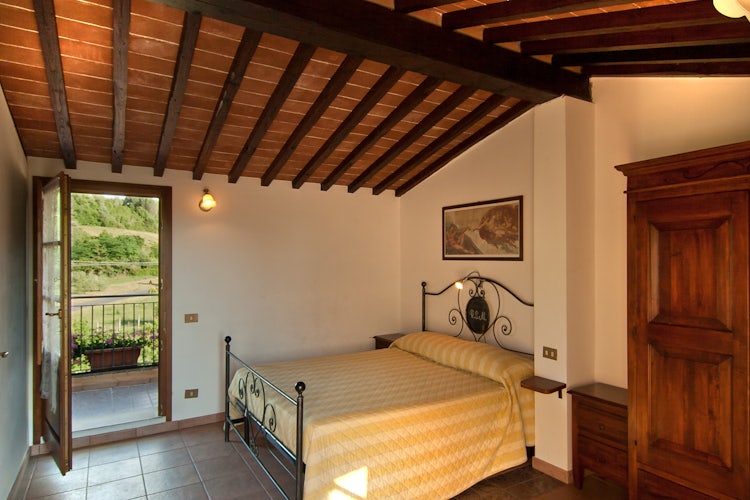 Highlights of my Visit:
Highlight: The abundance of colors, perfumes and flowers in the gardens
Surprise: Impromtu family oriented evenings with live music
Favorite: all the apartments have a private terrace for perfect for outdoor dining
Lose Yourself in the Simplicity of Tuscany
The garden is filled with color, heady perfumes of roses, lavender, rosemary and delicious fruit trees. Giuseppe took me around the garden, pointing all recent plantings and describing the types apples, pears and plums. Stefania added that her father had never taken an interest in plants but as soon as he went into retirement he developed an incredible green thumb, growing blooms that added sparkle and vitality to the grounds. All around the pool, he has put in fragrant lavender to help keep the mosquito population at bay as well as the brightly colored geranium plants which line the terraces and steps to the apartments.
Santa Maria Residence in a Glance:
Type:10 self catering apartments
Location: Montaione, 7 km (11 min)
Distance: San Gimignano (40 min) & Pisa (50 min)
Transport: a car is necessary
Sleeps: 23
Type of board: no meals
And though Giuseppe may have taken a step back to let the next generation take over since both daughters actively manage the apartments, he still likes to dabble in his musical passion. At least once a week, he will dust off his guitar and offer an evening of live music, dancing and sing alongs poolside under the stars. Families and friends have found that these impromptu concerts have become some of their best memories of their holidays: you can now find him on YouTube, so you can go over there and get a peek at the concert.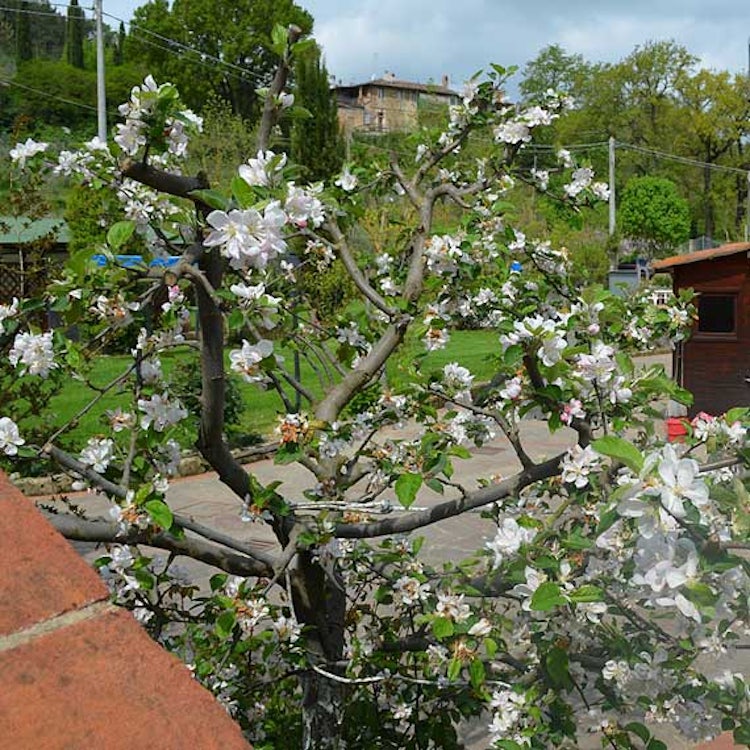 The Sweet Perfumes of Tuscany
Though all the apartments have a kitchen with stove and refrigerator, sometimes the best solution is not to cook at all. While staying at Santa Maria holiday apartments, you can count on Stefania & Laura to help you find the perfect dining experience, some of which are within walking distance of the residence and apartments. Even if you don't want to dine out, it is still possible to take a stroll into the small nearby town and let the kids play in the small park, drink an espresso with the locals or treat yourself to a gelato.
I asked Giuseppe why he made the switch from full time entertainer to full time agritourism host, and he replied:
"It was time to settle down. I found this beautiful place close to everything: Florence, Siena, San Gimignano and Pisa. I just knew it would be perfect for holidays."
He also confided in me that the fact that he didn't restructure an older building but rather designed the floorplan himself, allowed him to pick and choose all the things he liked best about Tuscan architecture (like spacious bedrooms) and a few extras that make holidays more pleasurable (modern bathrooms).
Grandfather, Gardener & Entertainment
While Laura and Stefania have taken over running the rentals, they stand aside and let him do most of the talking as he transmits all the passion he has placed into Santa Maria. While he started the business, the two young ladies have played a significant role in building the reputation the residence has for clean rooms, a well manicured garden and friendly assistance. Their guests can always count on them, even when lost among the panoramic hills of Tuscany. "During the season, we seem to eat, sleep and even take a shower with our phones nearby. But we love being there to help our guests, not only to help organize their itineraries so that they get the most out of their time here in Tuscany, but also, at times, to help them find the right turn at a crossroad so they can find their way back home at Santa Maria!"
Reserve Now at Santa Maria Residence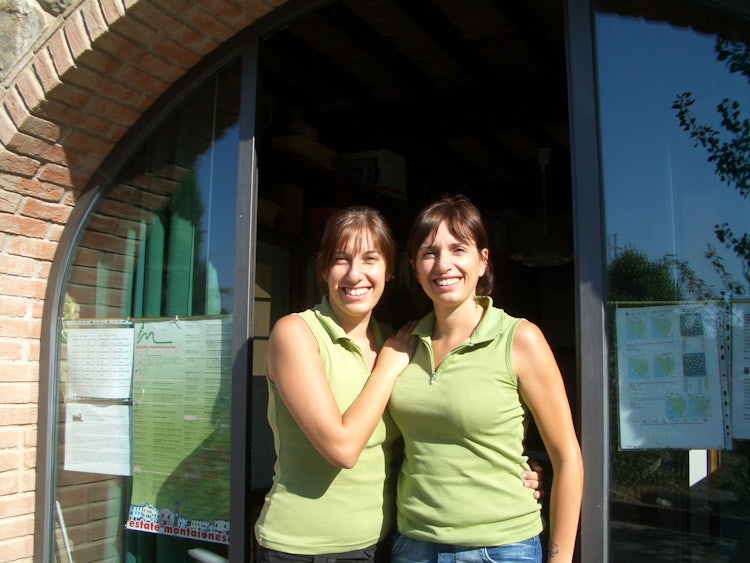 This is a Sponsored Article but reflects the honest opinion and experience of the author. More details »