Learn how to make tasty Tuscan dishes directly at your holiday rental... and then enjoy eating it all!
Cooking classes in Florence and Tuscany are a really popular activity to do during a holiday in Tuscany. What better way to eat great food and wine in Italy than learning to make great dishes and savoring them directly after? And then being able to recreate the same dish once you're back home after your vacation?
We recently met Fiamma and Ginny from Kitchen Chez Nous and learned they offer something a little different: they bring the cooking class to you, wherever you might be staying in Tuscany (and also in Rome). No need for you to go anywhere to enjoy a special day learning to cook Tuscan recipes!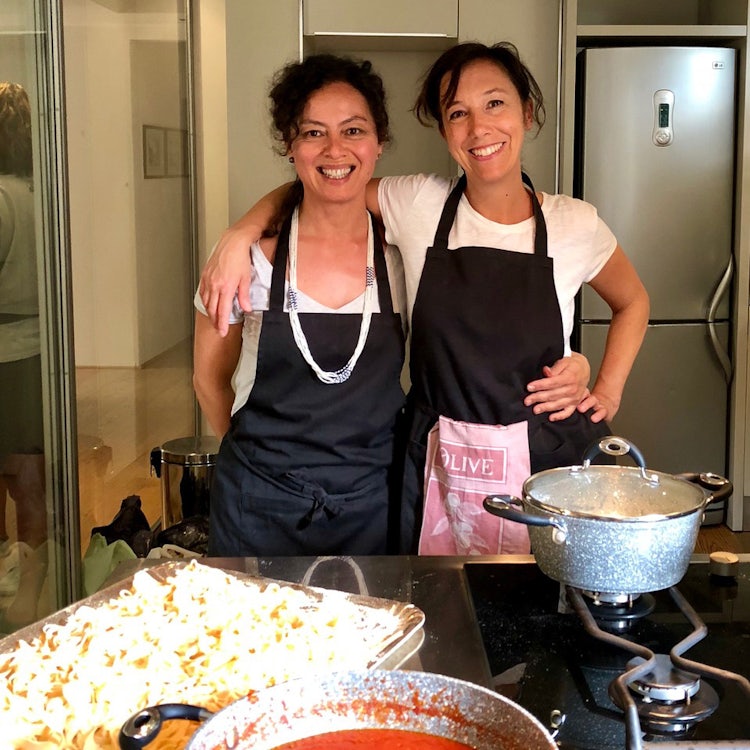 I wanted to learn a little more about what they do and thought an interview could be an interesting way to share with you all what they do. Ready? Here we go:
Q. What does Kitchen Chez Nous do?
Fiamma: We offer cooking classes mostly to international visitors coming to visit Tuscany. We offer classes directly at the location where they are, generally at a villa or farmhouse apartment with a kitchen. The class is either in the morning from 10am or in the afternoon from 4pm.
This year, we decided to "open up" our homes and kitchens to offer cooking courses in Florence since many might not be staying at a place where a kitchen is available.
For logistical reasons, the courses at our house "Chez Nous" are in the morning, from 10am.
My house is just a few minutes walking distance from the Sant'Ambrogio market, which we consider one of the few authentic markets remaining in Florence where locals go to shop for groceries themselves. So if anyone is interested in shopping at the market at Sant'Ambrogio, we also offer that option with the class right after made with the fresh ingredients we just bought.
Finally, another service we offer is a to come cook dinner at your place for small groups of 6, so that you can have an evening meal catered directly at where you're staying.
We now do all this also in Rome, so if anyone is visiting Rome but not Tuscany or doesn't have time to do the cooking class or dinner while in Tuscany and is also spending time in the Eternal City, we can plan something there too! Want to book your cooking class or read more details? Check out their site here.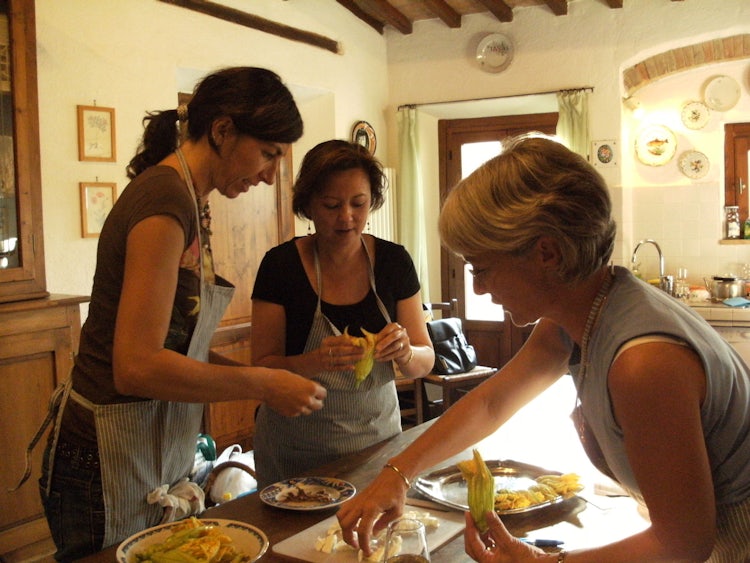 Kitchen Chez Nous at a Glance
private cooking classes, in Florence or at your own vacation lodging
decide on the menu ahead of time
enjoy your meal after the class
small and informal class
Q. Ah, so the chef goes to people's homes, sounds great! We'll get back to that in a minute... I was wondering in your classes, aside from showing how to prepare specific dishes, if you also manage to share more information on Tuscan cuisine in general?
F: Definitely! Ginny and I try to explain our local culinary traditions, from the popular dishes the whole world knows to lesser known plates that we think are delicious. We offer dishes and recipes that we believe will be possible to make again once our students go back home. Most Italian food is based on using locally-grown, seasonal ingredients so the majority of our recipes use very few ingredients which require precise steps to make sure the recipe turns out a success.
Q. How would you describe how a class generally takes place? Do you follow a strict timeline?
Ginny: No specific time line! Our lessons are very informal, full of conversation and in English. Our clients like to ask us all of their questions regarding Italian food and our culinary habits, as well as their favorite Italian dishes. A class is generally about 3 hours long (that's the average), we cook together while we talk and drink some great wine! That is an important ingredient, we assure you there is plenty!
For this reason, Fiamma and I always work together: we manage to teach our clients some of our favorite recipes while chatting and having a great time! The result is always delicious – we always then eat what we just prepared!!
Q. Sounds like a lot of fun! Which classes do you think are the most requested?
F: Our most requested have turned out to be the courses we take directly to our client's vacation rental here in Tuscany. They love the home they rented and the idea of a private lesson directly in that environment, which generally feels like home. The classes turn out to be great moments of cultural exchange that starts from the topic of food but, by the time the lesson is over, we depart with the enjoyable experience of having met new people with their own stories. Our clients love relaxing in their own house, without a worry about driving back home and can fully enjoy the food and wine!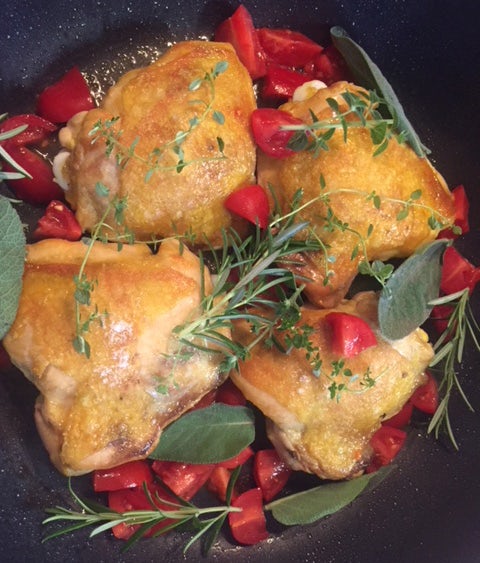 Q. Are your classes then almost completely personalized for each client?
G: Yes, we can say the majority of our classes are personalized, particularly since we cook directly at each client's home. We organize everything based on their requests and needs, especially the dishes we prepare. We generally propose several menus, bringing together dishes we believe are interesting for them to try and learn and are always open to any special requests. If possible, we try to meet their wishes. Super important detail to highlight: we never bring together two groups or more that do not know each other. We place more importance on the quality of the complete experience, rather than the quantity.
Q. You go all over Tuscany to teach cooking classes directly at villas and farmhouses and cook in their kitchens. Do you ever find yourself in interesting situations, cooking in a really small kitchen or without all of the necessary tools?
F: We are ready for everything! We arrive with all the tools we could possibly need, and more. In over 8 years, we've had the opportunity to visit and cook in some of the most beautiful villas you can imagine all over Tuscany that have majestic and super organized kitchens as well as moderate sized homes with tiny kitchens where you didn't know where to place anything. Once, we had to use chairs to place the trays that held the just-made ravioli :).
Book your cooking class at your place »
Q. Do you ever get special requests to learn how to prepare a particular dish or recipe? Anything different or strange?
G: Most of the time, our clients are happy with the various options we propose, maybe because we've found the recipes that make most of our clients happy. So we feel they are able to cook what they had expected to learn. Sometimes, we do find a challenge when we come upon mixed groups that contain vegetarians, carnivores and people who need gluten-free menus. In those cases, we give free rein to our inspiration to come up with dishes that will work for everyone and, so far, everyone has been satisfied with the results!
We are often asked for recipes known as Italian in their countries and we are often sorry we have to reveal how they're not very Italian at all. An example is the famous Alfredo pasta we get requests for, that isn't made in Italy but is known as an Italian recipe in the US.
We also have many Americans of Italian descent who request to cook their family recipes. I remember one time we cooked an entire menu of family recipes from Puglia inherited from their mother, and we really enjoyed being part of that unique, and fun, experience!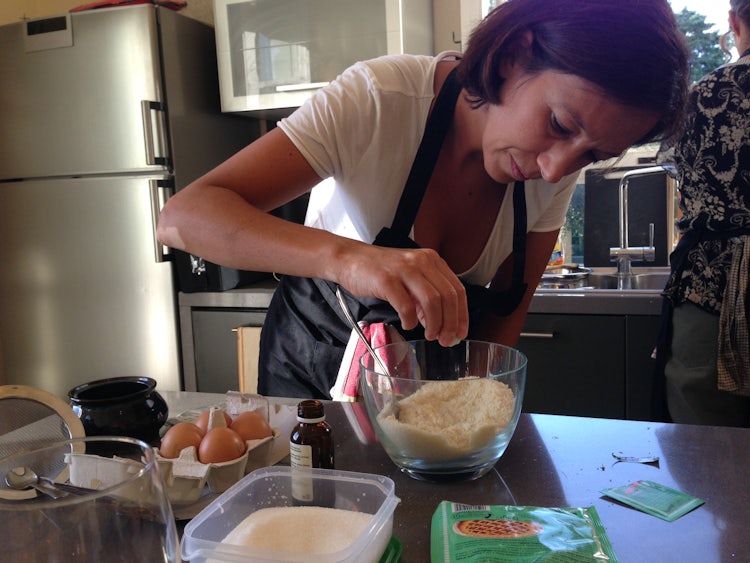 Q. I realize you both have professional chef training. Did you ever want to be chefs at a famous restaurant?
F: Yes, we trained at the School of Culinary Arts in Florence called Cordon Bleu. While working at a restaurant would be a fascinating experience, we don't know if we could handle the fast pace of such a setting. We are moms and we love our work because it works well with our families. We can organize our family life around our lessons and this makes us happy, so in the end it is a win-win situation for all as we transmit our good mood to our clients!
Q. What about other locations beyond Tuscany?
A. We now offer cooking classes in Rome, too! Ginny has moved to live part-time in Rome so we felt it natural to also offer classes in Rome, especially for anyone who might not have time to do a class in Tuscany but is also going to be in Rome. We offer the same format: we come to your home, bringing the freshest ingredients, a great selection of wine - and not just Tuscan wine but also from Lazio, knowledge and fun!! We can offer a taste of Tuscan tradition as well as Roman cuisine! You can make your choice and pick your favorite menu, contact us for ideas, too.
Q. I've learned a lot about Kitchen Chez Nous and what you two amazing ladies (and moms) do. My final question is, what does the name Kitchen Chez Nous mean and why did you choose it?
G: If we have to be completely sincere, we just loved the way it sounded! We also think that the mix of a different language with Italy evokes a more international flair. In reality, the name means "cook at our place" and, depending on who says it, renders the fact that the cooking takes place at different locations every time. But we feel that the idea of cooking at one's home best suggests the type of lessons we give, in a relaxed, family setting where everyone gets to enjoy great food made with your own hands. Nothing tastes better than authentic homemade meals!
If you're interested in having Fiamma and Ginny over to cook with you during your holiday in Tuscany, make sure to visit their website and contact them to decide on the menu you'll cook together!
Book your private cooking class now »
Enjoy this video of Fiamma holding a class in her home in Florence and teaching how to make pumpkin risotto - yum!
This is a Sponsored Article but reflects the honest opinion and experience of the author. More details »