I'll assume you are already in Tuscany by the time you're interested in how to get to this charming hilltop town in the Valdicecina area.
If you're arriving by air and heading right off to Volterra or the area, then know that the two main airports in Tuscany are in Pisa and Florence. From either, you can catch a bus, train or rent a car to head to Volterra and the surrounding area (with a few stops along the way).
Make sure to check out our list of top sights to see in Volterra before heading there!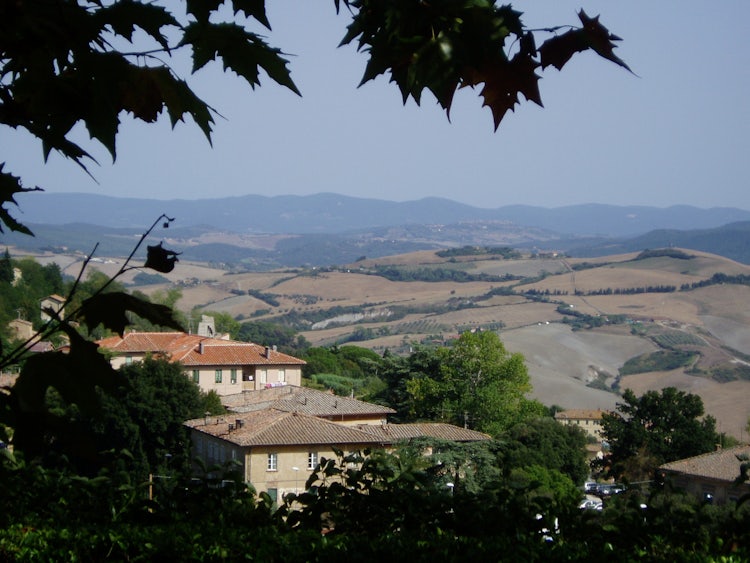 Volterra isn't surrounded by many other nearby towns, so definitely the easiest/best way to get there and then move around is by car.
By car
Volterra is about 70km from Florence, 47km from Siena, 63km from Pisa, 29km from San Gimignano and 40km from the seaside. Although Volterra is easy to reach, the last kilometres to the town can be a bit difficult because they are very curvy and go uphill.
From Florence:
- head to the Firenze-Siena roadway which starts alongside the A1 Firenze Certosa exit
- Follow this road for about 35km, then exit at Colle di Val d'Elsa Nord
- Follow indications for the SR68 and Volterra
Parking in Volterra
There are many parking lots and spaces around the town. These are just a few where you can park for sure:
Porta Fiorentina (small paid lot)
along Viale F. Ferrucci (paid street parking -- there is a lot in front of this but it is for residents)
Docciola (with service for camper vans) - free last time we visited - only downside it is at the bottom of the hill and you need to climb lots of steps to get to the main part of town.
Gioconovo (paid, along viale Porretti)
Porta Marcoli (paid - outside of the Porta Marcoli -- pay careful attention because some spots are reserved for residents, others are open to all)
Piazza M. della Libertà (underground, entrance is before the piazza, you can turn around there and head back if you miss entrance on right - paid lot)
Piazzale right next to the Coop supermarket (this is really the supermarket parking lot so if you're staying in a self-catering apartment, this parking is great for doing sightseeing in Volterra and also getting some grocery shopping before heading out)
Download a map of the city with the main points of interest and parking lots here:
http://www.provolterra.it/wp-content/uploads/2015/03/cartina-Volterra-A3.pdf
By train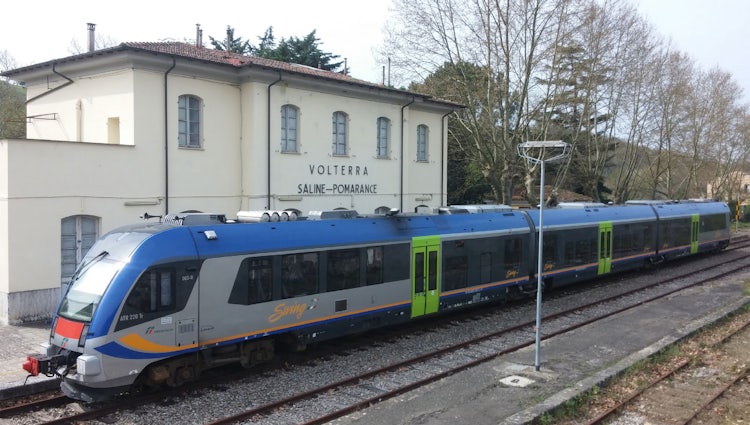 The closest train station to Volterra is along the Cecina-Volterra railway line, with the stop called "Volterra Saline – Pomarance". It is 10 kilometres from the Volterra city center. It is quite small so definitely check train schedules before traveling, on www.trenitalia.com.
The larger railway stations close by are those of Cecina and Pontedera; these stations as well as the Saline station are connected with Volterra by bus service so if schedules for trains are not convenient, check out bus schedules next.
By bus
The Compagnia Pisana Trasporti Spa (CPT) manages public transport in the urban areas of Pisa, Pontedera and Volterra and suburban areas in the Province of Pisa.
From Pisa, you take a bus to Pontedera and then change to head to Volterra (line 500).
From Florence's bus station outside of SMN, you take the "Siena Ordinaria" bus or to Colle di Val d'Elsa (line 131) and once at the train station in Colle, change bus to continue to Volterra.
From Siena, you also head to Colle di Val d'Elsa and change bus there to head to Volterra (line 130, then 770).
From the Volterra Saline-Pomerance train station, you can catch bus line 780 to Volterra which is about a 21 minute bus ride.
For more information, see the website for buses from Pisa http://www.cpt.pisa.it/orari.htm or for buses from Florence/Siena http://www.tiemmespa.it/index.php/Viaggia-con-noi/Orari-e-linee/Siena/Extraurbano