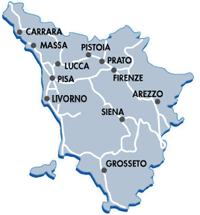 Trains remain one of the easiest ways to travel within Tuscany from city center to city center. Florence's main train station, Firenze Santa Maria Novella, sits astride the main Rome-Milan line (with connections in Bologna and Arezzo) and is the terminus for two lines to the west: one to Livorno via Pisa and Empoli and one to Viareggio via Prato, Pistoia and Lucca. An indirect line goes down towards Siena from Florence passing through Empoli (sometimes requiring train changes in Empoli) and a line goes to Faenza in Emilia-Romagna (a scenic ride through the Mugello valley and Apennines). Italy's main coastal route runs north-south through Tuscany linking Orbetello in Maremma in the south to Livorno, Pisa, Viareggio and Massa in the Versilia region to the north. To proceed to smaller towns near these main towns, you will often need to make a bus connection.
An inconvenience of numerous Tuscan towns to keep in mind is that many are located on a hilltop. This is the case for Siena, Cortona and Volterra so even if reachable by rail, the train station is at the bottom on the hilltown and you will need to either get a local bus to take you up to the town (short ride) or prepare to walk a bit of uphill to reach your destination.
In collaboration with Trenitalia's regional Tuscan office, we bring to you downloadable .pdf files with a map of the rail lines in Tuscany as well as printable schedules for the Florence-Arezzo-Cortona line (towards Chiusi), the Florence-Faenza line that crosses the Mugello valley and the Pisa-Versilia line that goes up to La Spezia (from here you can change trains to arrive to Cinque Terre).
Tips for printing: the files are set up to print on only one page, but come out in tiny print when printing at home. To get the best printout, view on your screen the part you are interested in and when printing select print "current view".
Samples of Traveling Times Between Tuscany Cities
| | | |
| --- | --- | --- |
| From | To | Duration |
| Florence | Arezzo | 50 minutes to 100 minutes |
| Florence | Borgo San Lorenzo | from 45 minutes to 75 minutes |
| Florence | Lucca | from 80 minutes to 100 minutes |
| Florence | Pisa | from 65 minutes to 85 minutes |
| Florence | Siena | from 90 minutes to 110 minutes |
| Florence | Viareggio | from 90 minutes to 100 minutes |
| Siena | Grosseto | from 80 minutes to 90 minutes |
Times vary depending on the type of train you take, the type being determined by the number of stops it makes along the way. For example, an InterCity train from Florence to Arezzo takes approximately 40 minutes to reach its destination, while a Regionale can take anywhere from an hour to an hour and a half to reach Arezzo.
Check Trenitalia's timetables on their site.
Other ways to move around Tuscany...